Passionate about bungalows?
Join the group that shares your passion—the Twin Cities Bungalow Club.

he Twin Cities Bungalow Club is dedicated to fostering an appreciation for these charming and livable early 20th century homes. We are committed to preserving bungalows and other Arts & Crafts style homes of the era along with the neighborhoods they occupy; to learning their history; and to exploring the furnishings and decorative objects that filled them.
Members receive an information-packed newsletter four times a year, plus free access to quarterly seminars with regional and national leading bungalow experts. In addition, you'll get inside Twin Cities' best bungalows during our annual home tours. 
---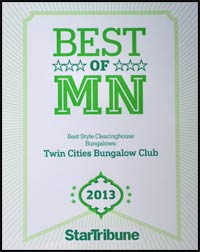 The Twin Cities Bungalow Club has been named the "Best Style Clearinghouse: Bungalows" by the Star Tribune. We are honored. In announcing their Best of MN awards for 2013, the paper described the club as follows.
"Members share their appreciation of the early 20th century Craftsman gems, which are modest in size but big on vintage charm. The club puts out a charming newsletter and regularly holds seminars on bungalow-era topics and hosts home tours."