Events

hat follows is a list of upcoming events of interest to members of the Twin Cities Bungalow Club. Some are sponsored by the Bungalow Club and some are not.

Home Improvement Fair
The Macalester-Groveland Community Council
Saturday, April 26, 2014
9 a.m. to 2 p.m.
Cretin Derham Hall
550 South Albert St., St. Paul
http://Macgrove.org/hif or 651-695-4000
The fair is a popular event, bringing in hundreds of area homeowners to learn about local home improvement products, and services and to participate in workshops. A list of the 80 exhibitors and the 20 workshops is available online.
A new feature for 2014: Bring up to three broken household items to get fixed at the Fix-It Clinic, 10 a.m. to 1 p.m. Items include electronics, jewelry, furniture, clothing and small appliances.
---
Friends School Plant Sale
Friday, May 9, 2014, 9 a.m. to 8 p.m.
Saturday, May 10, 2014, 10 a.m. to 6 p.m.
Sunday, May 11, 2014, 10 a.m. to 2 p.m.
Minnesota State Fair Grandstand
Free admission
www.friendsschoolplantsale.com/about
Each year on Mother's Day weekend, Friends School puts on the biggest fundraising plant sale in Minnesota. Over 2,300 varieties of plants are offered for sale—including a full line of annuals, perennials, climbing plants, native wildflowers and vegetables, with selected water plants, roses, and trees and shrubs.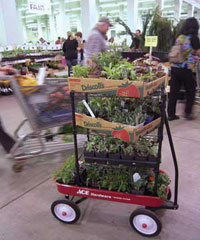 Held in the Grandstand, it's exciting for beginning and experienced gardeners to see 66,000 square feet of plants. Park free in the Midway area (just southwest of the Grandstand) or anywhere on the fairgrounds.
Printed catalogs are available by April 1 in many libraries, coffee shops and natural food co-ops in Minneapolis and St. Paul. To get on the mailing list for next year, email frontoffice@fsmn.org. Include "add to plant sale list" in the reference line.
Sign up on their website to be a volunteer—volunteers shop early! Signups are open through the week of the sale.
---
2014 Twin Cities Bungalow Club Home Tour
Saturday, May 10, 2014
10 a.m. to 5 p.m.
Tour starts at 4231 Blaisdell Ave. S., Minneapolis
Bungalow Club members free; non-members $5
It's almost here! Join us on Saturday, May 10, for the Twin Cities Bungalow Club's annual celebration of vintage houses. The tour is a great way to get ideas for your own home, chat with like-minded homeowners, and cruise bungalow neighborhoods.
There are five beautiful homes on the tour this year. Pick up a tour map with the homes' addresses and descriptions any time after 10 a.m. on Saturday, May 10, at the first house located at 4231 Blaisdell Avenue S. in Minneapolis. No reservations are necessary. 
 On the tour you will see:
Two spacious master suites recently added to upper floors;
a beautifully remodeled four-season front porch;
updated kitchens with vintage elements;
a new bathroom created in Art Deco style;
a bungalow loaded with vintage pottery, textiles and metalwork;
and loads of oak woodwork, fireplaces, vintage light fixtures, and all-around bungalow charm!
---
9th Annual Arts & Crafts Chicago Show and Sale
Saturday, May 17, 2014, 10 a.m. to 5 p.m.
Sunday, May 18, 2014, 10 a.m. to 4 p.m.
Concordia University
River Forest, Ill.
Admission: $7
Information: www.artsandcraftschicago.com/ or
call Eastwood Gallery 651-695-1902
The 9th Annual Arts & Crafts Chicago Show and Sale will feature furniture and accessories from and inspired by the American and English Arts & Crafts Movement.
Homeowners interested in acquiring pieces and/or educating themselves about the appropriate furnishings for their turn-of-the-century bungalows and craftsman style homes should plan to attend.
---
Antiques and Decorative Arts Show
Saturday, June 7, 2014, 10 a.m. to 6 p.m.
Sunday, June 8, 2014, 11 a.m. to 4 p.m.
The Fine Arts Building
Minnesota State Fair Grounds
1442 Cosgrove St., St. Paul
Free parking
Admission: $6, valid for both days
Coupon available online: www.mnantiquesdealers.com/antique-show/
Information: mnantiques@gmail.com or 651-430-0095
This show is a sale of fine antiques and decorative arts from regional dealers, offering a wide variety of merchandise at affordable prices. The exhibitors were selected by the Minnesota Antiques Dealers Association for their commitment to quality and their interest in furthering the education and knowledge of the buying public
With about 45 dealers, this small intimate show allows for comfortable shopping in a casual atmosphere.  From funky garden accessories to signed bronzes, fine original art to retro chic, mark this show on your calendar as a "must do" event.
---
Red Wing Collectors Society's Annual Convention
Thursday through Saturday, July 10–12, 2014
Red Wing High School
2451 Eagle Ridge Dr., Red Wing, MN
Information: www.RedWingCollectors.org or 800-977-7927
Buy, sell and learn about the beautiful pottery pieces created by the potteries in Red Wing, Minnesota. The RWCS convention is the premier place to find Red Wing pieces to start or add to your prized collection.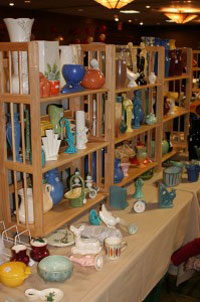 The RWCS is the largest collectors society in the nation and more than 1200 members attend this event. Some events are for members only but many are open to the public.  For example:
Members Only Pottery/Stoneware Auction: 4:30 p.m., Thursday, July 10, Red Wing High School
"Crock Fest" celebration: 5 to 9 p.m., Friday, July 11, Central Park, Red Wing; music, food and activities for the whole family
Pottery Show and Sale: 9 a.m. to 1:30 p.m., Saturday, July 12, Red Wing High School, (open to public at 10:30 a.m.). Over 150 tables selling Red Wing stoneware, dinnerware and art pottery.