Events

hat follows is a list of upcoming events of interest to members of the Twin Cities Bungalow Club. Some are sponsored by the Bungalow Club and some are not.

How to Make Your Walls Talk: Using Research to Guide Inspired Restoration
Historic 1894 Thomas and Susan Welch House
785 Dayton Ave., St. Paul
Admission: $40; free for PAM sustaining donors
The Clarence H. Johnston Society and the Preservation Alliance of Minnesota are hosting an event called "How to Make Your Walls Talk." This will be a fun and informative talk at a Clarence H. Johnston-designed home in Cathedral Hill.
The home's owners/researchers/restorers will share a bit about their work and offer an exclusive tour of their beautiful house. Not just for Johnston fanatics, this event will be useful to any homeowner interested in researching home history and using what they find to inform their rehab and design plans.
---
The Twin Cities Bungalow Club presents:
Arts & Crafts Stenciling Workshops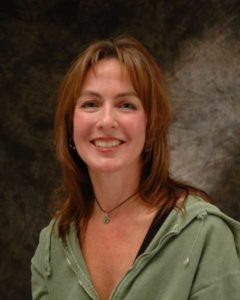 Hiawatha School Recreation Center
4305 E. 42nd St., Minneapolis
http://tinyurl.com/z7to49o
Amy Miller, founder of Trimbelle River Studio & Design (trimbelleriver.com), will conduct two hands-on stenciling workshops exclusively for Twin Cities Bungalow Club members. The club will subsidize a portion of the class fee, making this an exceptional and affordable opportunity for you to learn to stencil. Come conquer those stenciling fears and have a splendid time learning this authentic and versatile decorative art.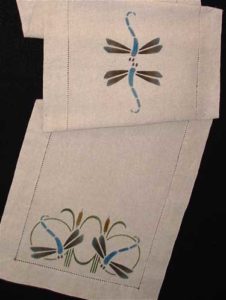 Two different classes will be offered: Mastering the Scary Stencil (10:00 a.m. to 12:30 p.m.) and Dragonfly Table Runner (2:00 to 4:30 p.m.). Each class will run approximately 2½ hours in length; all materials will be provided. Class sizes are limited, therefore advance paid reservations are required.
If you are a member and your newsletter insert is missing, email us at mail@bungalowclub.net. Class participants will also have the opportunity to buy Miller's book, Stenciling the Arts & Crafts Home, for only $15 (reg. $25).
---
Hennepin County Fix-It Clinics
Hennepin County Environmental Services
www.hennepin.us/fixitclinic
Sewing machine won't sew? Toaster won't toast? Toy helicopter won't fly? Don't throw it out! Bring your broken household appliances, electronics, mobile devices, toys and clothing in need of repair to a Hennepin County Fix-It Clinic.
Skilled volunteers will provide free, guided assistance to disassemble, troubleshoot and fix these items. Bring any tools and supplies you think might help with the job.
You will learn valuable troubleshooting and basic repair skills, build community connections, and reduce the number of repairable objects that are thrown in the trash. Events are first come, first served.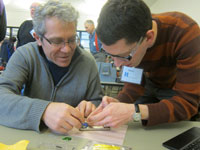 Fix-It Clinics are held monthly at locations throughout the county. More details and upcoming dates and locations available online.
Fix-It Clinics teach valuable troubleshooting and basic repair skills, build community connections, and reduce the number of repairable objects that are thrown in the trash. Events are first come, first served.
Volunteer fixers are needed to make this initiative a success. Volunteers should have skills in soldering, electronics and electrical repair, computer repair, sewing, or general tinkering, and have a strong desire to teach and empower people.
Contact Nancy Lo at nancy.lo@co.hennepin.mn.us or 612-348-9195 with questions or to volunteer.
---
Ramsey County Fix-It Clinics
www.ramseycounty.us/residents/recycling-waste/education/fix-it-clinics
Ramsey County residents who have broken household items can now get them repaired for free at monthly Fix-It Clinics being held at libraries and other civic buildings. Items to bring include electronics, clothing, appliances, light fixtures, and other items "small enough to carry."
Started in July 2015, the clinics are managed by the Ramsey County Public Health Department and follow a successful program underway in Hennepin County.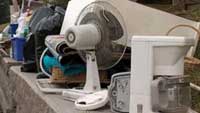 The clinics will be held one Saturday a month in 2016 at various locations. Details available online. If you can troubleshoot repairs for broken items, consider volunteering at a Fix-It Clinic. Volunteer fixers who have skills in soldering, electronics repair, electrical repair, sewing, wood working and general tinkering are essential to making the clinics successful. Email AskEH@co.ramsey.mn.us or call 651-266-1199 for details and to sign up.
---
Classes Offered by Preservation Alliance of Minnesota
The Preservation Alliance of Minnesota (PAM) offers classes in four series—Homeowner, Professional, Old Home Certified and Community. From hands-on workshops to behind-the-scenes tours, from state-approved continuing education to specialized courses, PAM delivers unique and unparalleled preservation-based education.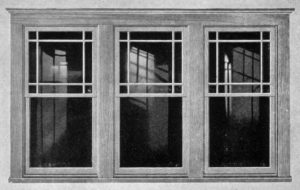 Bungalow Club members will be especially interested in the Homeowner series. Classes and workshops such as "Repairing Old Windows" and "Refinishing Wood Floors" will help you better understand and maintain your home.
Check the PAM website (under the "Services" tab) for the listing of upcoming classes and workshops. Whether you're discovering how to identify an architectural style, drain a radiator or use historic tax credits, PAM makes it easy to sign up for an affordable learning experience. PAM members receive a 15 percent discount on classes!