Events

hat follows is a list of upcoming events of interest to members of the Twin Cities Bungalow Club. Some are sponsored by the Bungalow Club and some are not.

Minnesota Historical Society Events
The venerable Minnesota Historical Society (MNHS) usually has dozens of events scheduled for the coming months. Visit the MNHS website for additional details.

WWI America
Saturday, April 8 through Saturday, November 11, 2017
Minnesota History Center
345 W. Kellogg Blvd., St. Paul
651-259-3000
www.minnesotahistorycenter.org/exhibits/ww1-america
The World War I era—1914 to 1919—was a transformational time for America. The nation emerged as a confident global superpower while deep divisions and conflict at home threatened to tear the nation apart.
This major new exhibit created by the Minnesota Historical Society opens during the centennial of America's involvement in WWI. Through original artifacts, images, voices, music, interactives and multimedia, WWI America tells the extraordinary stories of Americans during a transformational era in our history.
Explore themes and major movements in depth—from immigration, racial politics, women's suffrage, the Great Migration, Prohibition and the 1918 influenza pandemic, to daily life and popular culture.
View dozens of original artifacts from museums around the country, including a WWI machine gun, a deck chair from the RMS Lusitania, President Woodrow Wilson's hat, and Houdini's handcuffs.
Discover stories of the legendary and unsung Americans who shaped our history, from pacifists to presidents.
Discover how the war transformed our nation into a world leader—at a time when our country was split by divisions over citizenship, nationhood and identity that are strikingly relevant now.
---
The Twin Cities Bungalow Club presents:
Music in the Bungalow
A Talk and Performance Led by Randy Rowoldt
St. Mary's Episcopal Church
1895 Laurel Ave., St. Paul
Bungalow Club members free; non-members $3
Come hear the music of the bungalow era performed live, just as it would have sounded to your bungalow's first occupants!
When the first bungalows were built, there was no radio, television, stereo or internet. Music was performed live—most homes had a piano and someone who could play it with a bit of proficiency, or perhaps a player piano. When recorded music arrived in the form of the Victrola, it pushed the piano aside, and ever-evolving technology eventually led to today's omnipresent music.
But let's rewind to a time when an evening's entertainment for most Americans meant the family gathered in the living room and made their own music. At this presentation you will:
Hear different genres of music—from vaudeville to operetta—sung live by performers and played on an upright piano.
Learn about popular musical instruments of the time.
See a variety of vintage sheet music from the presenter's personal collection.
Our guide on this musical journey is Twin Cities Bungalow Club member Randy Rowoldt. In addition to working in the costume department at the Childrens' Theatre Company, Randy coaches singers of all stripes. He has a bachelor of music degree from the University of Wisconsin, and both a master of science in Stage Direction for Opera and a master of fine arts in theatrical design from Indiana University.
Randy started collecting music in his early teens. His sheet music collection now numbers in the thousands, and singers often turn to him for repertoire suggestions. Unlike most sheet music collectors who are drawn to the colorful covers, Randy is far more interested in the music inside.
---
The 31st National Arts & Crafts Conference
Grove Park Inn, Asheville, NC
www.arts-craftsconference.com
Since 1988, the Grove Park Inn and Bruce Johnson have hosted the National Arts & Crafts Conference and Shows, showcasing the country's finest seminar speakers, recognized experts, reputable antiques dealers, educational tours, workshops and discussions, as well as respected artists and skilled artisans from across the country (a total of more than 130 exhibitors) plus the most enthusiastic group of collectors anywhere. This conference is limited to 1500 people, so reserve early!
---
Minnesota State Capitol Tours
Tour an architectural masterpiece by influential architect Cass Gilbert. From its grand stairs to its historic legislative chambers to the public works of art surrounding the building, there's always something to see at the State Capitol. The building is considered an architectural masterpiece and holds a special place in Minnesota's history. You can tour with a guide or on your own. And don't forget the Grand Opening Celebration in August!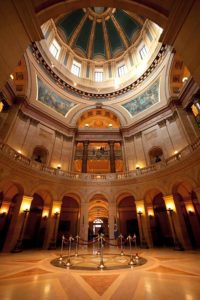 1. Free Guided Tours
June 10 – December 31, 2017
Monday through Saturday, 10 a.m. to 2 p.m.
Sunday, 1 to 3 p.m.
www.mnhs.org/capitol/activities/tours
Take a free guided tour to see the restoration effort up close and get an overview of Capitol history, art, architecture and state government. Tours leave at the top of the hour and last 45 minutes. Reservations required for groups of 15 or more. Call 651-259-3003 or 1-844-667-8679.
2. Self-Guided Tours
The Capitol is open to the public daily. You can find a suggested itinerary for viewing the Capitol at www.mnhs.org/capitol/activities/self-guided-tours.
---
The Beginnings of Modernism: British Design, 1870–1910
Wells Fargo Center
90 South 7th St., Minneapolis
Free
http://tinyurl.com/gler265
In U.S. and European decorative arts, Britain led the way in modern design. Designers and makers who were part of the English Arts & Crafts movement wanted to provide handmade—and often luxurious and expensive—alternatives to mass-produced goods. Standards were set and maintained by the Guild of Handicraft led by Charles Robert Ashbee. London department store Liberty's of London sold handmade and unique objects made by British craftsmen and women. This exhibition shows the dominance of Britain during this era.
---
Hennepin County Fix-It Clinics
Hennepin County Environmental Services
www.hennepin.us/fixitclinic
Sewing machine won't sew? Toaster won't toast? Toy helicopter won't fly? Don't throw it out! Bring your broken household appliances, electronics, mobile devices, toys and clothing in need of repair to a Hennepin County Fix-It Clinic.
Skilled volunteers will provide free, guided assistance to disassemble, troubleshoot and fix these items. Bring any tools and supplies you think might help with the job.
You will learn valuable troubleshooting and basic repair skills, build community connections, and reduce the number of repairable objects that are thrown in the trash. Events are first come, first served.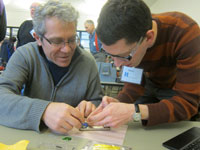 Fix-It Clinics are held monthly at locations throughout the county. More details and upcoming dates and locations available online.
Fix-It Clinics teach valuable troubleshooting and basic repair skills, build community connections, and reduce the number of repairable objects that are thrown in the trash. Events are first come, first served.
Volunteer fixers are needed to make this initiative a success. Volunteers should have skills in soldering, electronics and electrical repair, computer repair, sewing, or general tinkering, and have a strong desire to teach and empower people.
Contact Nancy Lo at nancy.lo@co.hennepin.mn.us or 612-348-9195 with questions or to volunteer.
---
Ramsey County Fix-It Clinics
www.ramseycounty.us/residents/recycling-waste/education/fix-it-clinics
Ramsey County residents who have broken household items can now get them repaired for free at monthly Fix-It Clinics being held at libraries and other civic buildings. Items to bring include electronics, clothing, appliances, light fixtures, and other items "small enough to carry."
Started in July 2015, the clinics are managed by the Ramsey County Public Health Department and follow a successful program underway in Hennepin County.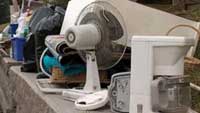 The clinics will be held one Saturday a month in 2016 at various locations. Details available online. If you can troubleshoot repairs for broken items, consider volunteering at a Fix-It Clinic. Volunteer fixers who have skills in soldering, electronics repair, electrical repair, sewing, wood working and general tinkering are essential to making the clinics successful. Email AskEH@co.ramsey.mn.us or call 651-266-1199 for details and to sign up.
---
Classes Offered by Preservation Alliance of Minnesota
The Preservation Alliance of Minnesota (PAM) offers classes in four series—Homeowner, Professional, Old Home Certified and Community. From hands-on workshops to behind-the-scenes tours, from state-approved continuing education to specialized courses, PAM delivers unique and unparalleled preservation-based education.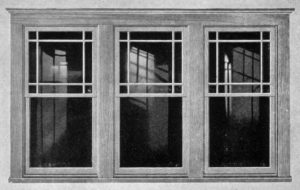 Bungalow Club members will be especially interested in the Homeowner series. Classes and workshops such as "Repairing Old Windows" and "Refinishing Wood Floors" will help you better understand and maintain your home.
Check the PAM website (under the "Services" tab) for the listing of upcoming classes and workshops. Whether you're discovering how to identify an architectural style, drain a radiator or use historic tax credits, PAM makes it easy to sign up for an affordable learning experience. PAM members receive a 15 percent discount on classes!