Events

hat follows is a list of upcoming events of interest to members of the Twin Cities Bungalow Club. Some are sponsored by the Bungalow Club and some are not.

A WWI Christmas
Charles Lindbergh House and Museum
1620 Lindbergh Drive S., Little Falls, MN
$6 to $10/$2 discount MNHS members
http://sites.mnhs.org/historic-sites/charles-lindbergh-historic-site
Experience what Christmas was like for the Lindberghs during World War I in this living history program. Meet costumed interpreters portraying Lindbergh family members and neighbors as they provide insights into early 20th-century holiday traditions and the challenges wartime presented.
Learn about the impact of food rationing; create a Christmas decoration to take home; and write a note or draw a picture for a soldier as Charles Lindbergh might have done. Notes will be distributed to Minnesota soldiers in time for the holidays.
---
Coco's Diary:
A Christmas Gift to Remember
Presented by the History Theatre
30 E. 10th Street, St. Paul
651-292-4323
Ticket information online
Young Clotilde "Coco" Irvine is the daughter of a lumber baron living in a fashionable Summit Avenue mansion. It is 1927, and teenager Coco was given a diary for Christmas in which she faithfully chronicles the ups and downs of her rollercoaster year. "Coco's Diary" leads audiences on a winsome romp alongside our smart, adventurous, mischievous heroine surrounded by the beguiling music of the 1920's. It is charming, funny and delightful entertainment for the entire family.
---
An "Eventually" Christmas: Holidays at the Mill
Mill City Museum
704 South 2nd St., Minneapolis
$16 to $20
612-341-7582
http://www.mnhs.org/event/3746
Join the Ghost of Mill City Past for an intimate look at the 1920 Washburn Crosby holiday party in this unique play set in the museum's Flour Tower elevator ride. Scenes unfold on different floors where the audience meets characters drawn from the pages of the company's employee newspaper, the Eventually News.
Witness the rocky romance of Celia and Otto; meet marketing mastermind Benjamin S. Bull; experience the awesome sweeping power of Bill Smith and learn the secret origin of the Washburn Crosby marketing slogan, "Eventually—Why Not Now?"
Recommended for ages 8 and older. Ticket includes museum admission and refreshments after the play.
---
Minnesota State Capitol Tours
Tour an architectural masterpiece by influential architect Cass Gilbert. From its grand stairs to its historic legislative chambers to the public works of art surrounding the building, there's always something to see at the State Capitol. The building is considered an architectural masterpiece and holds a special place in Minnesota's history. You can tour with a guide or on your own.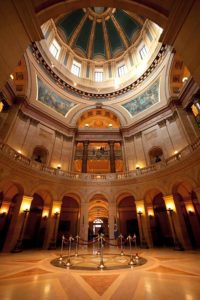 1. Free Guided Tours
Tours offered through December 31, 2017
Monday through Saturday, 10 a.m. to 2 p.m.
Sunday, 1 to 3 p.m.
www.mnhs.org/capitol/activities/tours
Take a free guided tour to see the restoration effort up close and get an overview of Capitol history, art, architecture and state government. Tours leave at the top of the hour and last 45 minutes. Reservations required for groups of 15 or more. Call 651-259-3003 or 1-844-667-8679.
2. Self-Guided Tours
The Capitol is open to the public daily. You can find a suggested itinerary for viewing the Capitol at www.mnhs.org/capitol/activities/self-guided-tours.
---
Christmas at Glensheen
Glensheen Mansion House Museum
3300 London Road, Duluth, MN
Price varies per type of tour
1-888-454-GLEN
http://glensheen.org/tours/year-round
The Glensheen Mansion in Dululth is completely decked out for the holidays, making every tour at Glensheen a Christmas-infused experience. Glensheen is decorated with over 25 Christmas trees and hundreds of feet of garland. There are hidden elves throughout the mansion for you to spy. Plus, grab a cookie while on tour to taste Clara Congdon's shortbread cookie recipe.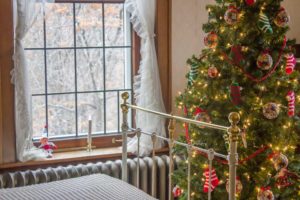 New to the Glensheen Christmas experience is the Candlelight Christmas Tour. Find yourself in the mansion being guided by the lights of the Christmas trees.
Tickets can be purchased on site based on availability and are sold on a first-come, first-served basis. During periods of high demand, tours fill quickly. Advanced, online reservations are encouraged.
---
A Look at Glen Lake Tuberculosis Sanatorium
Hennepin History Museum
2303 Third Avenue S., Minneapolis
$5/$3 for students and seniors
612-870-1329
https://hennepinhistory.org/exhibits.html
Glen Lake Sanatorium, a tuberculosis treatment center serving Hennepin County, opened on January 4, 1916, with a capacity of 50 patients, and closed in 1976. The fresh-air-and-bed-rest treatment of tuberculous patients often meant open windows, even during Minnesota winters.
Exhibit goers will gain a glimpse into what life was like for the patients and staff at one of the nation's most progressive sanatoriums and learn more about history and treatment of tuberculosis, a disease that is still with us today.
This exhibit is presented in partnership with the Hopkins Historical Society and based upon the work of Glen Lake historian Mary Krugerud. Visiting the museum at this time does require the use of stairs.
---
The 31st National Arts & Crafts Conference
Grove Park Inn, Asheville, NC
www.arts-craftsconference.com
Since 1988, the Grove Park Inn and Bruce Johnson have hosted the National Arts & Crafts Conference and Shows, showcasing the country's finest seminar speakers, recognized experts, reputable antiques dealers, educational tours, workshops and discussions, as well as respected artists and skilled artisans from across the country (a total of more than 130 exhibitors) plus the most enthusiastic group of collectors anywhere. This conference is limited to 1500 people, so reserve early!
---
THE TWIN CITIES BUNGALOW CLUB PRESENTS:
2017 Twin Cities Bungalow Club Home Tour
It's not too early to start thinking about spring and about the 2018 Bungalow Club home tour.
Do you have a charming bungalow or other early 20th century house? Do you appreciate other homeowners who put their houses on tours so you can benefit from their ideas and enthusiasm? Then you may be a candidate for our next tour.
Contact us by email (mail@bungalowclub.net) or telephone (612-724-5816).
---
The Beginnings of Modernism: British Design, 1870–1910
Wells Fargo Center
90 South 7th St., Minneapolis
Free
http://tinyurl.com/gler265
In U.S. and European decorative arts, Britain led the way in modern design. Designers and makers who were part of the English Arts & Crafts movement wanted to provide handmade—and often luxurious and expensive—alternatives to mass-produced goods. Standards were set and maintained by the Guild of Handicraft led by Charles Robert Ashbee. London department store Liberty's of London sold handmade and unique objects made by British craftsmen and women. This exhibition shows the dominance of Britain during this era.
---
Hennepin County Fix-It Clinics
Hennepin County Environmental Services
www.hennepin.us/fixitclinic
Sewing machine won't sew? Toaster won't toast? Toy helicopter won't fly? Don't throw it out! Bring your broken household appliances, electronics, mobile devices, toys and clothing in need of repair to a Hennepin County Fix-It Clinic.
Skilled volunteers will provide free, guided assistance to disassemble, troubleshoot and fix these items. Bring any tools and supplies you think might help with the job.
You will learn valuable troubleshooting and basic repair skills, build community connections, and reduce the number of repairable objects that are thrown in the trash. Events are first come, first served.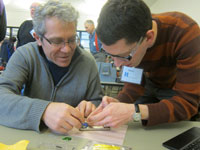 Fix-It Clinics are held monthly at locations throughout the county. More details and upcoming dates and locations available online.
Fix-It Clinics teach valuable troubleshooting and basic repair skills, build community connections, and reduce the number of repairable objects that are thrown in the trash. Events are first come, first served.
Volunteer fixers are needed to make this initiative a success. Volunteers should have skills in soldering, electronics and electrical repair, computer repair, sewing, or general tinkering, and have a strong desire to teach and empower people.
Contact Nancy Lo at nancy.lo@co.hennepin.mn.us or 612-348-9195 with questions or to volunteer.
---
Ramsey County Fix-It Clinics
www.ramseycounty.us/residents/recycling-waste/education/fix-it-clinics
Ramsey County residents who have broken household items can now get them repaired for free at monthly Fix-It Clinics being held at libraries and other civic buildings. Items to bring include electronics, clothing, appliances, light fixtures, and other items "small enough to carry."
Started in July 2015, the clinics are managed by the Ramsey County Public Health Department and follow a successful program underway in Hennepin County.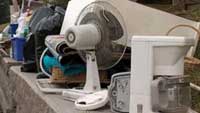 The clinics will be held one Saturday a month in 2016 at various locations. Details available online. If you can troubleshoot repairs for broken items, consider volunteering at a Fix-It Clinic. Volunteer fixers who have skills in soldering, electronics repair, electrical repair, sewing, wood working and general tinkering are essential to making the clinics successful. Email AskEH@co.ramsey.mn.us or call 651-266-1199 for details and to sign up.
---
Classes Offered by Preservation Alliance of Minnesota
The Preservation Alliance of Minnesota (PAM) offers classes in four series—Homeowner, Professional, Old Home Certified and Community. From hands-on workshops to behind-the-scenes tours, from state-approved continuing education to specialized courses, PAM delivers unique and unparalleled preservation-based education.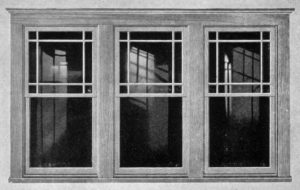 Bungalow Club members will be especially interested in the Homeowner series. Classes and workshops such as "Repairing Old Windows" and "Refinishing Wood Floors" will help you better understand and maintain your home.
Check the PAM website (under the "Services" tab) for the listing of upcoming classes and workshops. Whether you're discovering how to identify an architectural style, drain a radiator or use historic tax credits, PAM makes it easy to sign up for an affordable learning experience. PAM members receive a 15 percent discount on classes!