Events

hat follows is a list of upcoming events of interest to members of the Twin Cities Bungalow Club. Some are sponsored by the Bungalow Club and some are not.

South Minneapolis Housing Fair
Saturday, April 5, 2014
10 a.m. to 3 p.m.
Minneapolis Sports Center
2121 East Lake St., Minneapolis
Free admission
www.housingfair.org
Whether you are giving a room a "make-over" or starting from the ground up, you'll find answers to your questions at the 20th annual South Minneapolis Housing Fair. There will be almost 60 exhibitors and vendors with expertise on home remodeling, basement finishing, kitchen and bath transformation, landscaping, and more. A list of workshops and home improvement classes is available online.
---
Emma Roberts: An Arts & Crafts Woman
A character sketch by author Sue Leaf
Thursday, April 10, 2014
7 to 9 p.m.
Bethlehem Covenant Church
3141 43rd Ave. S., Minneapolis
Bungalow Club members free; nonmembers $3
The Handicraft Guild Building in downtown Minneapolis is a mute testament to the city's heritage as a leader of the Arts & Crafts movement in the United States. Emma Roberts (1859 to 1948), a Minneapolis watercolorist and director of drawing for the city's public schools, is credited with founding the Guild and construction of the building that stands at 10th and Marquette. Yet, little is known about her life. Join us as we learn more about this fascinating character.
Minnesota author Sue Leaf uncovered the story of Emma Roberts while researching a book about Emma's brother. She discovered a woman who lived on the cusp of change. Modestly wealthy in an age when women of her class were not expected to work, Emma worked full time and expanded the arts appreciation coursework of the public schools.
Emma hired Arts & Crafts architect Edwin Hewitt to design a house for her in the emerging Tangletown neighborhood of south Minneapolis. The house features thoughtfully designed, small spaces; sunny rooms that invited nature into the living spaces; and fireplace tiles (crafted by her friend, Ernest Batchelder of Pasadena) on each of the three fireplaces. Leaf will tell the tale of a girl born before the Civil War who matured into a thoughtful, articulate spokesperson on the role of art in everyday life.
Sue Leaf is the author of three books: Potato City: Nature, History and Community in the Age of Sprawl; The Bullhead Queen: A Year on Pioneer Lake; and A Love Affair with Birds: The Life of Thomas Sadler Roberts. She lives and writes from her home in Center City, Minn.
---
Home Improvement Fair
The Macalester-Groveland Community Council
Saturday, April 26, 2014
9 a.m. to 2 p.m.
Cretin Derham Hall
550 South Albert St., St. Paul
http://Macgrove.org/hif or 651-695-4000
The fair is a popular event, bringing in hundreds of area homeowners to learn about local home improvement products, and services and to participate in workshops. A list of the 80 exhibitors and the 20 workshops is available online.
A new feature for 2014: Bring up to three broken household items to get fixed at the Fix-It Clinic, 10 a.m. to 1 p.m. Items include electronics, jewelry, furniture, clothing and small appliances.
---
Friends School Plant Sale
Friday, May 9, 2014, 9 a.m. to 8 p.m.
Saturday, May 10, 2014, 10 a.m. to 6 p.m.
Sunday, May 11, 2014, 10 a.m. to 2 p.m.
Minnesota State Fair Grandstand
Free admission
www.friendsschoolplantsale.com/about
Each year on Mother's Day weekend, Friends School puts on the biggest fundraising plant sale in Minnesota. Over 2,300 varieties of plants are offered for sale—including a full line of annuals, perennials, climbing plants, native wildflowers and vegetables, with selected water plants, roses, and trees and shrubs.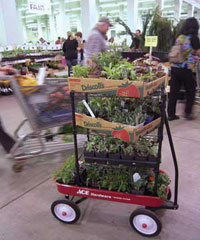 Held in the Grandstand, it's exciting for beginning and experienced gardeners to see 66,000 square feet of plants. Park free in the Midway area (just southwest of the Grandstand) or anywhere on the fairgrounds.
Printed catalogs are available by April 1 in many libraries, coffee shops and natural food co-ops in Minneapolis and St. Paul. To get on the mailing list for next year, email frontoffice@fsmn.org. Include "add to plant sale list" in the reference line.
Sign up on their website to be a volunteer—volunteers shop early! Signups are open through the week of the sale.
---
2014 Twin Cities Bungalow Club Home Tour
Saturday, May 10, 2014
10 a.m. to 5 p.m.
Bungalow Club members free;
non-members $5
Tour starting address to be announced
Mark your calendar for May 10 and join us for this annual Twin Cities Bungalow Club celebration of vintage homes. Do you have a charming bungalow or other early 20th century house? Do you appreciate other homeowners who put their houses on tours so you can benefit from their ideas and enthusiasm? Then you may be a candidate for the 2014 Bungalow Club's spring home tour. 
Contact us by email (mail@bungalowclub.net) or telephone at 612-724-5816.
---
9th Annual Arts & Crafts Chicago Show and Sale
Saturday, May 17, 2014, 10 a.m. to 5 p.m.
Sunday, May 18, 2014, 10 a.m. to 4 p.m.
Concordia University
River Forest, Ill.
Admission: $7
Information: www.artsandcraftschicago.com/ or
call Eastwood Gallery 651-695-1902
The 9th Annual Arts & Crafts Chicago Show and Sale will feature furniture and accessories from and inspired by the American and English Arts & Crafts Movement.
Homeowners interested in acquiring pieces and/or educating themselves about the appropriate furnishings for their turn-of-the-century bungalows and craftsman style homes should plan to attend.
---
Antiques and Decorative Arts Show
Saturday, June 7, 2014, 10 a.m. to 6 p.m.
Sunday, June 8, 2014, 11 a.m. to 4 p.m.
The Fine Arts Building
Minnesota State Fair Grounds
1442 Cosgrove St., St. Paul
Free parking
Admission: $6, valid for both days
Coupon available online: www.mnantiquesdealers.com/antique-show/
Information: mnantiques@gmail.com or 651-430-0095
This show is a sale of fine antiques and decorative arts from regional dealers, offering a wide variety of merchandise at affordable prices. The exhibitors were selected by the Minnesota Antiques Dealers Association for their commitment to quality and their interest in furthering the education and knowledge of the buying public
With about 45 dealers, this small intimate show allows for comfortable shopping in a casual atmosphere.  From funky garden accessories to signed bronzes, fine original art to retro chic, mark this show on your calendar as a "must do" event.
---
Red Wing Collectors Society's Annual Convention
Thursday through Saturday, July 10–12, 2014
Red Wing High School
2451 Eagle Ridge Dr., Red Wing, MN
Information: www.RedWingCollectors.org or 800-977-7927
Buy, sell and learn about the beautiful pottery pieces created by the potteries in Red Wing, Minnesota. The RWCS convention is the premier place to find Red Wing pieces to start or add to your prized collection.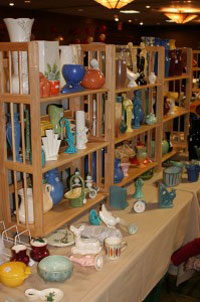 The RWCS is the largest collectors society in the nation and more than 1200 members attend this event. Some events are for members only but many are open to the public.  For example:
Members Only Pottery/Stoneware Auction: 4:30 p.m., Thursday, July 10, Red Wing High School
"Crock Fest" celebration: 5 to 9 p.m., Friday, July 11, Central Park, Red Wing; music, food and activities for the whole family
Pottery Show and Sale: 9 a.m. to 1:30 p.m., Saturday, July 12, Red Wing High School, (open to public at 10:30 a.m.). Over 150 tables selling Red Wing stoneware, dinnerware and art pottery.