Events

hat follows is a list of upcoming events of interest to members of the Twin Cities Bungalow Club. Some are sponsored by the Bungalow Club and some are not.

Greetings: A History of the Buzza Company
Hennepin History Museum
2303 Third Ave. S., Minneapolis
612-870-1329
www.hennepinhistory.org
During its prime, the Minneapolis-based Buzza Company (1907-1942) was one of the nation's largest manufacturers of greeting cards, framed mottos, gift books and party stationery.
The Greetings exhibit tells the story of the company's rise and fall; its larger-than-life founder; and the hundreds of artists, poets, printers, and others who produced, sold, and shipped many millions of items from the company's Lake Street headquarters each year.
The Buzza Company building still exists. It's in the Uptown neighborhood of Minneapolis, and it now houses 136 contemporary living lofts. The building's center tower is still emblazoned with the company's name.
---
The National Arts & Crafts Conference
Grove Park Inn, Asheville, NC
www.arts-craftsconference.com
Since 1988, the Grove Park Inn and Bruce Johnson have hosted the National Arts & Crafts Conference and Shows, showcasing the country's finest seminar speakers, recognized experts, reputable antiques dealers, educational tours, workshops and discussions, as well as respected artists and skilled artisans from across the country (a total of more than 130 exhibitors) plus the most enthusiastic group of collectors anywhere. This conference is limited to 1500 people, so reserve today!
---
The Twin Cities Bungalow Club presents:
Earnest Batchelder: American Tilemaker and Innovator
An illustrated talk by the Heritage Tile Company's Keith Bieneman
Sunday, February 21, 2016
2:00 to 3:30 p.m.
Hennepin History Museum's fireplace room
2303 Third Ave. S., Minneapolis
Club members: free; non-members $3
Park in museum lot or on street
Join us on a cozy winter's afternoon in front of a crackling fire with a Chicago-based tile expert, learning all about one of the world's premier Arts & Crafts tilemakers.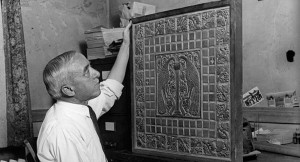 The rise and fall of celebrated American tilemaker Earnest Batchelder and his Batchelder-Wilson Company is a story filled with artistic creativity, technical innovation and market economics. In 30 short years, Batchelder transformed himself from a little known educator into a renowned visionary who introduced designs and production techniques that have influenced the tile industry for decades.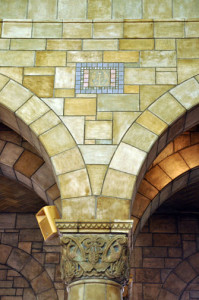 We'll explore Batchelder's career, his brief time at the Minneapolis Handicraft Guild, and his enduring legacy. You'll learn about his numerous innovations including unglazed, high-fired stoneware and self-spacing field tile. You'll see the wide range of his creative designs and exquisitely executed glaze palette. And we'll have information about how you can identify Batchelder tile and where you can obtain reproduction tiles.
Leading us through Batchelder's life and career will be Keith Bieneman, general manager of the Chicago-based Heritage Tile Company. The company's flagship product lines, Subway Classics and Subway Mosaics, offer tiles manufactured to original design specifications using historic glaze palettes. Keith has worked in the tile industry for over 14 years.
---
2016 Twin Cities Bungalow Club Home Tour
Bungalow Club members free; non-members $5
Tour starting address to be announced
Do you have a charming bungalow or other early 20th century house? Do you appreciate other homeowners who put their houses on tours so you can benefit from their ideas and enthusiasm? Then you may be a candidate for the 2016 Bungalow Club's spring home tour. We couldn't do it without the generosity of homeowners!
Contact us by email (mail@bungalowclub.net) or telephone (612-724-5816).
---
Hennepin County Fix-It Clinics
Hennepin County Environmental Services
www.hennepin.us/fixitclinic
Sewing machine won't sew? Toaster won't toast? Toy helicopter won't fly? Don't throw it out! Bring your broken household appliances, electronics, mobile devices, toys and clothing in need of repair to a Hennepin County Fix-It Clinic.
Skilled volunteers will provide free, guided assistance to disassemble, troubleshoot and fix these items. Bring any tools and supplies you think might help with the job.
You will learn valuable troubleshooting and basic repair skills, build community connections, and reduce the number of repairable objects that are thrown in the trash. Events are first come, first served.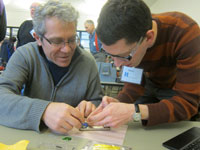 Fix-It Clinics are held monthly at locations throughout the county. More details and upcoming dates and locations available online.
Fix-It Clinics teach valuable troubleshooting and basic repair skills, build community connections, and reduce the number of repairable objects that are thrown in the trash. Events are first come, first served.
Volunteer fixers are needed to make this initiative a success. Volunteers should have skills in soldering, electronics and electrical repair, computer repair, sewing, or general tinkering, and have a strong desire to teach and empower people.
Contact Nancy Lo at nancy.lo@co.hennepin.mn.us or 612-348-9195 with questions or to volunteer.
---
Ramsey County Fix-It Clinics
www.ramseycounty.us/residents/recycling-waste/education/fix-it-clinics
Ramsey County residents who have broken household items can now get them repaired for free at monthly Fix-It Clinics being held at libraries and other civic buildings. Items to bring include electronics, clothing, appliances, light fixtures, and other items "small enough to carry."
Started in July 2015, the clinics are managed by the Ramsey County Public Health Department and follow a successful program underway in Hennepin County.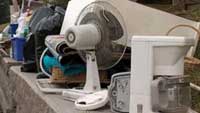 The clinics will be held one Saturday a month in 2016 at various locations. Details available online. If you can troubleshoot repairs for broken items, consider volunteering at a Fix-It Clinic. Volunteer fixers who have skills in soldering, electronics repair, electrical repair, sewing, wood working and general tinkering are essential to making the clinics successful. Email AskEH@co.ramsey.mn.us or call 654-266-1199 for details and to sign up.