Events

hat follows is a list of upcoming events of interest to members of the Twin Cities Bungalow Club. Some are sponsored by the Bungalow Club and some are not.

American Art Pottery Association 2018 Convention
Gateway Hotel and Convention Center, Ames, Iowa
Registration information online by mid-January
www.aapa.info
The American Art Pottery Association (AAPA) convention has a lot to offer pottery lovers.
A tour of the Iowa State University art collection includes campus sculpture from Christian Petersen as well as murals from Grant Wood and artists from the Stone City Art Colony—all done during the Great Depression. Also, pottery produced at the college in the 1920s by Professor Paul Cox and Mary Yancey will be on display.
Seminar presentations include Steve Schoneck on the Handicraft Guild of Minneapolis; Christine Boone on Abingdon Pottery; and an exploration of the Iowa State College (now University) sculptor Christian Petersen by expert Lea DeLong. Plus, an interactive talk will examine the world of collecting art pottery.
On Friday afternoon, the greatest art pottery show in the country will open for convention attendees only and then reopen Saturday morning to the general public. Admission is free.
If you are considering attending, contact the hotel at 800-367-2637 and ask for the AAPA group rooming block. For those of you unable to drive, the Des Moines airport is located about 45 miles south of Ames. Shuttle and car rental transportation are available.
To see what an annual membership in AAPA includes, check their website.
You can investigate the association and convention further by logging into their Facebook page: www.facebook.com/AmericanArtPotteryAssociation.
---
THE TWIN CITIES BUNGALOW CLUB PRESENTS:
2017 Twin Cities Bungalow Club Home Tour
It's not too early to start thinking about spring and about the 2018 Bungalow Club home tour.
Do you have a charming bungalow or other early 20th century house? Do you appreciate other homeowners who put their houses on tours so you can benefit from their ideas and enthusiasm? Then you may be a candidate for our next tour.
Contact us by email (mail@bungalowclub.net) or telephone (612-724-5816).
---
The Beginnings of Modernism: British Design, 1870–1910
Wells Fargo Center
90 South 7th St., Minneapolis
Free
http://tinyurl.com/gler265
In U.S. and European decorative arts, Britain led the way in modern design. Designers and makers who were part of the English Arts & Crafts movement wanted to provide handmade—and often luxurious and expensive—alternatives to mass-produced goods. Standards were set and maintained by the Guild of Handicraft led by Charles Robert Ashbee. London department store Liberty's of London sold handmade and unique objects made by British craftsmen and women. This exhibition shows the dominance of Britain during this era.
---
Hennepin County Fix-It Clinics
Hennepin County Environmental Services
www.hennepin.us/fixitclinic
Sewing machine won't sew? Toaster won't toast? Toy helicopter won't fly? Don't throw it out! Bring your broken household appliances, electronics, mobile devices, toys and clothing in need of repair to a Hennepin County Fix-It Clinic.
Skilled volunteers will provide free, guided assistance to disassemble, troubleshoot and fix these items. Bring any tools and supplies you think might help with the job.
You will learn valuable troubleshooting and basic repair skills, build community connections, and reduce the number of repairable objects that are thrown in the trash. Events are first come, first served.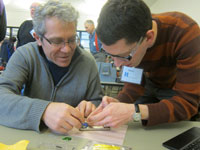 Fix-It Clinics are held monthly at locations throughout the county. More details and upcoming dates and locations available online.
Fix-It Clinics teach valuable troubleshooting and basic repair skills, build community connections, and reduce the number of repairable objects that are thrown in the trash. Events are first come, first served.
Volunteer fixers are needed to make this initiative a success. Volunteers should have skills in soldering, electronics and electrical repair, computer repair, sewing, or general tinkering, and have a strong desire to teach and empower people.
Contact Nancy Lo at nancy.lo@co.hennepin.mn.us or 612-348-9195 with questions or to volunteer.
---
Ramsey County Fix-It Clinics
www.ramseycounty.us/residents/recycling-waste/education/fix-it-clinics
Ramsey County residents who have broken household items can now get them repaired for free at monthly Fix-It Clinics being held at libraries and other civic buildings. Items to bring include electronics, clothing, appliances, light fixtures, and other items "small enough to carry."
Started in July 2015, the clinics are managed by the Ramsey County Public Health Department and follow a successful program underway in Hennepin County.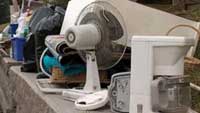 The clinics will be held one Saturday a month in 2016 at various locations. Details available online. If you can troubleshoot repairs for broken items, consider volunteering at a Fix-It Clinic. Volunteer fixers who have skills in soldering, electronics repair, electrical repair, sewing, wood working and general tinkering are essential to making the clinics successful. Email AskEH@co.ramsey.mn.us or call 651-266-1199 for details and to sign up.
---
Classes Offered by Preservation Alliance of Minnesota
The Preservation Alliance of Minnesota (PAM) offers classes in four series—Homeowner, Professional, Old Home Certified and Community. From hands-on workshops to behind-the-scenes tours, from state-approved continuing education to specialized courses, PAM delivers unique and unparalleled preservation-based education.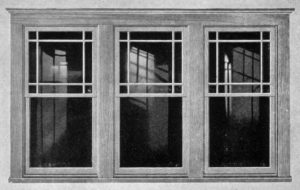 Bungalow Club members will be especially interested in the Homeowner series. Classes and workshops such as "Repairing Old Windows" and "Refinishing Wood Floors" will help you better understand and maintain your home.
Check the PAM website (under the "Services" tab) for the listing of upcoming classes and workshops. Whether you're discovering how to identify an architectural style, drain a radiator or use historic tax credits, PAM makes it easy to sign up for an affordable learning experience. PAM members receive a 15 percent discount on classes!