Events

hat follows is a list of upcoming events of interest to members of the Twin Cities Bungalow Club. Some are sponsored by the Bungalow Club and some are not.

Greetings: A History of the Buzza Company
Hennepin History Museum
2303 Third Ave. S., Minneapolis
612-870-1329
www.hennepinhistory.org
During its prime, the Minneapolis-based Buzza Company (1907-1942) was one of the nation's largest manufacturers of greeting cards, framed mottos, gift books and party stationery.
The Greetings exhibit tells the story of the company's rise and fall; its larger-than-life founder; and the hundreds of artists, poets, printers, and others who produced, sold, and shipped many millions of items from the company's Lake Street headquarters each year.
The Buzza Company building still exists. It's in the Uptown neighborhood of Minneapolis, and it now houses 136 contemporary living lofts. The building's center tower is still emblazoned with the company's name.
---
Raingarden Workshops
8 metro locations
http://metroblooms.org/workshops/events
Metro Blooms' raingarden workshops will give you an overview of their DIY approach to raingardens and native plants. You will also be given information about resources to hire if you need help.
With a mission to promote gardening, beautify communities, and help the environment, the non-profit Metro Blooms has installed more than 450 raingardens working with partners and volunteers.
Workshops are currently planned for eight metro locations from March 31 to May 25, 2016, with more in the works. Find more information and sign up on our website.
---
South Minneapolis Housing Fair

Minneapolis Sports Center
2121 East Lake St., Minneapolis
Free admission
www.housingfair.org
Whether you are giving a room a "make-over" or starting from the ground up, you'll find answers to your questions at the 22st annual South Minneapolis Housing Fair. There will be exhibitors and vendors with expertise on home remodeling, basement finishing, kitchen and bath transformation, landscaping, and more. A list of workshops and home improvement classes is available online.
---
2016 Home Improvement Fair
The Macalester-Groveland Community Council
Cretin Derham Hall
550 South Albert St., St. Paul
http://Macgrove.org/hif or 651-695-4000
The fair is a popular event, bringing in hundreds of area homeowners to learn about local home improvement products, and services and to participate in workshops. A list of the over 70 exhibitors and 15 workshops is available online.
---
Friends School Plant Sale
Minnesota State Fair Grandstand
Free admission; free parking
www.friendsschoolplantsale.com/about
Each year on Mother's Day weekend, Friends School puts on the biggest fundraising plant sale in Minnesota. Over 2,500 varieties of plants are offered for sale—including a full line of annuals, perennials, climbing plants, native wildflowers and vegetables, with selected water plants, roses, and trees and shrubs.
Held in the Grandstand, it's exciting for beginning and experienced gardeners to see 66,000 square feet of plants. Park free in the Midway area (just southwest of the Grandstand) or anywhere on the fairgrounds.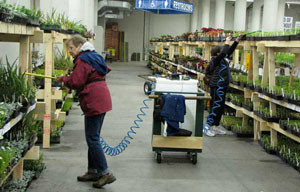 In early April, look for a printed catalog in many libraries, coffee shops and natural food co-ops in Minneapolis and St. Paul to get all the details. Of particular use to first-timers, is the information on "How to Do the Sale."
Sign up on their website to be a volunteer—volunteers shop early! Signups are open through the week of the sale.
Photos courtesy of Friends Plant Sale.
---
2016 Twin Cities Bungalow Club Home Tour
Bungalow Club members free; non-members $5
Tour starts at 2908 33rd Ave. S., Minneapolis

Join us on Saturday, May 14, for the Twin Cities Bungalow Club's annual celebration of vintage houses. The tour is a great way to get ideas for your own home, chat with like-minded homeowners and contractors, and cruise bungalow neighborhoods.
There are six beautiful homes on the tour this year. Pick up a tour map with the homes' addresses and descriptions any time after 10 a.m. on Saturday, May 14, at the first house located at 2908 33rd Avenue S. in Minneapolis. Reservations not required.
On the tour you will see:

both snug bungalows and larger two-story homes;
Arts & Crafts furniture, lamps and pottery;
updated kitchens with vintage elements;
spacious upstairs master suites;
generous screened porches with wicker furniture;

a new bathroom tucked into a second-floor dormer;
and loads of woodwork, fireplaces, vintage light fixtures, and all-around bungalow charm!
---
Antiques and Decorative Arts Show
The Fine Arts Building
Minnesota State Fair Grounds
1442 Cosgrove St., St. Paul
Free parking
Admission: $6, valid for both days
Coupon available online: www.mnantiquesdealers.com/antique-show/
Information: mnantiques@gmail.com or 651-430-0095
This show is a sale of fine antiques and decorative arts from regional dealers, offering a wide variety of merchandise at affordable prices. The exhibitors were selected by the Minnesota Antiques Dealers Association for their commitment to quality and their interest in furthering the education and knowledge of the buying public
With about 45 dealers, this small intimate show allows for comfortable shopping in a casual atmosphere.  From funky garden accessories to signed bronzes, fine original art to retro chic, mark this show on your calendar as a "must do" event.
---
Red Wing Collectors Society's Annual Convention
Red Wing High School
2451 Eagle Ridge Dr., Red Wing, MN
Information: www.RedWingCollectors.org
or 800-977-7927
Buy, sell and learn about the beautiful pottery pieces created by the potteries in Red Wing, Minnesota. The RWCS convention is the premier place to find Red Wing pieces to start or add to your prized collection.
The RWCS is the largest collectors society in the nation and more than 1200 members attend this event. Some events are for members only but many are open to the public.  For example:
Display of pottery: 8 a.m. to noon, Saturday.
Pottery Show and Sale: 10:30 a.m. to 1:30 p.m., Saturday. Over 150 tables selling Red Wing stoneware, dinnerware and art pottery.
---
Hennepin County Fix-It Clinics
Hennepin County Environmental Services
www.hennepin.us/fixitclinic
Sewing machine won't sew? Toaster won't toast? Toy helicopter won't fly? Don't throw it out! Bring your broken household appliances, electronics, mobile devices, toys and clothing in need of repair to a Hennepin County Fix-It Clinic.
Skilled volunteers will provide free, guided assistance to disassemble, troubleshoot and fix these items. Bring any tools and supplies you think might help with the job.
You will learn valuable troubleshooting and basic repair skills, build community connections, and reduce the number of repairable objects that are thrown in the trash. Events are first come, first served.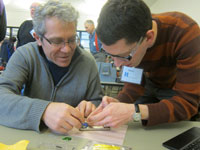 Fix-It Clinics are held monthly at locations throughout the county. More details and upcoming dates and locations available online.
Fix-It Clinics teach valuable troubleshooting and basic repair skills, build community connections, and reduce the number of repairable objects that are thrown in the trash. Events are first come, first served.
Volunteer fixers are needed to make this initiative a success. Volunteers should have skills in soldering, electronics and electrical repair, computer repair, sewing, or general tinkering, and have a strong desire to teach and empower people.
Contact Nancy Lo at nancy.lo@co.hennepin.mn.us or 612-348-9195 with questions or to volunteer.
---
Ramsey County Fix-It Clinics
www.ramseycounty.us/residents/recycling-waste/education/fix-it-clinics
Ramsey County residents who have broken household items can now get them repaired for free at monthly Fix-It Clinics being held at libraries and other civic buildings. Items to bring include electronics, clothing, appliances, light fixtures, and other items "small enough to carry."
Started in July 2015, the clinics are managed by the Ramsey County Public Health Department and follow a successful program underway in Hennepin County.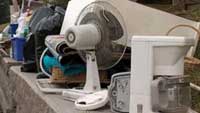 The clinics will be held one Saturday a month in 2016 at various locations. Details available online. If you can troubleshoot repairs for broken items, consider volunteering at a Fix-It Clinic. Volunteer fixers who have skills in soldering, electronics repair, electrical repair, sewing, wood working and general tinkering are essential to making the clinics successful. Email AskEH@co.ramsey.mn.us or call 654-266-1199 for details and to sign up.