Events
Metro Blooms Raingarden Workshops
Low-cost workshops
Sign up online or call 651-699-2426
http://metroblooms.org/workshops.php
Help keep our lakes and rivers clean while creating a beautiful and bee/butterfly-friendly habitat in your yard!
Raingardens and Beyond: Clean Water, Healthy Habitat Workshops – $15
This workshop gives an overview of raingardens and native plants plus recommendations for your property.

Onsite Consultation – $75
In this one-hour session, a landscape designer visits your property for a consultation.

Raingarden Design – $100
For an additional $100 fee, a landscape designer will supplement an onsite consultation with a raingarden design. 
---
Friends School Plant Sale
Minnesota State Fair Grandstand
Free admission; free parking
www.friendsschoolplantsale.com/about
Each year on Mother's Day weekend, Friends School puts on the biggest fundraising plant sale in Minnesota. Over 2,500 varieties of plants are offered for sale—including a full line of annuals, perennials, climbing plants, native wildflowers and vegetables, with selected water plants, roses, and trees and shrubs.
Held in the Grandstand, it's exciting for beginning and experienced gardeners to see 66,000 square feet of plants. Park free in the Midway area (just southwest of the Grandstand) or anywhere on the fairgrounds.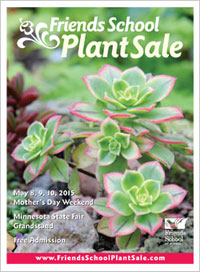 The floor plan is different this year, and there is a miniature plant section. Look for a printed catalog in many libraries, coffee shops and natural food co-ops in Minneapolis and St. Paul to get all the details. Of particular use to first-timers, is the information on "How to Do the Sale."
Sign up on their website to be a volunteer—volunteers shop early! Signups are open through the week of the sale.
Photos courtesy of Friends Plant Sale.
---
The Twin Cities Bungalow Club presents:
2015 Twin Cities Bungalow Club Home Tour
Bungalow Club members free; non-members $5
Tour starts at 5101 44th Ave. S., Minneapolis
It's almost here! Join us on Saturday, May 9, for the Twin Cities Bungalow Club's annual celebration of vintage houses. The tour is a great way to get ideas for your own home, chat with like-minded homeowners, and cruise bungalow neighborhoods.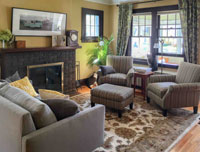 There are five beautiful homes on the tour this year. Pick up a tour map with the homes' addresses and descriptions any time after 10 a.m. on Saturday, May 9, at the first house
located at 5101 44th Avenue South in Minneapolis. No reservations are necessary.
On the tour you will see:
spacious upstairs master suites;
generous screened porches with wicker furniture;
new kitchens with great storage;
updated bathrooms with vintage elements;
newly-finished basement living spaces;
and loads of oak woodwork, fireplaces, vintage light fixtures, and all-around bungalow charm!
---
10th Annual Arts & Crafts Chicago Show and Sale
Concordia University
River Forest, Ill.
Admission: $7
Information: www.artsandcraftschicago.com/ or
call Eastwood Gallery 651-695-1902
The 10th Annual Arts & Crafts Chicago Show and Sale will feature furniture and accessories from and inspired by the American and English Arts & Crafts Movement.
Homeowners interested in acquiring pieces and/or educating themselves about the appropriate furnishings for their turn-of-the-century bungalows and craftsman style homes should plan to attend. Check online for a list of dealers.
This year's sale and show is on the same weekend as the 2015 Wright Plus Architectural Housewalk.
---
Mission to Modern: The Progression of Stickley Design
Sunday, May 17, 2015
2 to 3 p.m.
Gabberts in Little Canada
Mike Danial, Stickley corporate historian and 40-year company veteran, presents a unique look at how the revival of Stickley Mission designs is having an unexpected effect on the trend in Mid-Century Modern Revival. Bring in your vintage Stickley pieces or good-quality photos, and Mike will evaluate and comment.
Space is limited at these events. Please call the Gabberts concierge at 952-927-1500 to reserve your place.
---
Landscape Revival: Native Plant Expo and Market
Community Pavilion at the Roseville Cub Foods
1201 Larpenteur Ave. W., Roseville, MN
www.saintpaulaudubon.org/events/2015/06/native-plant-expo-and-market
Purchase pollinator-safe native plants at Landscape Revival. Native growers participating in the sale do not use neonicotinoid insecticides.
This one-day event offers gardeners a convenient location to shop for Minnesota native plants from 12 local growers and to learn how to use the plants from conservation organizations. Accessory products such as organic compost, rain barrels and native plant seed will also be for sale.
The event is sponsored by Saint Paul Audubon, Capitol Region Watershed District, Wild Ones, Blue Thumb, and Ramsey Washington Metro Watershed District.
---
Antiques and Decorative Arts Show
The Fine Arts Building
Minnesota State Fair Grounds
1442 Cosgrove St., St. Paul
Free parking
Admission: $6, valid for both days
Coupon available online: www.mnantiquesdealers.com/antique-show/
Information: mnantiques@gmail.com or 651-430-0095
This show is a sale of fine antiques and decorative arts from regional dealers, offering a wide variety of merchandise at affordable prices. The exhibitors were selected by the Minnesota Antiques Dealers Association for their commitment to quality and their interest in furthering the education and knowledge of the buying public
With about 45 dealers, this small intimate show allows for comfortable shopping in a casual atmosphere.  From funky garden accessories to signed bronzes, fine original art to retro chic, mark this show on your calendar as a "must do" event.
---
Hennepin County Fix-It Clinics
Hennepin County Environmental Services
www.hennepin.us/fixitclinic
Sewing machine won't sew? Toaster won't toast? Toy helicopter won't fly? Don't throw it out! Bring your broken household appliances, electronics, mobile devices, toys and clothing in need of repair to a Hennepin County Fix-It Clinic.
Skilled volunteers will provide free, guided assistance to disassemble, troubleshoot and fix these items. Bring any tools and supplies you think might help with the job.
You will learn valuable troubleshooting and basic repair skills, build community connections, and reduce the number of repairable objects that are thrown in the trash. Events are first come, first served.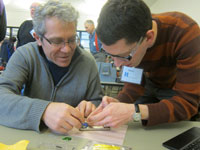 Fix-It Clinics are held monthly at locations throughout the county. More details and upcoming dates and locations available online.
Fix-It Clinics teach valuable troubleshooting and basic repair skills, build community connections, and reduce the number of repairable objects that are thrown in the trash. Events are first come, first served.
Volunteer fixers are needed to make this initiative a success. Volunteers should have skills in soldering, electronics and electrical repair, computer repair, sewing, or general tinkering, and have a strong desire to teach and empower people.
Contact Nancy Lo at nancy.lo@co.hennepin.mn.us or 612-348-9195 with questions or to volunteer.