Events
Metro Blooms Raingarden Workshops
Low-cost workshops
Sign up online or call 651-699-2426
http://metroblooms.org/workshops.php
Help keep our lakes and rivers clean while creating a beautiful and bee/butterfly-friendly habitat in your yard!
Raingardens and Beyond: Clean Water, Healthy Habitat Workshops – $15
This workshop gives an overview of raingardens and native plants plus recommendations for your property.

Onsite Consultation – $75
In this one-hour session, a landscape designer visits your property for a consultation.

Raingarden Design – $100
For an additional $100 fee, a landscape designer will supplement an onsite consultation with a raingarden design. 
---
Landscape Revival: Native Plant Expo and Market
Community Pavilion at the Roseville Cub Foods
1201 Larpenteur Ave. W., Roseville, MN
www.saintpaulaudubon.org/events/2015/06/native-plant-expo-and-market
Purchase pollinator-safe native plants at Landscape Revival. Native growers participating in the sale do not use neonicotinoid insecticides.
This one-day event offers gardeners a convenient location to shop for Minnesota native plants from 12 local growers and to learn how to use the plants from conservation organizations. Accessory products such as organic compost, rain barrels and native plant seed will also be for sale.
The event is sponsored by Saint Paul Audubon, Capitol Region Watershed District, Wild Ones, Blue Thumb, and Ramsey Washington Metro Watershed District.
---
Antiques and Decorative Arts Show
The Fine Arts Building
Minnesota State Fair Grounds
1442 Cosgrove St., St. Paul
Free parking
Admission: $6, valid for both days
Coupon available online: www.mnantiquesdealers.com/antique-show/
Information: mnantiques@gmail.com or 651-430-0095
This show is a sale of fine antiques and decorative arts from regional dealers, offering a wide variety of merchandise at affordable prices. The exhibitors were selected by the Minnesota Antiques Dealers Association for their commitment to quality and their interest in furthering the education and knowledge of the buying public
With about 45 dealers, this small intimate show allows for comfortable shopping in a casual atmosphere.  From funky garden accessories to signed bronzes, fine original art to retro chic, mark this show on your calendar as a "must do" event.
---
The Twin Cities Bungalow Club presents:
Bungalow Club Social and Picnic
Thursday, August 20, 2015
6:30 to 8:30 p.m.
Wabun Picnic Pavilion C
Minnehaha Park, Minneapolis
For members and their guests
RSVP requested by August 14
Back by popular demand! Our summer gathering, last held in 2012, returns with the same ingredients of socializing and good food.
Mark the evening of Thursday, August 20, on your calendar and plan to join us in Minnehaha Park in southeast Minneapolis. We'll have a spread of sandwich fixings, salads, cold drinks and desserts.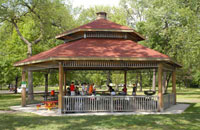 So that we know roughly how much food to order, please send an RSVP to mail@bungalowclub.net or leave a message at 612-724-5816 by Friday, August 14. You're welcome to bring non-club members along.
The social and picnic will take place at the Minnehaha Park Wabun Picnic Pavilion C.  You can download a map of the area.
---
Hennepin County Fix-It Clinics
Hennepin County Environmental Services
www.hennepin.us/fixitclinic
Sewing machine won't sew? Toaster won't toast? Toy helicopter won't fly? Don't throw it out! Bring your broken household appliances, electronics, mobile devices, toys and clothing in need of repair to a Hennepin County Fix-It Clinic.
Skilled volunteers will provide free, guided assistance to disassemble, troubleshoot and fix these items. Bring any tools and supplies you think might help with the job.
You will learn valuable troubleshooting and basic repair skills, build community connections, and reduce the number of repairable objects that are thrown in the trash. Events are first come, first served.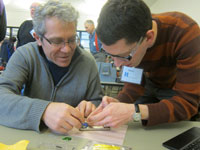 Fix-It Clinics are held monthly at locations throughout the county. More details and upcoming dates and locations available online.
Fix-It Clinics teach valuable troubleshooting and basic repair skills, build community connections, and reduce the number of repairable objects that are thrown in the trash. Events are first come, first served.
Volunteer fixers are needed to make this initiative a success. Volunteers should have skills in soldering, electronics and electrical repair, computer repair, sewing, or general tinkering, and have a strong desire to teach and empower people.
Contact Nancy Lo at nancy.lo@co.hennepin.mn.us or 612-348-9195 with questions or to volunteer.