Events

hat follows is a list of upcoming events of interest to members of the Twin Cities Bungalow Club. Some are sponsored by the Bungalow Club and some are not.

Preserve Minneapolis 2014 Summer Walking & Biking Tours
Tours offered June – September, 2014
Pre-register and pay for tickets online
$8 per person
www.preserveminneapolis.org/wpfile/tours
Preserve Minneapolis is offering 27 unique tours that highlight the built, natural and cultural treasures found throughout the city. These tours are the best way to get to know Minneapolis and to experience the city's diverse neighborhoods and historic resources.
Topics range from the relatively modern history of Riverside Plaza to the long-ago days of the Minneapolis riverfront; from the Camden neighborhood in north Minneapolis to West 49th Street in the southwest. Other new topics include Minneapolis' LGBT history, Lakewood Cemetery, and the little-known story of Architect Avenue.

On each tour, guides with experience in architecture, history, and/or preservation will tell the "stories behind the stories" and give participants a greater understanding of the area's social and built history—with fun and a sense of humor. Tickets and more information available on the Preserve Minneapolis website.
Two examples are:
Red Cedar Lane
Saturday, August 16, 10 a.m.
Red Cedar Lane, once chosen as the "best street in the Twin Cities" by Mpls. St. Paul magazine, is a beautiful secret. The street is part of an area that was laid out beginning in 1904 by John Jager. Jager planted rows of red cedars on both sides of Red Cedar Lane; they now form a luxuriant canopy over the short, narrow, cul-de-sac street, making it feel like an outdoor room.
On and near Red Cedar Lane, you'll see Jager's house and several houses designed by his friend William Gray Purcell, in association with draftsman Frederick Strauel. In the early 20th century, Purcell, his partner George Elmslie, and Strauel had offices in Minneapolis where they designed Prairie School buildings that still stand throughout the U.S.
Architect Avenue
Tuesday, August 19, 6:30 p.m.
In 1905, a contest was held in one of the farthest corners of Hennepin County to design homes for the up-and-coming middle class. Major Twin Cities architects were solicited to develop affordable homes, which would combine "luxury, elegance, utility, and comfort"—and each had to cost $3,000 or less (including landscaping and sidewalk).
Twelve local architects submitted designs; six were chosen and built. This mini-development became "Architect Avenue," developed and promoted by Thomas Lowry, and all six of these unique and original homes still exist.
---
Design Solutions for Old House Bathrooms
An illustrated talk by designer Lynne Stryker
Thursday, August 14, 2014
7:00 to 8:30 p.m.
Bethlehem Covenant Church
3141 43rd Avenue S., Minneapolis
Bungalow Club members free; nonmembers $3
After kitchens, bathrooms are perhaps the most vexing room for bungalow dwellers. These small spaces provide some of the biggest challenges and contain the costliest square footage in the home to renovate.
Join St. Paul kitchen designer Lynne Stryker, owner of Spaces into Places (www.spacesintoplaces.com), for an illustrated talk that addresses head-on the common challenges associated with updating or remodeling old house bathrooms. Real St. Paul and Minneapolis case studies will be shown, with "before" and "after" solutions to typical problems.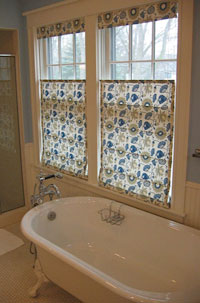 Lynne will explore:
clever solutions to carving out storage.
how to work with existing historic tile.
what to do when faced with a re-muddled renovation.
how to incorporate your home's existing architecture into the new space.
small budget ideas.
inspiring whole room renovations.
These thoughtful solutions will inspire you to tackle your own bathroom challenges!
Lynne Stryker is a certified kitchen and bath designer (CKD), and has had her own design company, Spaces Into Places, since 2003.  She has lived in both a 1926 bungalow and a 1937 Cape Cod and works primarily in older homes in the Twin Cities metro area.
---
Wisconsin Pottery Association Show and Sale
Alliant Energy Center
Madison, Wisconsin
Admission $6
For free parking ticket, see www.wisconsinpottery.org/Show/wpa-show.htm
The Wisconsin Pottery Association (WPA) will hold its 19th annual Show and Sale on August 24, 2013.  More than 50 of America's best pottery dealers will be selling a range of antique and contemporary art pottery.  Experts will be on hand to identify and evaluate your "mystery" pottery (limit one per admission).
The WPA is a non-profit organization formed in 1992 by collectors interested in studying and promoting collectible pottery.  For more information, visit the WPA website www.wisconsinpottery.org.
---
2014 Summit Hill House Tour
$25 per person
www.summithillhousetour.com
Enjoy an afternoon stroll through some of St. Paul's premier residences. Tour the interiors of ten historic homes and three public spaces.
Since it began in 1972, the Summit Hill House Tour has been a hit. This biennial event (every even year) is the major fund-raiser for the Summit Hill Association (SHA) to support community programs and events.
Your ticket will be a brochure with a map indicating the location of each home, as well as a photo and description. You must have the brochure with you to enter the buildings. Tour volunteers will be available to guide you.
Order tickets online or purchase at the SHA office in the Linwood Recreation Center, 860 St. Clair Avenue, St. Paul. After August 1, tickets are also available at:  Kowalski's Markets, Great Harvest Bread Company (Selby Avenue), Bibelot Shops, and D'Amico and Sons (Grand Avenue).
---

15th Annual Twin Cities 20th Century Design Show and Sale
Progress Center Building
Minnesota State Fairgrounds
1265 N. Snelling Ave., St. Paul
Admission $7
www.eastwoodgallery.com/twin-cities-show.html
This show is the largest event in the Midwest dedicated to the furniture and accessories of the American Arts & Crafts movement and now includes Mid-Century Modern furniture and accessories. The show encompasses the period of 1900 to the present.
Participating will be approximately 50 dealers from across the country offering antiques from Stickley, Limbert, Roycroft, Rookwood, Minneapolis Handicraft Guild and more, along with high quality reproductions. Also participating will be select Mid-Century Modern dealers. The show features furniture, metalwork, pottery, textiles, art and lighting.
Look for the Twin Cities Bungalow Club table to check out membership benefits.