Picture Your Bungalow in Color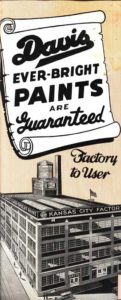 Those who originally occupied our bungalows faced many of the same choices we do, including the question of what color to paint a wood clapboard-sided home. Back then, as today, they faced a dilemma: Once they'd chosen a color, how could they be confident they'd be happy with the result?
At least one early 20th century company, Davis Ever-Bright Paints, tried to help customers with their decision by offering a simple tool. It was a clear piece of plastic measuring about 3 by 4 inches with a bungalow printed on it. The walls of the house were left clear so that when the card was placed over a paint chip, the underlying color showed through to provide an approximation of what the house might look like.
A shortcoming is that you can only use one color at a time. There is no way to try combinations of colors for your home's siding and trim.
The concept is still in use today, though it's now powered by computer technology. I tried a couple of online programs, one offered by paint manufacturer Behr and the other by Valspar. Both sites allow you to upload a photo of your house then choose from the company's color palette to digitally "paint" your home.
Frankly, neither tool produced great results. I chose a couple of colors from each company's exterior paint lines that I thought looked low-key and tasteful. But when I applied them to the image of my house, they looked harsh and cartoonish.
In the end, if you're thinking of painting your house, it might be best to do what yesteryear's bungalow owners probably did—buy a gallon or two of a color you like and apply it to a section of your house to see how it looks.