Small Home Gazette, Fall 2008
Answers to Your Toughest Bungalow Questions: shopping tips for salvage yard bathroom fixtures
A: First, do some research on what would be appropriate for your house and to determine what you like. Read up on period bathrooms. Bungalow Bathrooms by Jane Powell and Linda Svendsen is a great place to start.
Most people who re-create a vintage bathroom favor pedestal sinks but middle-class bungalows typically had wall-hung sinks. Toilets usually had a wall-hung tank—the toilet base was one unit, and the water tank was separate, connected by an exposed pipe called a closet elbow. The tank was attached directly to the wall with bolts.
Bathtubs in many bungalows had a continuous "apron" of enameled iron that met the floor. Claw-foot tubs were sometimes used but fell out of favor in the early 1900s. White was the most common color; colors such as mint green, yellow, lavender and black became popular in the late 1920s.
Some things to keep in mind when shopping are:
Broken or missing parts (such as a tank lid) can be found at salvage yards or on the Internet.
Condition is an issue. If the sink or tub was heavily used and scoured, there may be little left of the original glaze.
Chips on the edge of a sink can be touched up, as can rust around the overflow of cast-iron sinks once the area is cleaned.
Check the height of both toilets and pedestal sinks. You want these fixtures to be tall enough for comfortable use.
Vintage fixtures in good condition may cost more than reproductions.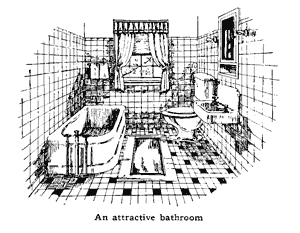 For the install, especially of a toilet, you may have to do it yourself or rely on an experienced handyman. Licensed plumbers are required to follow building codes, so they can't install an old toilet because of the amount of water it uses. Current codes require installing low-volume toilets (about 1.6 gallons per flush). A vintage toilet can use as much as seven gallons per flush but it can be made to flush with less by reducing the volume of water in the tank. Anything that won't break down in water, takes up space in the tank and won't interfere with the mechanics will reduce the water consumption.
Also, you will need to know where to purchase any odd-sized fitting or pipe for the install. The most difficult piece to find can be a new closet elbow but there are reproductions available from sources such as The Renovator's Supply, www.rensup.com, or 800-659-2211. An extensive list of resources is available in Bungalow Bathrooms.
One last tip from This Old Handyman, aka Bill Blood, a Bungalow Club member: You can determine the age of a toilet by looking for a date on the underside of the tank lid, on the interior back side of the tank, or on the back of the toilet bowl. For a sink, look for a date on the underside. An enameled cast iron fixture will have a raised date; a vitreous china fixture will have a printed date.