Small Home Gazette, Fall 2010
Follow-Up on Hide-a-Beds
My Sofa-Sleeper Search
by Bruce Gleason
After concluding a sofa bed search and purchase recently, I read with interest Tim Counts' article on the topic (Summer 2010 issue of the Small Home Gazette). I was especially pleased to read that he and I had uncovered similar information.
My task of finding a sofa bed was compounded by issues that other vintage home owners will recognize: I wanted a comfortable sofa bed appropriate for a 1920s–'30s décor—and I wanted leather but with a tight back rather than the loose-fitting pillow backs of most contemporary sofas. Interestingly, and perhaps amazingly, I was able to find a few sources in the Twin Cities, including Crate and Barrel, Restoration Hardware, Pottery Barn, and www.SofasandChairs.com, which could fill several, but not all, of my requirements.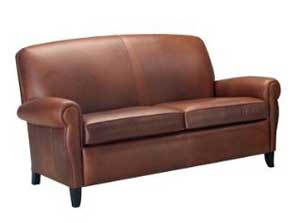 While my usual consumer strategy is to shop locally and from independents when I can, it appeared that this was not going to work for this purchase, so I began an Internet search. Setting upon this task, I happened upon a gold mine at www.clubfurniture.com, where I found 85 different sofa beds available in countless fabric options in queen, full and twin sizes. Many were the tight-back leather style I was seeking.
While I was initially skeptical of ordering a piece of furniture online, the 100 percent satisfaction guarantee encouraged me to proceed. Moreover, with past generations of bungalow dwellers purchasing furniture through catalogues, I decided that with the Internet being the latest manifestation of this procedure, I would go ahead. I found the selection and purchasing process enjoyable and professional from receipt of the first leather sample to the final delivery and was thrilled that I went this route.
The leather that www.clubfurniture.com offers is a very fine quality, and with many of the sofas, down-filled cushions are available. In the case of sleepers, the 5 1/4-inch-thick mattress with a 299 coil count, 13-gauge innerspring with a multi-needle quilted top is made by Kingsdown® and surpasses other sofa bed mattresses I've tried. Because the furniture is specifically made for each customer from a choice of leathers or fabrics, the process takes 8 to 10 weeks. But the result is well worth it.
This beautiful piece of furniture is one of the rare life occasions when the product actually surpassed my hopes.
Gabberts Sofa Beds
We also heard from Kent Gebhard, a design consultant for Gabberts Design Studio & Fine Furnishings. He provided additional information about sofa beds offered by Gabberts, located on the corner of 69th Street and France Avenue in Edina, Minn. Kent can be reached by calling 952-927-1515.
A Bernhardt sleeper, usually in stock, sells for $1,587. It includes a deluxe air-coil mattress at no extra charge.
Mid-range choices from King Hickory, Precedent and Huntington House are priced from $1650 to $2000 and up.
A Stickley mission-style sleeper with two arm styles is available in oak or cherry in 16 finish choices for $4,099 in limited leather choices. Stickley also offers fully-upholstered sofa beds starting at $3,650. The standard mattress is a Restonic 5-inch coil, or a deluxe air coil mattress is available.
Murphy Bed Built by Bungalow Club Members
Bungalow Club members Bruce and Linda Bloomquist have a Murphy bed in their family's cabin. They didn't purchase the entire bed ready-made but bought the bed-lowering mechanism online and constructed the wood mattress platform and cabinet themselves.
Bruce's grandfather built the family's simple cabin in 1948. It measures about 20 by 25 feet, including the kitchen and bathroom. Bruce explained that it originally held two twin beds, where their kids slept when they were young. Bruce and Linda slept on a sofa bed. "We had a terrible time on it," says Bruce. "The mattress was too thin and didn't give enough support."
The Bloomquists visited a couple of local businesses that sold Murphy beds. "But they didn't have what we wanted," says Bruce. "What they sold was more ornate, with bookcases and cabinets added on."
Instead, they found a Murphy bed hardware kit at Rockler Woodworking (http://tinyurl.com/25yvcgm). It included hinges, piston lifts and instructions for building the wood frame.
"Now we've got a regular full size bed," says Bruce. "It's very comfortable, just like the bed at home." And now that their children are grown, they've removed the twin beds, which gives them even more room when the Murphy bed is folded away.