Small Home Gazette, Fall 2010
Letter From the Editor: celebrating Thanksgiving
How did the original bungalow dwellers live their daily lives? This is a perennial question the Bungalow Club attempts to answer, as it's part of the fun of living in a vintage home. We've printed articles about how artwork was hung on picture-rail molding and offered recommendations for giving your kitchen and bathroom a vintage look. We've hosted presentations on "kit homes" and determining whether your bungalow is one of them, and a talk on Minneapolis' own Handicraft Guild that included a magnificent display of their pottery and metalwork.
But of course, pretty much everything we're able to cover is about the physical world—the objects, the room surfaces, and of course, the houses. One Bungalow Club member I spoke with, however, was intensely interest­ed in the more ephemeral details of everyday life. She wanted to know how people lived—what they discussed over dinner, what a housewife's daily routine consisted of, whom they called on the telephone, and what games children played in the yard. But unlike the houses and the objects they contained, the fleeting texture and nu­ance of everyday life have largely evaporated.
Two sources of such details remain, however: printed accounts and first-person accounts. Special occasions such as holidays are especially accessible, and since Thanksgiving is around the corner, we thought we'd try to provide a little detail about how bungalow dwellers celebrated.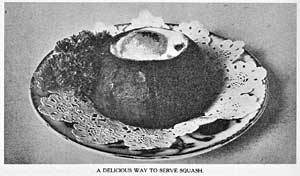 In a November 1913 issue of Keith's Magazine on Home Building, published in Minneapolis, we found a column titled "A Maidless Thanksgiving Dinner." "Here is a menu for the house without a servant, which can be prepared in advance with the exception of the roast turkey…" begins the article. Among the dishes that can be prepared the day before are: oysters on the half shell, cranberry jelly, squash served in the shell, creamed onions, lettuce, mayonnaise dressing, olives, cheese and crackers, individual pumpkin pies, fruit, nuts, and coffee. (Don't ask us how one prepares oysters on the half shell a day in advance.)
I also spoke with a 92-year-old woman, Margaret, who lived in a bungalow in the Longfellow neighborhood of Minneapolis in the 1920s and '30s. She recalls that Thanksgiving dinners included turkey, of course, along with "lots of vegetables," including rutabaga, sweet potatoes and carrots. "But we never had any liquor," Mar­garet stressed. "My father had a brother who was an alcoholic, so we didn't have any liquor in our family."
Even more memorable was a particular Thanksgiving during the Great Depression. "There was a man who came for dinner one year," says Margaret, "and he stayed for six months after that. He didn't have a place to stay, so we kept him." Margaret explained that her family's bungalow had only one bedroom, where her parents slept. Her bed was at one end of the long (unheated) front porch; her two brothers slept at the other end. The homeless man slept at the boys' end of the porch. Rather makes you thankful for all we have today, doesn't it?
On a final note, below is a recipe for cookies that was printed in "The Housewife's Corner" column in a November 1912 issue of Bungalow Magazine, published in Seattle.
Soft Molasses Cookies
One cup molasses.
One cup sugar.
One cup melted lard.
Two-thirds cup sour milk.
Two eggs.
Flour to make soft dough.
Three teaspoons soda lifted with the flour, and one in the milk.
Mix as soft as can be handled easily; roll about one quarter of an inch thick and bake in a quick oven.