Small Home Gazette, Fall 2011
Answers to Your Toughest Bungalow Questions: replacing windows damaged by tornado; carpenter ants
A: Sorry to hear your bungalow was damaged in the tornado.  You certainly have a lot to deal with, and we're glad to hear that you're interested in making sure repairs to your bungalow are architecturally accurate.  Such details are an important part of keeping your home viable and valuable.
We've got a couple of suggestions for businesses that could make replacement windows for you.  First is A&A Millwork, which is located at 3320 E. 41st Street, Minneapolis.  Their phone is 612-721-1111, and their website is www.aamillwork.com.  They have a reputation for creating high quality custom millwork.
Another option is Adams Architectural Millwork Co., located in Dubuque, Iowa.  Their website is www.adamsarch.com, and their phone is 888-285-8120.  They are accustomed to working with out-of-town customers, and provide very good instructions for measuring your project so the new part will fit right.
Another option you might consider, depending on how badly your original windows were damaged, is to have them restored.  It might be tricky finding someone to do the work, but a good place to start would be with Russ's Old House, a window restorer who advertises in this newsletter.  Russ's phone number is 651-645-2396.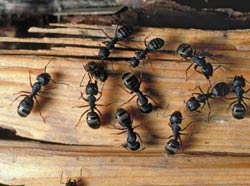 Q: I've started to see large black ants on my front porch recently.  Could they be carpenter ants?  Don't carpenter ants eat rotting wood?
A: Actually, carpenter ants don't eat wood; they eat sweet stuff and protein.  They do, however, require a moist area for their primary nest, and homes with moisture-damaged wood can be very attractive to them.  Once they've established a nest, they make tunnels through your home's wood to get around.
Local handyman Bill Blood (aka This Old Handyman) has encountered carpenter ants a couple of times during his years of working on old houses.  "They certainly are harmful," says Bill.  "They can't exist in a building without a source of moisture.  So if you keep your house tight and prevent wood rot, you won't get carpenter ants." 
It's possible, though challenging, for a homeowner to track down a hidden carpenter ant nest, so most people contact a pest control company.  In addition to destroying the nest, it is important to find and replace the moisture-damaged wood in your house, as well as find out how the moisture is getting in and stop it.
University of Minnesota Extension has an excellent brief on the topic, which can be found at http://www.extension.umn.edu/garden/insects/find/carpenter-ants/.