Small Home Gazette, Fall 2011
Custom Combination Storm Windows
How to Get the Look of Old-Fashioned Wood Screens and Storms Without Switching Them Every Spring and Fall
As warm weather fades into crisp autumn days, I'll need to open a couple of drawers in my built-in chest of drawers that I haven't accessed since spring. My drawer of sweaters and my drawer of storm windows inserts, that is. Fourteen aluminum trimmed glass squares and rectangles lie under a layer of sweaters, waiting to be exchanged with their counterpart screens.
The wood frames of my custom-built storm windows on the second floor of our bungalow stay in place year round. I switch only the upper and lower light sections from screens-to-windows; windows-to-screens. It takes less than an hour to complete the entire chore for all seven windows.  No ladder is needed, just a screw driver for the swivel clips that hold the screen/window inserts in place, and the usual bucket of soapy water and rags for wiping away the dirt and debris. In spring, I also need window cleaner and newspaper to clean the glass prior to storing. Stored away in a drawer for half a year, they are clean and ready for their window frames in the fall.
These custom combination storm windows are highly functional and easy to maintain.
Some years ago, I attended a Bob Yapp presentation sponsored by the Twin Cities Bungalow Club about "Why I Shouldn't Replace My Windows."  Yapp talked about the functional purpose of storm windows. As their name implies, these windows are intended to take the battering of rainstorms and snowstorms, protecting the interior double-hung windows. During that presentation, Yapp also introduced a storm window that could be changed out from the interior.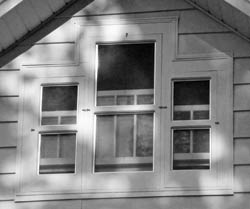 When I remodeled my half-story upstairs level into a master bedroom, I needed to replace the inexpensive, improperly fitted windows that had replaced the original windows.  After investing nearly $8,000 in new windows, I wanted storm windows to help ensure they would last my lifetime. I also wanted the storms to be true to the character of my home, not the press-painfully-hard-with-your-finger-tips-to-remove aluminum storms that a previous owner had added to the first floor.
Following up on the Yapp presentation, I found a photograph online of the combination storm windows (www.houseinprogress.net/archives/000982.html) and worked with Siwek Lumber & Millwork in Minneapolis to build mine.
I highly recommend this style of storm window. With any custom project, you can anticipate having some small hiccups along the way.  My project had a case of the hiccups.
For example:
1. Having someone come to my house to measure the window openings took longer than was indicated. Miscommunication and millwork staff vacations delayed measuring over a month. I needed to be persistent, calling to check on status so my project was not forgotten.
2. The millwork company pushed back the completion date for the project several times. The project was initiated in late July, and I had the final windows in early December. This was much later than I'd planned, wanting to beat the start of winter.
3. I discovered that the millwork staff mistakenly installed permanent screens by stapling them on instead of making screen inserts.  They had to build the screen inserts and putty the holes from the removed staples. They also had to re-router the windows.  Since the frames were already built, the frame exterior ended up with rectoid cuts instead of right angles because routers can't make 90 degree turns. Knowing the flaw would not be visible from the ground, I accepted the flaw in exchange for a $200 refund.
4. When the reworked windows were delivered, I discovered that four of the screens did not fit the frames. I took them back to be fixed. With confidence eroding, I decided I'd better check to see that all of the storm window frames fit in their openings before I painted them. One did not. The company sent someone out to re-measure.  The guy didn't bring a ladder and had to return another day.
5. The space between the interior windows and the storms is too close on some of the windows, so some of the swivel clips holding in the storms protrude and rub against the interior window when they are raised and lowered.
6. Because I was charged in full prior to receiving the completed project, I disputed the payment as leverage to having the work completed. I learned that you have to pay the credit card company in full first when you have a dispute, then get reimbursed, otherwise you get an interest fee.
From this one experience, I'd say that having storm windows custom built requires greater attention to detail and project oversight than buying pattern-book storms. After my storm window hiccup fit ended, I really liked my storms. Every fall and spring, I am reminded about their great design as I change out my 14 rectangles and squares.
Companies that sell or can make screen/storm combinations:
A & A Millwork Inc.
3320 E. 41st St.
Minneapolis, MN
612-721-1111
www.aamillwork.com
Adams Architectural Millwork Co.
2225 Kerper Blvd.
Dubuque, IA
888-285-8120
www.adamsarch.com
Siwek Lumber & Millwork
2536 Marshall St. Northeast
Minneapolis, MN
612-781-3333
www.siweklumber.com
SP Windows
11431 Rupp Dr.
Burnsville, MN
952-890-7141
www.spwindows.net