Small Home Gazette, Fall 2012
Faribault Wool Blankets Once Again Warming Bungalows
Growing up in the 1960s and '70s, polyester ruled. I wore slinky shirts with 4-inch lapels and double-knit bellbottoms. The sheets on our beds were at least 60 percent poly, and the blankets were man-made fleece. We even had a sofa covered in that indestructible miracle fabric, orange plaid Herculon. Cotton was reserved for jeans—most cotton clothing had to be ironed, for heaven's sake, and it just wasn't as durable as the new synthetics.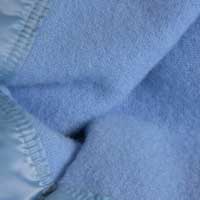 But my siblings and I reserved our greatest scorn for wool. We viewed wool clothes as scratchy, heavy, uncomfortably hot and hopelessly old fashioned. And a wool blanket? Forget it. If the safety barrier of the polyester sheet was to slip down during the night, you might wake up with a rash!
Wooly Bungalow
But then I grew up, bought a bungalow, and realized that not all that is old fashioned is bad. Out went the synthetics and in came the cotton and wool (though I fear a leisure suit I used to wear to weddings still lurks in one of my mother's closets). Like early 20th century paint colors, furniture, and pottery, natural fabrics seem to fit comfortably in a bungalow.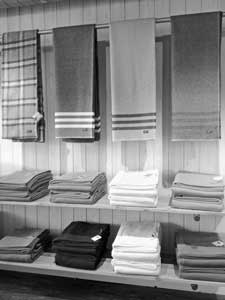 My blankets are cotton in summer and wool in winter—and most of them are old. My partner and I discovered vintage blankets many years ago in second-hand and antiques shops. Many have beautiful colors and patterns and are still in great shape. Wool blankets are comfortable and warm, and allow us to turn the thermostat low on winter nights.
Wool is great stuff—it wears like iron, is organic and renewable, has excellent insulating qualities, and wicks moisture away from the body. It's naturally fire retardant and mold resistant, but of course is vulnerable to moths (a good justification for a cedar closet). Contrary to my youthful biases, most wool is also quite soft, though it must be cleaned properly so it doesn't dry out and get that dreaded scratchy quality.
Faribault Woolen Mill Co.
Twin Cities bungalows were certainly stocked with wool blankets when the houses were new, many of them no doubt supplied by one of the nation's primary blanket producers of the day—the Faribault Woolen Mill Co. in Faribault, Minn.
Carl Klemer, a cabinetmaker who had immigrated to the United States from Germany, founded the Faribault Woolen Mill Co. in 1865. The Woolen Mill primarily produced wool fabric for clothing until about 1915, when they hired an experienced blanket salesman. The company enjoyed an immediate jump in sales, and when the U.S. entered World War I in 1917, it snagged a lucrative contract with the military to supply 100,000 olive green blankets.
After the war, the company focused exclusively on blankets. In the 1920s and '30s, the Woolen Mill's accounts included major department stores, West Point military academy, hotels, hospitals, sanatoriums and state institutions. By the 1960s, the Woolen Mill was producing more than half the new wool blankets sold in the country. Its success continued until, in financial disarray, the business closed abruptly in 2009. News reports described a community stunned and dozens of former employees deeply saddened.
Two years later, just as the Woolen Mill's equipment was about to be shipped to a buyer in Pakistan, Twin Cities businessmen and cousins Chuck and Paul Mooty bought the company. Governor Mark Dayton officiated at the Mill's re-opening on September 15, 2011. Though the Mootys had no previous experience in milling, they brought with them solid business backgrounds and enthusiasm.
"It's about bringing jobs back," Chuck Mooty was quoted as saying in a CNBC article about the re-opening. The business re-opened with 25 employees, many of them had lost their jobs when the Woolen Mill closed two years earlier.
A Visit to the Woolen Mill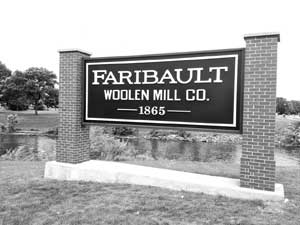 When we visited the retail store housed in the Faribault factory this summer, the business was up to 80 employees. Though the current product range isn't as wide as in previous years, we browsed a nice selection of blankets in various sizes, weights, colors and patterns. They also sell throws, scarves and even a wool coffee mug sleeve. An added bonus of visiting the factory store is the section of "seconds"—blankets and throws with minor flaws that are 40 percent off regular prices.
"Our standards are very high," said Jean Mooty, who was running the store that day. "We won't sell anything at regular price that isn't perfect." We came away from the shop that day with two nice blankets.
In addition to selling from the factory shop and through their website, the Woolen Mill makes a line of blankets for JCPenney. According to a March Star Tribune article, since
re-opening, they've also made blankets for the Waldorf Astoria and Hudson hotels in New York, as well as Windstar Cruise Lines.
The Faribault Woolen Mill Co. is, many ways, a throwback to the bungalow era. It's now the only remaining woolen mill in the country that starts with raw wool and takes it all the way to finished blankets, on-site. It employs local workers in manufacturing jobs, something increasingly rare in the U.S.
In fact, a locally crafted wool blanket or throw would be a historically accurate way to make your bungalow a little cozier this winter.
The Faribault Woolen Mill Co.
1500 NW 2nd Avenue
Faribault, MN 55021
507-412-5510
www.faribaultmill.com