Small Home Gazette, Fall 2012
Mobile Phones: Then and Now

Now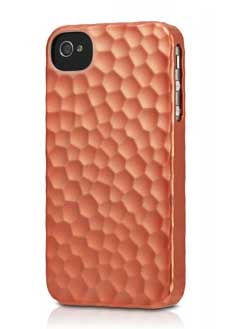 Do you find it a challenge to reconcile your love of handmade Arts & Crafts objects and your hankering for hi-tech gadgets? There may be a way to soothe your conflicted soul.
Behold the Hammered Snap Case for iPhone, offered by Incase, manufacturer of cases for computers and related electronics. "Give your iPhone the distinctive look of handhammered metal," the promotional text reads. The case "features a highly textured surface that mimics impressions from a metalsmith's hammer." Though they boast that it has "a freshly forged look," it doesn't specifically say what it's made of. We suspect it's plastic.
It costs $35 plus shipping from Incase (http://tinyurl.com/7hmkbvl) and is available in silver, gold and iron finishes, but we're sure Elbert Hubbard would have chosen the fourth option: copper.
Then
The text below is from the August 1918 issue of Keith's Magazine on Homebuilding, published in Minneapolis.