Small Home Gazette, Fall 2013
Kitchen Small Appliances
There Must Be 50 Ways to Make a Waffle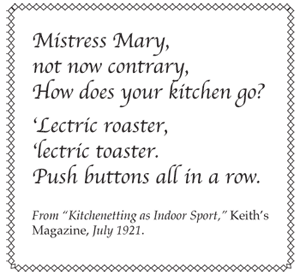 Every bungalow dweller knows that kitchen counter space is at a premium in our small homes. Precious square inches are filled with the conveniences of daily living–the coffee maker, toaster, can opener and other kitchen aids—line up along the backsplash, crowding into our working space. To lessen the inconvenience of these everyday conveniences, I suggest you make your appliances serve double duty as objects of art.
Stop laughing. I mean it. Embrace designer Michael Graves' idea of making good design accessible to all and take it a step further by going retro, if not period, with your countertop appliances.
Small kitchen appliances from the bungalow era can be downright gorgeous. The chrome polish of these 1920s and 1930s beauties offers a source of reflective light that brightens dark corners. You can find them at estate sales and through online auctions. If the ones you find are not in working order, I can recommend a company to repair your antique small kitchen appliances.
Repairs
When helping my mom out around her house, I discovered her old waffle iron and toaster, long since stowed away after completing the business of feeding nine children. After one look at these charming old appliances, I called dibs on them.
After transporting them to Minnesota, I gave away our plastic-sided toaster in favor of the heirloom model. In the morning I made waffles, only to rediscover the woes of the first waffle always sticking. My Internet search for solutions led me to Toaster Central. This small business in New York repairs antique toaster and waffle makers, as well as selling beautifully refurbished small kitchen appliances.
In perusing Toaster Central's offerings, I found a version of mom and dad's wedding present waffle iron, the General Electric "Best Value," for sale along with a copy of the original 52 Recipes for the General Electric Waffle Iron. I bought a copy of the booklet to satisfy my curiosity about a different waffle recipe every week, which lead to me having my waffle iron reconditioned and rewired.
Now in cold weather months, I fire up the waffle iron weekly, though I may never make all 52 recipes. I've already started repeating favorites instead of conquering recipes like Cheese Biscuit, Sour Cream Molasses Cookies, or Waffles with Mushrooms served with Tomato Sauce.
When I get around to remodeling my kitchen, each of my heirloom kitchen appliances will have a space to showcase their charm and keep them convenient for use.
The Original Automatic Pop-Up Toaster
Text and image from Toaster Central, www.toastercentral.com.
Just after World War I, Charles Perkins Strite in Stillwater, Minn., invented the automatic pop-up toaster. Soon after, Mr. Waters and Mr. Genter in Minneapolis acquired the patents and thus began the great American company, Toastmaster.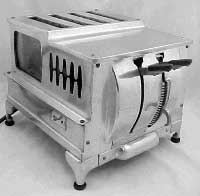 The toaster was produced and sold by the thousands for commercial use in hotels, hospitals, and commercial settings.
As best we can tell, this model is from the late 1920s. It looks like a beast, very strange with today's eyes. It has a window made of mica on each side, and on the back.
This one has been disassembled, cleaned and restored to good working order. The aluminum body shows a few minor scars and some light pitting in a few places, but is otherwise in good condition. And, it makes pretty good toast.
Shipping weight 28 Lbs
$575
Resource
Toaster Central
www.toastercentral.com
Note: Toaster Central no longer accepts waffle irons for repair but they do sell vintage ones that are refurbished. They do accept certain models of vintage toasters for repair.