Small Home Gazette, Fall 2013
Spindle Spree
Preserving the character of my circa 1914 bungalow is important to me—but I'm also cheap. So when the inside knob on my 100-year-old front door came off in my hand, my first thought was not "expensive trip to Home Depot coming up"; it was "no problem, where's a screwdriver?"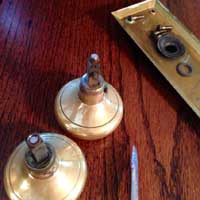 One of the best things about an old house is the fixability of many of its components. The hardware and mechanisms for opening, closing, and locking things like windows, cabinets, and doors were designed to last. These designs in most cases are easy to take apart and understand how they work. Equally nice, they can usually be repaired for a fraction of the cost of retrofitting with modern equivalents.
Armed with just a flat-head screwdriver, in 10 minutes I had the plates covering the door mechanism off and had identified the problem: a broken spindle. A spindle is basically a metal rod that connects both knobs and turns with them, operating the latch on the door.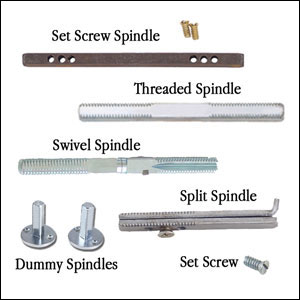 As anyone who has attempted to replace a part of an old house knows, standardization was not a big concept until maybe the late 1930s. This lack of standardization meant that the spindle I held in my hands was probably one of dozens of different types produced during the era my house was built.
Luckily, for me and other Twin Cities old house fixers, there are several great places in the metro area that collect and sell exactly the bits and pieces that break in our homes. Architectural Antiques in Northeast Minneapolis has an entire room devoted to antique door hardware, including bins of spindles. A brief consultation with their staff, comparisons of the broken spindle with their assortment of replacements, and $17 later, I had an almost exact match for my door's mechanism.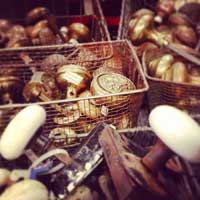 After 10 minutes of reassembly, I had my door back in working order and hopefully ready for another hundred years. And no trip to Home Depot was involved.
Total repair time: 20 minutes (plus 30 minutes to hunt down the right replacement part)
Total cost: $17
Tools used: flat-head screwdriver
Resources:
Architectural Antiques
www.archantiques.com
1330 Quincy St. NE, Minneapolis
612-332-8344
Art & Architecture
www.artandarc.com
3338 University Ave. SE, Minneapolis
612-904-1776
Bauer Brothers
www.bauerbrotherssalvage.com
2432 2nd Ave. N., Minneapolis
612-521-9492
City Salvage Antiques
www.citysalvage.com
2800 Washington Ave. N, Minneapolis
612-627-9107
Guilded Salvage Antiques
www.guildedsalvage.com
4430 Lyndale Ave. N., Minneapolis
612-789-1680
Northwest Architectural Salvage
www.facebook.com/pages/Northwest-Architectural-Salvage/491580865617
981 Selby Ave., St. Paul
651-644-9270
Mark Benjamin is a homeowner in Minneapolis.