Small Home Gazette, Fall 2014
Answers to Your Toughest Bungalow Questions: storage ideas for small bathrooms
We turned to Lynne Stryker, Bungalow Club member and professional kitchen and bath designer, for an answer.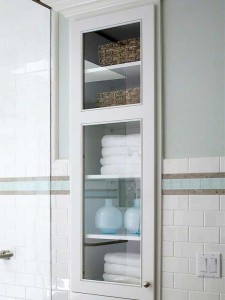 A. The most requested improvement to a small bathroom is to create more storage. As a designer, my mantra is: The smaller the space, the more important the planning. How can we make better use of the existing bathroom space? Whether you have an original or a remuddled bathroom, there is always hope.
One of the easiest ways to add storage is to "carve it out" of your existing walls. We are all familiar with the standard medicine cabinet, but they come in all shapes and sizes, ranging up to 70 inches in height and can fit neatly between the studs in your wall. You can place them anywhere.
One of the easiest places to find a space for a cabinet is behind the in-swinging door, where there is usually an interior wall waiting to be opened up. When you begin to consider the idea of niches, whether inside the shower/tub area or in the interior walls (never carve out an exterior wall), you realize the potential. A simple painted wood door can cover the new medicine cabinet, if you don't want to add a mirror to the room.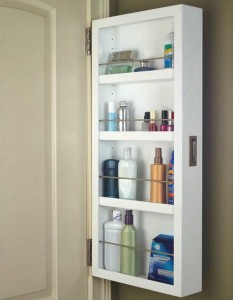 Another idea—there are cabinet products of various heights that attach to the hinges of your door and offer a generous amount of storage. A multi-shelf storage cabinet can be added to the hinging system of most standard doors and would be a simple fix for getting more storage without breaking into your walls.
When you think about space, usually bedrooms and bathrooms share walls. The way closets are designed in the bedroom, it's possible to borrow a portion of your bedroom or hallway linen closet and convert it into bathroom storage.
You're simply accessing the same storage but from inside the bathroom. I've done "up high" closets for towels that rob the upper part of the bedroom closet's storage, without compromising much in the way of loss for the bedroom closet. I've borrowed 15 inches of width from the dead end of a bedroom closet for a fully functional linen closet within the bathroom, using drawers and glass doors for charm and function.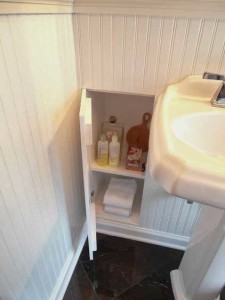 So, the beautiful thing is you can find "lost" space or make different use of the space around you. These small changes can make a world of difference to the everyday functioning of your old house bathroom!
Lynne Stryker
Spaces into Places Inc.
651-699-1050
www.spacesintoplaces.com