Small Home Gazette, Fall 2014
The Lunch Box
We found the below text in The Metropolitan Cook Book, published in 1925 by the Metropolitan Life Insurance Company.
---
The lunch carried from the home is much harder to plan and prepare than the midday meal at home because there are so many foods that are not good cold and that cannot be packed or easily carried. The lunch container must be dust-proof, well ventilated, compact and easily washed. The chief advantage of most lunch boxes and pails is that they are made of metal and therefore can be easily cleaned and kept sanitary.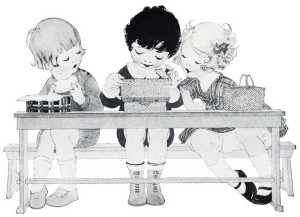 Often the tin boxes are arranged with compartments and equipped with thermos bottles, and some are collapsible, so that they are easy to carry home. Baskets are not as easily cleaned as metal containers, and food carried in them has to be wrapped carefully so that it will not dry out. Fibre boxes are not expensive, but they take up moisture readily and are hard to keep clean.
Quite as important as the selection of the container is the preparation and packing of the food. The materials required are: wax paper, paper napkins, paper cups or a collapsible metal cup, and paper plates, thermos bottle or seal-tight jars for semi-fluid foods. The container should be lined with a paper napkin and each article wrapped separately in waxed paper, and placed in the order in which food will be eaten. Articles should be packed compactly so that the food cannot be shaken about.
Well-planned box lunches should contain a satisfying variety of foods. The menu should be planned to include a substantial food, a juicy fruit or vegetable, a simple dessert and a beverage. As sandwiches are used in practically every cold lunch, a few simple suggestions are included here:
Bread should be at least twenty-four hours old.
To avoid monotony, use a variety of breads. Graham, whole wheat, rye, steamed brown bread, rolls, etc.
Vary the thickness of the slice according to the person's taste and appetite.
In cutting the bread, arrange the slices so that they will fit together.
Cream the butter or butter substitute until soft enough to spread easily. The butter tends to prevent a soft filling from making the bread soggy.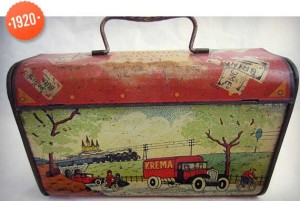 Vegetable salads, such as potato salad, Boston baked beans and potato chips add variety to the lunch of the adult, but are not suitable for the child's meal away from home. A bottle of milk should be included in the lunch boxes of school children.
For dessert, nuts and raisins, a few dates, or figs are better and easier to carry than some other forms of desserts. Custards, with varied flavorings, cereal puddings, and gelatin puddings are also good. These may be made in individual cups and packed in the lunch box. Plain cookies, date or raisin cookies or sponge cake may be added as a dessert. Pie, pickles, doughnuts or griddle cakes, or rich cakes should not be included in the school lunch box.
Suggested Cold Lunches
For industrial workers
1 minced ham sandwich with white bread
1 Swiss cheese sandwich with rye bread
1 whole tomato
1 apple
1 cup coffee (in thermos)
2 broiled bacon sandwiches on whole wheat bread
1 jam sandwich on white bread
Celery
1 doughnut
1 bottle of milk
2 salmon sandwiches on rye bread
1 lettuce sandwich on whole wheat
bread
Potato chips
1 orange
2 cookies
1 bottle of milk
For school children
1 cottage cheese sandwich on brown bread
1 jelly sandwich on white bread
1 orange
2 cookies
½ pint bottle of milk
1 egg sandwich on whole wheat bread
1 raisin sandwich on white bread
Celery
1 cup custard
1 slice meat loaf
2 whole wheat bread-and-butter sandwiches
1 baked apple
Small frosted cake
---
You might also enjoy these articles on vintage lunch boxes:
"Paileontology: A History of the Lunch Box," Whole Pop Magazine Online
http://tinyurl.com/48lr9
"The History of the Lunch Box," Smithsonian Magazine
http://tinyurl.com/lwadhuv