Small Home Gazette, Fall 2015
Red Wing's Rich Pottery History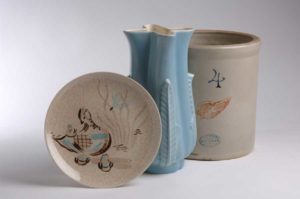 For 90 years, from 1877 until 1967, Red Wing, Minnesota, was a major player in the American pottery industry. It began in 1861 when country potter John Paul discovered the large, glacially-deposited clay pits located north of Goodhue. His efforts encouraged others, such as William Philleo, to form a company that made architectural terra cotta, and David Hallum, a Philleo employee, to set up a stoneware shop.
There were three main companies that produced stoneware throughout Red Wing's history: Red Wing Stoneware Company (1877 – 1906), Minnesota Stoneware Company (1883 – 1906), and North Star Stoneware Company (1892 – 1896). A fourth major business that benefited from the clay pit deposits was Red Wing Sewer Pipe Company (1891 – 1970s).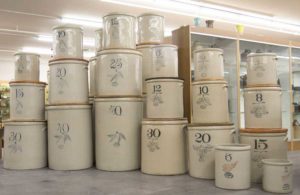 Red Wing's pottery industry took off with the opening of the Red Wing Stoneware Company in 1877. They produced utilitarian stoneware items such as jars, jugs, churns, water coolers, and bowls. Recognizing the high demand for these products, the Minnesota Stoneware Company opened in 1883 to further exploit the needs of the market.
Until 1900, both companies relied upon hand-turning to produce much of their ware. Skilled craftsmen working at a potter's wheel formed each piece. Bowls and other smaller pieces were molded with the use of a "jolly," a machine that worked like a potter's wheel, but formed the shapes between a plaster mold and a hinged template rather than the potter's hands. Machine-turning as well as slip-casting and molding completely replaced hand turning in 1917.
There was so much demand for stoneware products that in early 1892 a third business opened: North Star Stoneware Company. But due to a nationwide economic depression in 1893, all three companies temporarily closed.
The next year, the leadership of the three companies came together to form a sales cooperative called the Union Stoneware Company (1894 – 1906), combining their shipping and distribution costs along with order processing and fulfillment. All three business reopened, each maintaining its separate identity.
However, the North Star Stoneware Company was unable to operate at a profit and was soon bought out by the other two. By 1900, both remaining companies saw prosperity due to the advancement in ceramic technology (from salt-glaze and hand-decoration to the white glaze wares), and the improvement in clay quality and production methods. These production advancements along with the conversion from wood/coal to oil to fire kilns brought the potteries into the 20th century.
The two remaining companies—Red Wing Stoneware Company and the Minnesota Stoneware Company—merged in 1906 under the name of the Red Wing Union Stoneware Company (1906 – 1936). As the need for stoneware products diminished with the rise of refrigeration and other household advancements, the company diversified their product line to include art pottery and, by 1930, dinnerware. These additional product lines drove yet another name change. In 1936, Red Wing Potteries, Inc., became the name the company operated under until closing in 1967.
In 1984, with the purchase of technical records, the Red Wing Stoneware Company was reborn. In 1996, Red Wing Potteries also began producing again. Both companies were purchased and combined in 2013 to continue operation as today's Red Wing Stoneware and Pottery.
Photos courtesy of the Pottery Museum of Red Wing.