Small Home Gazette, Fall 2016
Window to the Past: Lace Stencils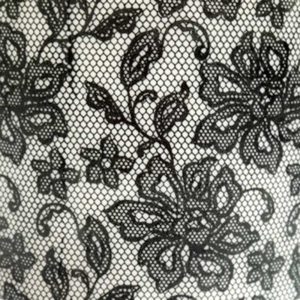 For all over wall designs and panels, the lace stencil has practically replaced all other forms of stencils because it is the easiest and most effective decoration of its type. Lace stenciling is a method whereby a piece of ordinary woven lace, such as is used for curtains, may be converted into a stencil.
The dry, untreated net or lace is stretched tight and evenly over a light, rigid frame, and fastened securely with ordinary carpet tacks or glass push pins. A generous coat of orange shellac is then applied, care being taken that no open spaces remain filled or bridged over with shellac. This step in the operation is a most important one. When the shellac has been allowed to dry hard, the stencil is ready for use. The stencil may be made in any size. It is sometimes practical, as for a wall border, to have a stencil which equals the length of the room in size, eliminating the difficulty of matching and connecting up the pattern.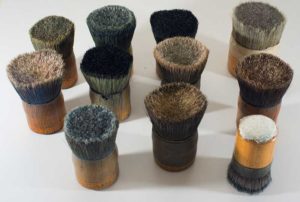 Paint is applied with a rotary or hammering motion of the brush (very little paint being used on the brush at a time). Some decorators do not even dip the brush into the pot, but pick the color up from a flat board on which they have run a little paint, or from a flat tin container. Either opaque or transparent colors may be used.
While lace stencils were invented primarily to take the place of all-over wall decoration, they are also widely used in border form as panel designs, or to decorate the wall above a chair rail. The stencil, when not in use, may be kept rolled on a broom handle or other round stick.