Small Home Gazette, Spring 2009
Bungalow Court on Main Street
Ask a Minnesotan about bungalow courts, and you'll get a puzzled look. Ask a Californian about bungalow courts, and you'll get an immediate flash of recognition.
For you Minnesotans with puzzled looks on your faces, a bungalow court is a group of small homes arranged around a central courtyard. Usually the homes are independent, but sometimes connected.
The first development planned as a bungalow court was the brainchild of Pasadena, Calif., architect Sylvanus Marston, who built the St. Francis Courts as luxurious vacation cottages in 1908. Marston had no idea that he'd invented a form of architecture that would appeal and endure. The bungalow court was an instant success.
From the beginning, bungalow courts appealed to people who wanted warmth and connection in big cities—single women, childless couples and empty nesters. Throughout the 20th century, bungalow courts were more than a form of architecture. They were an instant community. Mickey Garcia, who restored a historic court in Suffolk, Va., and who now lives around the corner from the development, said, "If you want to be in the house, nobody bothers you. If you come out, you can be in the mix."
In the late 1990s, Jim Soules, a Seattle developer—who had grown up in California and liked the bungalow court idea—decided to build an updated version. The Cottage Company's design made it impossible to be a misanthrope. Their houses had detached garages, so owners had to walk through the courtyard and see the neighbors. Each house had a yard and a garden in front and in back. The courts were designed with buildings for communal gathering and celebration.
Like their predecessors, they attracted people who want a community and who are happy to build one—singles, childless couples and empty nesters. Nonetheless, Soules—and everyone else who's observed the Cottage Company's courtyards—was pleasantly surprised by the way they became true to his vision of "pocket neighborhoods."
The Midwest never had a strong bungalow court tradition. If you've lived through a Midwestern winter, you know why—it's no fun to linger in the courtyard when the temperature is well below zero. Ron Korsh, a developer who works for the Greater Metropolitan Housing Corporation (GMAC) in Minneapolis, was nonetheless inspired by the Seattle courts.
According to Korsh, the Main Street Bungalow Court had its start in a condemned property in northeast Minneapolis. The St. Anthony West Neighborhood Association, which had worked with GMAC before, asked the developer for help. They bought the house and discovered that rehabbing it was beyond their budget. They decided to tear it down. GMAC then acquired the duplex on the neighboring lot, and since it was an eyesore, demolished it as well. The open space gave GMAC enough room for a courtyard development with six detached houses—a highly efficient way to "infill" the space.
The Main Street Bungalow Court incorporated sustainable features within and without. The houses achieved a Five-Star Plus Energy Star rating, the highest level available, for their efficient windows, appliances and heating and cooling systems. The landscaping relied on native plants and included a rain garden to minimize water runoff.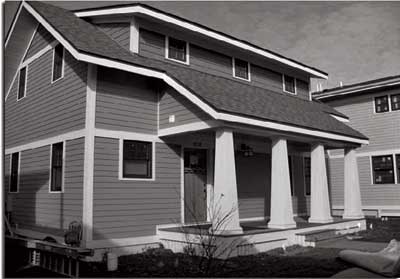 GMAC's decision to echo the Craftsman style was deliberate. The exteriors have details that are reminiscent of period bungalows—front porches and pillars in the Craftsman style. Inside, the bungalow feel is equally strong. The houses have a comfortable footprint, about 1,250 square feet. The living room, like its bungalow ancestor, is centered on the fireplace, and the kitchen, while spacious by bungalow standards at 9 feet by 15 feet, has a galley layout, just like a period house. The bedrooms are bigger than the historic bungalow space, but they are cozy rooms off the main hallway. The materials and finishes are new, but the units feel like the bungalows they were modeled on.
Historically, bungalow courts were rental units, but this one is organized as a condominium association. The association will remove the snow and maintain the landscape, but to keep the fees down, the owners will get training on running the association themselves.
Sadly, the Main Street Bungalow Court units came onto the market just as the economy was beginning to teeter. They have yet to sell, and the houses are still available. The instant neighborhood—and neighborliness—of a bungalow court will have to wait on Main Street until the houses are sold and the owners move in.
For more information:
Main Street Bungalow Court website,
www.mainstreetbungalow.com/index.html
Includes images and floor plans.
Cottage Company website page on the Danielson Grove development,
www.cottagecompany.com/Communities/Danielson-Grove.aspx.
"College Court," Arts and Crafts Homes, posted on the Garcia Development website, www.garciadevelopmentllc.com/ArtsandCrafts2.html.
James R. Curtis and Larry Ford, "Bungalow Courts in San Diego: Monitoring a Sense of Place," The Journal of San Diego History, Spring 1988, Volume 34, Number 2, www.sandiegohistory.org/journal/88spring/bungalow.htm.
Sabra Waldfogel, "Back in Style: Bungalow Courts," Arts and Crafts Homes magazine (Winter 2008).
Historic Twin Cities Bungalow Courts
Minneapolis and St. Paul don't have any vintage examples of the classic bungalow court, with two rows of homes facing each other across a courtyard. We do, however, have multiple examples of modified dwellings that might be called "mini bungalow courts." Two are shown below.