Small Home Gazette, Spring 2010
Answers to Your Toughest Bungalow Questions: radiator covers, painting stucco
A: Fortunately, there are many sources for materials for radiator covers, both locally and on the Internet. Before shopping for materials, you might want to look at instructions for building a cover from scratch. The This Old House magazine website has step-by-step instructions with photos: http://tinyurl.com/y95b899. They've also got a 10-minute video on how to build a radiator cover at this link: http://tinyurl.com/y7ezon8.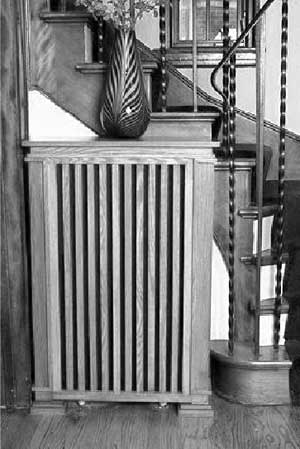 After you've got plans, there are several places to find the pierced metal grilles that will allow the heat to escape. You'll find them at big-box lumber stores such as The Home Depot and Menards. Your local neighborhood hardware store may also carry them, so check with them first—it's always a good idea to support neighborhood businesses.
Finally, for a different look, Rockler woodworking supply stores have several types of woven wire grilles. Their Twin Cities area stores can be located on their website: www.rockler.com. If you can't find a metal grille you like locally, sites like www.radiatorcover.com may have a wider variety.
For those who are interested in purchasing ready-made radiator covers, there are plenty of options. If you want to buy local, we know of a couple of small businesses. One is called Custom Radiator Covers. Call Chris at 612-716-0545, or email him at cgseidl@comcast.net. Prices for covers with square wood posts (not metal grilles) start at $250. Another local company is Cover My Radiator (www.covermyradiator.com). Call owner Gary Smith at 651-210-8885 or email covermyradiator@aol.com.
Of course, there are many online sources for radiator covers. There's a blog entry on the This Old House website that lists a "secret source for affordable radiator covers":
http://tinyurl.com/ohkk29.
Also take a look at The Wooden Radiator Cabinet Company of Chicago (www.woodenradiatorcabinet.com), Beautiful Radiators (www.beautifulradiators.com) and Monarch radiator covers (www.monarchcovers.com/custom.html).
Q: What do you think about painting stucco? I believe my house was painted white at some point, and I wanted to clean it up and possibly re-paint it in a color. I know there are issues with painting stucco because it needs to "breathe."
A: We asked Rich Donnelly, owner of Donnelly Brothers Stucco in Minneapolis; and Bob Rothstein, owner of Model Stucco in Monticello, about the wisdom of painting stucco.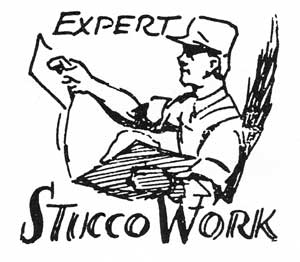 The response? Even though painting stucco is cheaper and easier than re-dashing (applying a new stucco layer), stucco experts don't recommend it.
Donnelly says, "There are two different products involved—cement and paint, and they aren't really compatible. Stucco is fireproof and it retains moisture. Any coating wants to fight the action of stucco. Eventually, paint will flake off."
Painting stucco is a short-term fix. It may take 5 years or it may take 30, but the paint will wear or flake off. Even though specialized masonry paint has improved over the years—the new elastomeric paint has much more stretch than older paint—your house will need a new coat of paint, and it will need it much sooner than it will need new stucco.
Rothstein says, "Once you paint, you're limited in repair options. You can't stucco over it. You have to sandblast the paint off to take it back to cement." Sandblasting adds time, expense and trouble to a re-stucco job.
There are other advantages to stucco. Mold from painting, which can be a problem in new construction, isn't really an issue in older houses. Paint creates a vapor barrier and interferes with stucco's ability to absorb moisture. In new houses, with interior vapor barriers and tightly sealed window and doors, moisture can get into walls and create mold. In older houses, which don't have vapor barriers and have relatively "leakier" windows and doors, breath-ability prevents mold from developing.
If you want longevity, a re-stucco is the best, longest-lasting (and yes, most expensive) way to refresh your stucco. It's a two-step process. There's an undercoat, consisting of a combination of Portland cement and a little sand or aggregate, diluted with water to make a "whitewash." Over that, there's a topcoat of Portland cement and sand, which is applied with a spattering and smoothing technique (that's the "dash" coat).
You say you want color? Both the undercoat and the dash can be tinted, so you can even get a two-tone stucco job. Once stucco is applied, it will last for 70 to 80 years.
A simple re-stucco on a 1 ½-story bungalow will run between $5,000 and $7,000. Painting will be about half of that. Seems to us it is worth the extra cost to get a 70-year siding.