Small Home Gazette, Spring 2010
Congdon Castle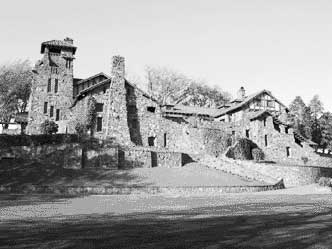 While we certainly don't blame them for wanting privacy, we have to admit we're curious about what the interior looks like, especially after the sumptuous rooms of Glensheen whetted our appetites. Though there are many photos of Westhome's exterior online, we could find none of the interior, save for a couple of historic photos that show no furnishings.
Still, one can dream.
If you'd been in Seattle this past September and had $900 to spare, you might have participated in a tour of historic buildings that included Westhome. Historic Seattle's website had this description of the Westhome portion of the tour:
"This mammoth stone-clad castle was designed by Minneapolis architects Kenyon and Maine for attorney Chester Congdon, completed in 1916 after two years of construction as the centerpiece of his apple orchards. The 30,000 square foot house is a symphony in rough-hewn timbers and stone. It features hand-hammered metal hinges, hardware, and lighting fixtures; leaded glass doors and windows; painted murals; various sizes and colors of brick and tile by important art tile manufacturers; and built-in or commissioned furniture by leading interior design firm William French of Minneapolis/St. Paul. This makes the house an extraordinary example of early 20th century trends in architecture and interior design. Congdon Castle, as it is commonly called, remains in the family and is remarkably preserved, from its lookout tower with sleeping porch down to its indoor swimming pool and the smallest details of kitchens and bathrooms."
If you're still curious about Westhome, below are several websites that may be of interest. Thanks to Bo Sullivan, owner of Arcalus Period Design in Portland, Ore., (www.arcalus.com) for sending us several of these links.