Small Home Gazette, Spring 2011
Letter From the Editor: spring list of things to do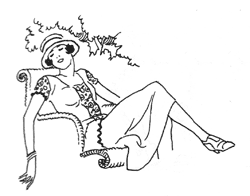 Oh, the possibilities in springtime.  The warming temperatures and the ever increasing hours of daylight draw out the purple crocus, white snowdrops and blue scillia.  Yellow daffodils and tulips mirror every color in the candy jar. Green bursts from the ground and buds out on trees.  Along with nature, we feel the tug of spring.  We feel an energizing lightness as we shed pounds of winter clothing and rediscover our skin.
Our spirits are buoyed as spring tugs at us in different ways.
As lovers, we may be drawn to the lakes, to circle the shores hand in hand.  As gardeners, we are pulled to our outdoor beds to begin a season of creating and rearranging.  As parents, we make plans for our children—scheduling graduation celebrations, summer camps and sports teams.  As friends and family, we plan vacations and gatherings focused on enjoying time together in the sun.
As homeowners, we turn to our lists.  Remodel the kitchen, buy new dining room furniture, add an additional downspout and dig a French drain, paint the spare bedroom, have wooden vent grills made, install quarter round molding in the living room, install a clothes line, have a new cement garage floor poured, paint garage eaves and stoop, replace the roof, fill the crack in the foundation, replace wire on the compost bin, fix the fence damaged by ice chunks sliding from my neighbor's roof…
My annual spring list reflects a sense of rebirth, an ungrounded sense of the possibilities.  All my hopes for a home and all my house's needs make for a long list.  When the sun is shining, I can laugh at my list. Its impossible length merely hints at the volume of time and money required for all items to be checked off.
I know that gradually my sense of expansiveness will give way.  My list will follow its usual pattern, with tasks divided into the must dos and the nice tos.  As a homeowner, I know I must take care of the house—the structure on which I build my sense of home.  As my house creeps toward its centennial, the list of repairs seems unending.  The damage from winter's ice dams has moved the roof project up as a priority.  Seeing bare wood has accelerated the timetable for painting the garage eaves.  I think of my neighbor who said to me, "I'm doing all I can to stay ahead of the decay."
Yes, my house is old.  It was old when I fell in love with this bungalow.  Its gorgeous woodwork; its livable size which gives me a feeling of home; its porches providing a connection to the outside as spaces for both rest and activity—these details speak to craftsmanship and a sense that people cared about building a house that could be called home.
I know I will do the must dos on my list.  Other tasks may get completed if inspiration allows.  Somehow six years have passed since we created a master bedroom upstairs, and we still don't have grillwork to cover the vents.  I acknowledge that my list reflects ridiculous ambition.  In large part, it is a wish list. If you believe that love is in the air in spring, then think of my list as a love note to my house.  Some of the tasks will fall to the side as I choose between them and dinner parties on the lawn.  Meals from the grill and cool, refreshing cocktails with friends have a way of winning out on hot summer evenings.
Today, my spirit is lifted by birds singing out their melodies of spring.  Maybe, just maybe, this will be the year I get those vents covered.