Small Home Gazette, Spring 2009
The Neighborhood by the Falls
A Look Back at Life in Longfellow
by Tim Counts
If you live in Minneapolis' Longfellow neighborhood, purchasing a copy of The Neighborhood by the Falls: A Look Back at Life in Longfellow is a no-brainer.  This informative and entertaining book is a treat for anyone interested in the history of Midwest bungalow neighborhoods.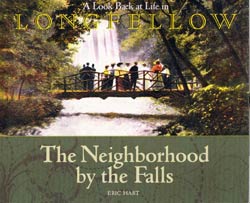 One might expect a book about a single neighborhood to be a low-budget, homespun affair.  This product is first-rate, though, from its colorful soft covers through its well-researched and written 125 pages, all of it enlivened by dozens of historic photos and illustrations.
The book's primary author is Eric Hart, a Longfellow resident who has a Masters of Urban Studies and training in historic preservation research.  But the preface makes clear that the project is the result of collaborative efforts by the all-volunteer, five-member Longfellow History Project.  The high quality of the publication suggests that these folks put in a lot of unpaid hours.
The book is divided into seven chapters, such as "Mighty Mississippi," "Early Settlement," "Social Life," "Entertainment" and "Building Longfellow."  Most of the book focuses on the neighborhood prior to 1930, which makes sense, as its physical elements haven't changed much since then.
The book's strengths are that it provides brief sections of bird's-eye historical overview and then zooms in for close-ups of individual residents, buildings and businesses.  The "Early Settlement" chapter, for example, begins with original Native American residents, moves through their displacement by later white settlers, and then describes the lives of several early Longfellow residents, including the Wass sisters, two rare female physicians among hundreds of male colleagues licensed in 1883 to practice medicine in Minnesota.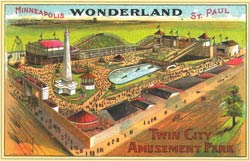 The book also details many long forgotten but fascinating neighborhood enterprises.  There's Wonderland Park, which from 1905 through 1911 was the Valleyfair of its day.  Here, among 30 buildings and 32 flowerbeds, you could ride a roller coaster or sit in a boat that zipped down a greased ramp and across a lagoon.
The park's main attraction, amazingly, was the Infant Incubator, where visitors could view premature infants as they were cared for by hospital staff using the latest medical technology.
Did you know that Longfellow also was home to a horseracing track built in 1888, and that the Minneapolis Millers baseball team played Sunday games there in the early 1900s?  President Franklin Roosevelt and his wife, Eleanor, visited the Michael J. Dowling School for Crippled Children in 1936.  The Danish Young People's Home opened in 1889, and "Danebo," a home for elderly Danes, was built on West River Parkway in 1924.
The chapter "Social Life" includes a description of a several-block stretch of Snelling Avenue in Longfellow where, in the 1920s and '30s, about 30 black or mixed-race households created "…one of the few truly integrated parts of the city."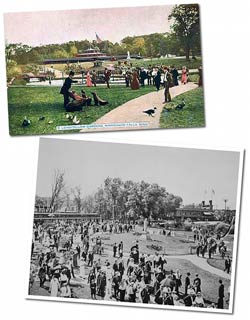 Of course, there's a section on Minnehaha Park and its long-famous waterfall.  But did you know that a zoo called Longfellow Gardens operated adjacent to the park from 1907 to 1934?  If you'd lived in Longfellow then, you could count lions, bears, elephants and Tasmanian devils among your neighbors.  The book includes an amusing photo of the zoo's owner, dressed in coat and top hat, feeding seals gathered around a park bench as visitors look on.
One note: Don't expect an in-depth exploration of bungalows in these pages.  In my admittedly narrow mindset, the phrase "Longfellow neighborhood" is synonymous with "Longfellow bungalows."  After all, this is where resident Kristi Johnson founded the Twin Cities Bungalow Club in 1995. Driving through the neighborhood, you'll see block after block of bungalows plus the occasional street sign letting you know you're in "A Traditional Bungalow Community."  But you'll get all the way to page 83 of The Neighborhood by the Falls before the word "bungalow" appears.  In this section, bungalows are duly noted, and there are photos of bungalows and other house styles.
Still, since much of present-day Longfellow was built during the bungalow era, this chapter gives a good sense of how the area quickly took on its present-day appearance as automobiles and streetcars led to accelerated residential and business development.
Of course, the scope of this book is wider than the Bungalow Club's, and that's fine.  It's a surprisingly entertaining journey through more than 150 years of what is now the Longfellow neighborhood.  As such, it's a tightly focused history of the United States and the upper Midwest, told in easily digestible snippets.
For a list of local businesses that carry this book or to order a copy ($25) from the Longfellow Community Council, visit http://www.longfellow.org/books/ or call 612-722-4529.