Small Home Gazette, Spring 2012
Garlows, the Modern Type of Temporary Home
High rents and the high cost of building have brought forward a new type of building—the "garlow"—which has solved the housing problem for large numbers of families. The name "garlow" is made by combining bungalow and garage, and the structure is all that its name implies.
Designed as a two-car garage, so far as the main structure is concerned, its ingenious use of partitions, which may be made of plaster board, turns the garlow into a three- or four-room house with all modern conveniences. It will serve as a comfortable dwelling until the owner is ready to build his house, and after the completion of the main residence may be turned into a garage by removing the partition and a portion of the outside wall on one side, which has been so designed as to be removable without injuring the building.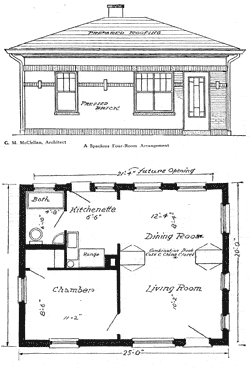 The garlow shown in the illustrations makes a comfortable five-room cottage consisting of a living room, dining room, bedroom, kitchenette and bathroom. Built-in cabinets, which provide bookcases on the living room side and china closets on the side toward the dining room, mark the division between the living room and dining room. The two are virtually one room, giving an air of comparative spaciousness despite the modest dimensions of the building.
The wall on which the dining room, kitchen and bathroom face is the one which will be remodeled for the automobile entrance when the garlow is turned into a garage. It is pierced by four windows and a door, so that little more than the removal of the narrow sections of wall between the present openings will be necessary to make the change.
If furnished simply and tastefully, this little temporary home can be made most attractive. The walls could be covered with an oil paint; the surface decorated with an exceedingly simple stencil design. The window hangings should be absolutely plain, of a somewhat coarse material, not unlike a softer and more flexible burlap.
I Spy a Garlow
by Tim Counts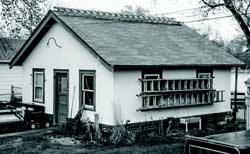 Was the garage above once a garlow? I suspect it was. This is a neighbor's garage, and though it's now used for cars and as a workshop (and ladder storage), it bears all the hallmarks of a garlow. It has more windows than most garages (my original garage has just two), and they are outfitted with storm windows. The door is centered and flanked by windows, just like the front door of many full-size bungalows. And then there's the electric light over the door, looking suspiciously like a front porch light. Though I've never been inside, my neighbor tells me the building was originally plumbed for water.
Are there possible garlows on your block? Send a photo and any clues you can uncover to mail@bungalowclub.net.