Small Home Gazette, Spring 2012
New Life for a Bungalow Exterior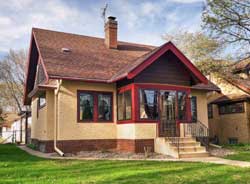 If you participate in this year's Twin Cities Bungalow Club Home Tour, you'll probably notice that the exterior of the first home looks fresh. Really fresh. But it's not the result of modern-day materials such as vinyl siding or aluminum trim—it's the result of uncovering and reviving the home's original materials. The stucco is a warm gold Arts & Crafts color. Trim boards and shake shingles on the gable ends are crisp and freshly painted. The home's front and back wood storm doors glow.
This freshness is the result of a recent restoration/renovation undertaken by the homeowners, Julian and Barbara Sellers, and their contractor, Krishna Dorney, owner of Metropolis Construction.
A Shift in Perspective
"When we moved here in 1978, the stucco was painted white, though we didn't know it was painted," says Barbara. "The wood trim was painted blue. The first time it needed painting, we painted it brown. The next time it needed painting, we thought, 'Oh well, let's just put aluminum on it.'" They had all of the home's trim wrapped in aluminum, including the large areas of shake shingles that adorned each of the home's three gables.
That was 1983. Fast-forward to the fall of 2011, when the owners had the aluminum trim stripped away and the paint sandblasted off the stucco. Why the change in perspective?
"The Bungalow Club," says Barbara with a smile. "Seriously. We gradually became aware of what we had."
It all started in 2006 when the Sellerses hired Bill Blood, aka "This Old Handyman," to help them rid their living and dining room ceilings of textured "spray-on sparkles." When he arrived, Blood took one look at the home's exterior and said, "You'll want to do something about this."
Says Barbara, "I agreed with him but, by that point, we had paid thousands of dollars to put the aluminum on. It was difficult to imagine the time and the money, and the effort and the mess, to get it off."
By this time, though, the aluminum trim was showing its age and paint was peeling off the stucco. "I liked the idea of restoring the exterior," says Julian, "especially the cedar shingles on the gables, and the woodwork. It just seemed like the right thing to do—for the character and the long-term health of the house."
The Sellerses weren't interested in acting as a general contractor themselves, trying to time and coordinate various work crews. "We talked to a number of people, and none of them wanted to take on the job of contractor," says Julian, "until we talked to Krishna. We had seen his ads in the Bungalow Club newsletter." So the Sellerses hired Metropolis Construction, and work began in October 2011.
A Basis for Restoration
Krishna Dorney explains that although "fake siding" such as vinyl and aluminum are hated by preservationists and are actually banned in most designated historic districts, they can perform one valuable service—preserving the historic exterior beneath until it can be restored.
"I've torn off a great deal of cement asbestos, vinyl and aluminum to reveal the original
wood exteriors beneath," Dorney says. "Sometimes the wood was in poor condition when
it was covered, but at least it gives us a basis from which to start restoration."
Dorney's crews removed the aluminum covering wood trim, including the bargeboards (fascia boards) and soffits, plus areas of shake shingle siding. Much of the original bead board soffit had to be replaced. The lower ends of all the bargeboards, which had protruded beyond the roof's edge, had been cut off by the aluminum trim installers. Dorney's crew replaced them. Workers had also torn off some moldings. "We were able to match and re-install those moldings, which added some nice architectural detail," says Dorney.
Paint was sandblasted off the home's stucco walls (not a tidy project), and a thin, tinted coating of stucco was applied over the original to freshen it. Aluminum front and back storm doors were replaced with wood versions.
Says Julian, "Krishna just took charge and hired the stucco people and the painters, and they all knew what to do and when, who does what at what point, and they all worked very well together. I don't know what we would have done if we hadn't found somebody like Krishna."
Lead Abatement
"The paint on the exterior wood contained lead," says Julian. "Fortunately the paint on the stucco didn't."
Federal law now requires contractors who disturb painted surfaces in homes, childcare facilities and schools built before 1978 to be certified and follow specific procedures to prevent lead contamination. Contractors must give homeowners specific lead abatement information before renovating more than six square feet of painted surfaces for interior projects or more than 20 square feet of exterior painted surfaces (or window replacement or demolition) in houses built before 1978.
"That was another obstacle in finding somebody to do the work," says Barbara. When they asked about lead removal, some bidders told them they weren't certified, but that they'd do it anyway. Others who weren't certified told the Sellerses that it was too much hassle, and that they'd have to pay extra for it anyway.
"We were happy to learn that Krishna's workers were certified to do it right," says Julian.
Obtain a copy of the "Renovate Right" brochure with information on lead abatement: www2.epa.gov/lead.