Small Home Gazette, Spring 2014
Art for Life's Sake: the Life of Emma Roberts
Founder of the Handicraft Guild of Minneapolis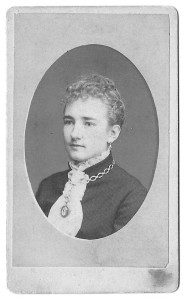 Only one letter of Emma Roberts exists. Written to her brother when she was 20, she claims not to be "overrun with callers, but the few come quite frequently." Absent girlfriends, who were summering on the East Coast, she joined an archery club, helped raised money at a church ice cream social, and played piano, but not Haydn, who was "far beyond me."
What a pity we haven't more of Emma's own words, for they reveal a vivacious woman. What we know of her comes only in snippets.
Born in Germantown, Pennsylvania in 1859, Mary Emma Roberts arrived in Minneapolis in 1867. Her father suffered from TB and sought a cure in Minnesota's fresh air.
The Roberts bought a home at Eighth Street and First Avenue North and Emma attended Jefferson School at 10th and Harmon Place.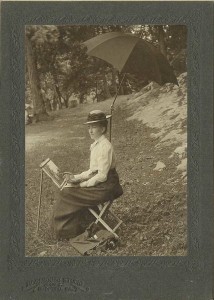 Father and daughter frequently took buggy trips exploring the countryside. Emma collected wildflowers and produced botanically-correct watercolor paintings. The artistic impulse appeared early. At 21, she took sketch classes; at 23, she presented an ample portfolio of wildflower watercolors to her brother.
In 1890, she attended the Rocky Neck Artists Colony in Gloucester, Massachusetts, returning in subsequent summers, studying under Irving Wiles and Childe Hassam. In 1891, her father dead, Emma and her mother rented a flat in Manhattan, and she attended the Art Students League of New York. She and her roommates painted china for pocket money and took lessons. Emma's paintings gained recognition in New York City, Philadelphia and Cleveland. In 1893, her wildflower paintings hung in the Minnesota Building at the World's Columbian Exposition in Chicago.
In Minneapolis, Emma rented studio space in the New York Life Insurance Company building, where she painted and taught. Tuesday afternoons she opened the gallery to visitors, welcoming them with tea brewed in a samovar and mood-setting zither music.
In 1896, Emma took a paying job as Assistant Director of Drawing for the Minneapolis Public Schools. Her supervisor, Bonnie Snow, acted as mentor.
In 1904, Snow resigned, and Emma assumed the directorship. That same year, Emma founded the Handicraft Guild of Minneapolis. The Guild provided workspace for artists, promoted art education, and Arts & Crafts movement values.
Emma saw need for art teacher training classes. The Guild adopted this mission, as well as producing handcrafted work. In 1906, it moved to a new building, designed by William Chandler Whitney and funded by Emma's childhood friend, Joseph Kingman, a Minneapolis attorney. The building, still standing at 89 South 10th Street, was marked by beautiful, handcrafted features.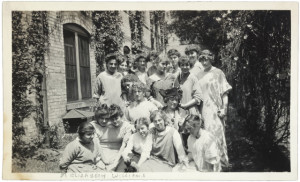 The Guild held nationally-recognized summer school sessions. It offered numerous classes including ceramics, metal work, leather work and bookbinding. Florence Willets, a regarded potter from Chicago, taught the initial session, and remained. She became Emma's companion for 40 years.
Emma travelled to Europe in 1908, 1910 and 1912 to attend International Art Congresses in London, Berlin and Dresden. She visited Europe's leading museums, collecting thousands of reproductions to grace the walls of Minneapolis classrooms.
At home, Emma hired Minneapolis architect Edwin Hawley Hewitt to design a house at 14 East 51st Street, in future Tangletown. The Handicraft Guild produced tile work for fireplaces and retaining walls. In 1913, she moved in.
Seeing art as vital to human endeavors, Emma adopted the slogan "Art for Life's Sake"  and implemented art appreciation in the schools. She led student tours of the Minneapolis Institute of Art galleries, using tapestries and paintings to teach.
She retired in 1920 at age 61. Retirement was spent in travel and with family. She died in 1948 and is buried in Lakewood Cemetery.
Sue Leaf is the author of three books: Potato City: Nature, History and Community in the Age of Sprawl; The Bullhead Queen: A Year on Pioneer Lake; and A Love Affair with Birds: The Life of Thomas Sadler Roberts. She lives and writes from her home in Center City, Minn.