Small Home Gazette, Spring 2014
Storm/Screen Door Combination Options
Materials
Wood
Wood was the original material used. While wood doors are visually appealing for a bungalow, the wood requires painting or another form of coating to protect it from the weather. Wood doors range from less than one inch thick (used primarily as screen doors with no glass) to thicker than one inch to accommodate glass panels. The door is more rigid and durable as the thickness increases.
If you have access to a good paint store, handyman and millwork shop, virtually any color, size and vintage design is possible with a wood door.
Aluminum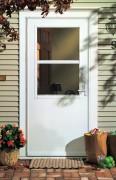 The main advantage of aluminum over wood as a storm/screen door material is aluminum's corrosion resistance. Other features are: aluminum does not need to be painted repeatedly for protection from the elements; doors are available in a variety of thicknesses; and all thicknesses can accommodate interchangeable glass and screen panels.
Because aluminum doors are lighter and thinner than wood, they require less substantial framing than what is found on most old house porches. The thinnest doors are the least expensive; the thicker doors are more rigid and stronger.
PVC and fiberglass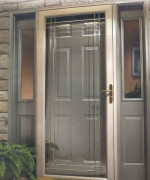 Plastic materials such as PVC and fiberglass offer the most corrosion resistance. They can be molded to mimic wood grain. PVC or "vinyl" storm/screen doors require internal steel frames to provide the necessary strength. PVC is a controversial material because during its production, useful life, and incineration, it may release persistent toxins.
Fiberglass doorframes are extremely strong and are more expensive. Both PVC and fiberglass doors incorporate chemicals to slow the effects (brittleness) of ultraviolet radiation from the sun. Again, thicker doors have an advantage.
Color, size and decorative (especially vintage) design may be limited with any of the non-wood materials.
Types
Full view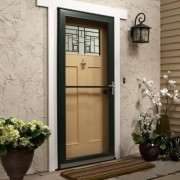 A full view storm door has a full-length glass panel that has to be physically changed out if you want a screen in it. The unused panel of glass (or screen) must be stored.
Partial view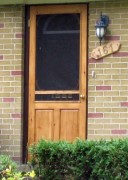 These doors have a solid panel on the bottom and the glass/screen combination on top. To change out the top panel, you have to remove the glass or screen—newer versions of doors allow you to drop down the glass panel and pull up the screen.
Ventilating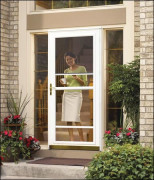 A ventilating style means that there are two glass panels and one to two screen panels in the door at the same time. The glass panel(s) slide up or down in order to reveal the screen. This is convenient if you want to get cross ventilation in the house without the inconvenience of removing and storing panels.
Rollscreen (or retractable)
This is a relatively new hybrid of the full view and ventilating storm/screen doors. The screen is connected to the top window of the door, and when not in use, it rolls up on a spring-loaded dowel in the top of the door. This gives you a full-view door when the screen is not in use, and a ventilating door when it is.