Small Home Gazette, Spring 2014
Wood Storm/Screen Doors for Bungalows
One of the things that really detracts from the period look on a lot of bungalows, in my opinion, is the modern "low maintenance" look of non-wood storm/screen doors. Since the aluminum, PVC or fiberglass storm/screen door is a modern innovation, there really is no period-appropriate version. When bungalows were new, all the doors were wood.
One of the best ways to give a bungalow the right historic charm, warmth and character is to get rid of all the modern, low maintenance add-ons like fake siding, aluminum soffits, and aluminum storm windows and doors. Instead, bring out the original, natural look of wood and other traditional materials. Subtle details can come together to set the house aside from its updated neighbors.
That said, there are advantages to a non-wood door. They're stable, durable, low maintenance and cheap. If you must install one, I suggest a "full view" model that has as little frame and as much glass as possible. This is particularly true if you have a nice period door behind it. The full view door will visually recede if the focus is on a nice oak or fir door with beveled glass.
Most non-wood doors are made to install in front of a standard sized pre-hung door. They come with a metal jamb that is screwed onto the trim or brick mold of the main door. Although there is some adjustability, they are less forgiving than a wood door when fitted to an out-of-square or odd sized opening.
Choosing Wood for Your Door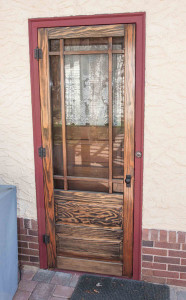 Wood storm/screen doors are readily available from local lumberyards, custom millwork shops, and a few online suppliers. Local lumberyards such as Scherer Bros., Siwek, and Shaw/Stewart carry a basic selection that should fit most applications. With basic hardware they run about $300 to $500 each. Expect finishing and installation to cost another $150 to $300.
The most common wood door styles are a "full view" model and a two-panel model with an opening above the panels. Typically the door has two inserts—a screen and a tempered glass window—that are swapped out seasonally. Some models have an aluminum "two track" insert with glass and screen in the same assembly. Most of the stock doors also offer a "prairie grid" model, which looks good on most Arts & Crafts homes.
These doors are made of pine or fir, come unfinished, and can be painted or stained. Doors made of cedar and white oak also are available at an additional cost and have a longstanding reputation for better resistance to the elements. These might be a better choice if the door is to be stained rather than painted.
In addition to the stock models from lumberyards, a woodworker or millwork shop can custom build a door for you. This might be necessary if you want to work with a certain wood species or have an unusual application like a round top door. Coppa Woodworking is a popular online supplier of period wood doors. They have a wide selection and custom build each door to your size and wood species. You can find period hardware online, but be sure to select a hardware finish that matches the door hardware on the entry door. For example, don't order bright brass hardware to be paired with an entry door installed with oil rubbed bronze or antique brass hardware.
Installation
Consider that the storm/screen door is there to protect the entry door and to help seal drafts. It's the first line of defense against the elements and is typically exposed to the weather. One school of carpenters insists that any exterior door should be protected by a canopy roof. Most old houses have the entry door under such a roof. However, many bungalows have had the porch enclosed, so the storm/screen door has been moved to the front face of the porch, away from any protecting roof canopy and exposed to rain and UV light. Another challenge—porches, even old ones, tend to be underbuilt, so installing a door in this location can be challenging.
When installing a storm/screen door over a front entry door, it's fitted into the recessed area formed by the trim around the entry door. This is fairly square, but the door usually needs to be cut down or planed to fit the opening. Adequate spacing or "reveal" should be maintained around the door so it will not stick or bind during hot and humid weather. The hinges need to be strong and mounted securely to carry the weight of the door so it won't sag or bind.
When mounting in a porch opening, be aware that porch enclosures were often done on the cheap by homeowners or handymen, so you may not have a good opening in which to mount the door. In many cases, you will find a frame made of 2x4s without trim or a threshold. The best option is to reframe the door opening to get it square, plumb and solid. The next best option is to cut and plane the door to fit the opening, trying to strike a balance between a cohesive look and an out-of-square opening.
Maintenance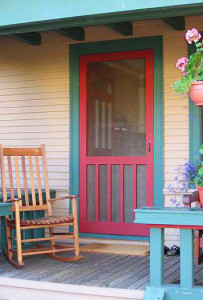 Let's start with the finishing of the door. Most doors are primed and then painted to match the house's exterior color scheme. It's also possible to stain the door and then varnish it. Be sure to use spar or marine varnish that is rated for exterior use. Regular polyurethane varnish will degrade, turn yellow, and peel quickly when exposed to weather and UV light. Some people finish doors with deck stain or exterior full color stain, which gives a rich, warm look, especially on cedar.
I think a critical point is finishing the sides and bottom of the door. I do a "dry fit" of the door first to make sure it's trimmed to the right size and operates properly. Then I take the door down, remove all the hardware, take it back to the shop, and apply the finish. Then I re-install it after the finish is dry. This allows me to seal the bottom and sides of the door.
A mistake a lot of people make is to cut and plane the door to fit the opening, leaving the wood on the sides and/ or bottom unfinished. This leaves unsealed areas that will take on moisture, causing the door to expand and then stick or bind. This leads frustrated homeowners to sand or plane off more material to get the door to operate better, which in turn, exposes more wood to take on moisture. Be sure to finish off any exposed wood.
Wood also "wicks" water, usually up exposed end grain. If the bottom of the door is close to a surface that gets a lot of rain, the ends of the door stile (the vertical members of the door sash) will wick water off the surface and soak it up into the grain of the wood. This will lead to deterioration of the bottom of the door. If you are installing a storm/screen door in a location that gets a lot of weather, seal the bottom and keep it more than 1/4 inch above the surface. It's also possible to install a small metal sweep or weather strip that will shed water away from the bottom of the door.
Save Your Original
Lastly, if you have an old wood storm/screen door in decent condition, it could be removed and the rotten and damaged bits replaced. Then square it up, sand, refinish and re-install, perhaps with new hardware. Sometimes a labor-intensive repair job like this is just as costly as buying a new door, but if the old door is unique or original, it might be worth the trouble. If you are a do-it-yourselfer with plenty of time on your hands, it could be an economical option.
Resources
A&A Millwork
3320 E 41st St., Minneapolis
612-721-1111
www.aamillwork.com
Adams Architectural Millwork Co.
950 Jackson St., Dubuque, IA
563-690-1358
www.adamsarch.com
Coppa Woodworking, Inc.
1231 Paraiso St., San Pedro, CA
310-548-4142
www.coppawoodworking.com
Scherer Bros. Lumber Co.
4797 U.S. 10, Arden Hills, MN
651-633-9680
www.schererbros.com
Siwek Lumber & Millwork, Inc.
2536 Marshall St. NE, Minneapolis
612-781-3333
siweklumber.com
Shaw/Stewart Lumber Co.
645 Johnson St. NE, Minneapolis
612-378-1520
www.shawstewartlumberco.com
Krishna Dorney is the owner of Metropolis Construction. He can be reached at kdorney@gmail.com or 612-728-3817.
www.metropolismn.com