Small Home Gazette, Spring 2015
Salvaged Radiators Bring Back Warmth and Charm
A homeowner radiator restoration story
Although the newer, full-wall bookcase at one end of their living room was well built, Karen and Mark Swoverland wanted to return their living room to its original layout. Upon removing the bookcase, they discovered evidence of two floor-standing radiators.
The couple liked radiators, both as an architectural detail and as a heating source. The other end of the living room had an original Weil-McLain Cameo hot-water radiator that matched those found in every other room of the house.
The bookcase removal launched a four-month radiator restoration project, starting with a lot of research to understand the options.
Finding a Matching Radiator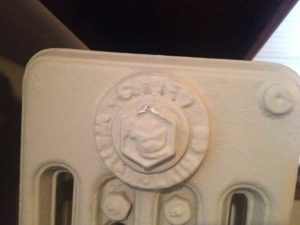 New radiators were available, but the couple valued reuse of quality old materials and wanted to closely match the 1931 Weil-McLains. Having explored reuse for other home materials, they knew Bauer Brothers Salvage in Minneapolis was the place to go.
The salvage company boasts over 2,000 radiators in all shapes and sizes. And their radiator stock turns over, as older homes and apartment buildings are continually being remodeled or demolished.
"Bauer Brothers is an adventure," says Mark. "It looks like a trash house and has aisles of radiators inside and out. It's fun to walk through." He advises that you need to know what you're looking for and be determined to hunt for your prize.
The Swoverlands needed to find two hot water radiators that were the right dimension and decorative style and had the right number of accordion-like sections (sometimes called "fins"). Radiators come in standard sizes for width and depth. They were warned against buying ones that had been converted from steam because they were considered less reliable and less efficient.
Over the course of three visits to the salvage shop, Mark spent hours combing through hundreds of radiators that were loosely organized into groupings of plain, ornate or random. Most were in OK shape. He wore sturdy shoes and work gloves as protection from rust; sharp paint chips; and heavy, hard iron. A headlamp would have helped him see in the dimly lit space.
Unable to find an exact match, they bought two closely matching U.S. Radiator brand radiators instead. Bauer Brothers charged $30 per section for radiators with fewer than 12 sections; $25 per section for between 12 and 20 sections.
Transporting the radiators home required two trips, as there wasn't room to stand them up in their vehicle and stacking them could cause their sections to interlock. At 300 pounds each, it would be next to impossible to pry them apart.
Refinishing the Radiators
The next step was to have the two peeling radiators—one painted bright teal and the other canary yellow—refinished.
Karen researched refinishing options. Paint eventually bubbles and peels so it requires maintenance. An alternative is powder coating, which applies a plastic finish in powder form and bakes it to a fluid state to bond it to the metal surface. This process is more durable and should be trouble free unless it becomes scratched, which would expose the iron and invite rust. And sandblasting to remove old paint prior to powder coating can create holes in a radiator, which will cause it to leak.
The Swoverlands chose powder coating. They hired Twin City Powder Coating because of its experience handling radiators and use of a gentler abrasive to remove old paint. "The company had hundreds of colors to choose from," said Karen. They selected a medium bronze because it worked with the Spanish revival style of high contrast between light colored walls and dark woodwork.
Moving the two radiators from their house to the powder coaters and back again was an expensive round trip—$725. To protect the new finish from scratches, movers needed to wrap and carefully handle the radiators, and once back in the Swoverland's home, use care when maneuvering and properly locating the hundreds of pounds of iron. Twin City Powder Coating offered a short list of recommended movers whose prices varied widely.
Their radiators sat at the powder coaters for two and a half months before the work started, delaying installation until October. The Swoverlands recommend starting radiator refinishing projects in May to be sure everything is in place in time for the next heating season.
Installing the Radiators
The Swoverlands hired Uptown Plumbing, Heating & Cooling to plumb the radiators. The company has extensive experience with hot water heating systems. The couple had previously worked with them and were pleased with their responsiveness and on-time reliability. And how could they not prefer a company that's been in business since 1914, longer than their house has been standing?
At the same time as the radiator install, Uptown Plumbing installed a side arm heat exchanger, which produces hot water in place of a hot water tank; added new zone and isolation controls; and ran new copper lines because the existing flexible line was not up to code. The radiators were triple checked for leaks before the project was complete. Bauer Brothers; Twin City Powder Coating; and Uptown Plumbing, Heating & Cooling each tested the radiators to make sure there were no leaks.
Hindsight
Asked if they would do this project again knowing what they know now, the Swoverlands both say "yes." Their project cost a total of $4,350 (see cost breakdown at end of article). Two new radiators would have cost an estimated $7,000 installed. And the salvaged radiators more closely match the original radiators than new ones would have.
The couple plans to use the same vendors again when they move on to remaking other rooms in their home. Because the rest of the home's radiators have been painted many times, making them less attractive and less efficient, the Swoverlands first considered having them all refinished along with the two new ones to take advantage of volume discount for powder coating and moving. Uptown advised against this plan. Removing all of them at once would give the open pipes in the walls time to settle and create trouble for reconnecting the radiators. Also, the estimated $8,000 total (to disconnect, transport, refinish and reconnect) was more than the Swoverlands wanted to invest at the time.
"Our ultimate goal is to have pristine radiators throughout our house," said Karen. "Not ones that are rusting and have peeling paint, and walls that are damaged behind."
Mark added, "We want to capture the feel of the house when it was built and the utility of the existing heating system."
Karen and Mark Swoverland have been in their Longfellow Spanish Colonial Revival since the fall of 2014. They've put their home remodeling skills to work installing two fireplace inserts and replacing two hearths themselves.
Radiator Project Costs
| Supplies | Cost |
| --- | --- |
| Two salvaged radiators | $500 |
| Sandblasting and powder coating | $460 |
| Moving, round-trip | $725 |
| Installation | $2,665 |
| Total | $4,350 |
Resources
Bauer Brothers Salvage, Inc.
2432 Second St. N., Minneapolis
612-521-9492
www.bauerbrotherssalvage.com
Twin City Powder Coating
548 Apollo Dr., Suite 40, Lino Lakes, MN
763-785-7900
www.twincitypowdercoating.com
Uptown Heating & Plumbing
3110 N. Washington Ave., Minneapolis
612-284-5789
www.uptownheatingandcooling.com
Uptown Transfer, Inc.
3040 Fourth Ave. S., Minneapolis
612-827-3826
www.uptownmove.com