Small Home Gazette, Spring 2016
Portion of Handicraft Guild Building to be Preserved
After a year of review and discussion by city government, a plan to raze the newer portions of the historic Handicraft Guild building at 10th and Marquette in downtown Minneapolis is moving forward. The original 1907 façade will be preserved as part of a high-rise development. Plans for a 20-story, 293-unit apartment building were approved by the Minneapolis City Council earlier this year.
Constructed in three phases from 1907 to 1922, only the exterior of the original three-story Handicraft Guild building was designated as a local historic landmark by the city in 1998.
The complex contained classrooms, studios, workshops, an auditorium, a salesroom and a tea room. It's unclear how much of the historic interior, if any, will be preserved.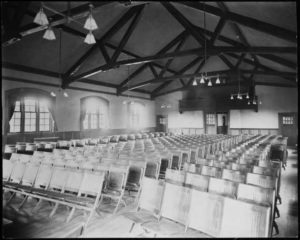 This 1907 relic of Minneapolis' Arts & Crafts past will serve as the apartment building's main entrance. It'll also provide space for a ground floor restaurant with rental offices and resident amenities on the upper floors.
The historic structure and its additions have provided unique and tangible evidence of the ideals of the founders and students of the Arts & Crafts movement in Minneapolis. In the early 1900s, in reaction to the increased industrialization of goods, the movement promoted the integrity of materials and the special quality of handmade goods. The building housed the Minneapolis Handicraft Guild, one of the nation's leading arts organizations. Its central location provided a forum for a community of artists to gather to discuss ideas and share their work.
Founded by Emma Roberts, Mary Moulton Cheney and Florence Willets, the Minneapolis Handicraft Guild became a center for arts education and community events. The instructors were drawn from the Minneapolis School of Fine Arts, the Minneapolis Public Library, and the Minneapolis Public Schools and spent their summers teaching at the Handicraft Guild. Students came to the Guild from throughout Minnesota and the Midwest. The teachers also traveled to similar guilds in Chicago and Boston to exhibit their work and that of their students.
Whatever changes are made to the 1907 structure, historians with the Minnesota Society of Architectural Historians had an opportunity in 2015 to document the entire complex's exteriors and interiors by searching historic documents and collecting historic and new photographs. Video interviews with some of the long-term tenants of the building also were conducted.