Small Home Gazette, Summer 2010
The Bungalow Hide-a-Bed
An old idea for creating flexible living space still has merit
The average new house in the United States has about 2,343 square feet of living space, down from 2,629 just before the recent housing bust. It's still a lot compared to 1982, when the average was 1,710 square feet. But even that sounds palatial to those of us who live in typical Twin Cities vintage bungalows, which have about 1,000 square feet on the main floor.
How on earth did the original bungalow dwellers raise families in such a small space? Obviously, their definition of "enough" was very different from ours. I know a 92-year-old woman who grew up in a one-bedroom Longfellow neighborhood bungalow with her parents and two brothers. "We didn't think anything about it," she says.
Still, you can only squeeze so many people into a bedroom. One way the original bungalow dwellers coped was to set up some rooms (porches, living and dining rooms) to be used for more than one function—the second function being a bedroom. After all, bedrooms are used primarily at night; why not use the room for living during the day? In fact, the thinking went, why not eliminate one or more bedrooms entirely? And so the Murphy bed was born.
The Way It Was…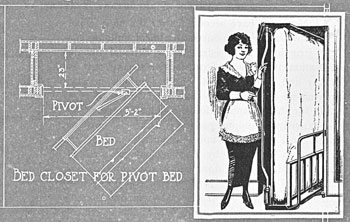 William L. Murphy patented his legendary foldaway bed in 1916. The Murphy Bed Co. Inc. is still in business today (www.murphybedcompany.com), headed by the founder's grandson. The term Murphy bed, however, is now used generically to refer to any bed that folds up into a wall cavity or cabinet. The original Murphy bed's headboard was attached to two pivots on a closet door or doorjamb. Once the door was open, the folded-up bed swung out through the doorway into the room and lowered into place, its legs extending automatically. Some models did away with the pivot mechanisms—the headboard was permanently attached to the back wall of the closet and the bed was lowered into the room through a double door opening.
Magazines from the bungalow era published frequent articles about Murphy beds and other beds that would slide, fold or lift out of the way. Such beds were often found in bungalows, but proliferated in apartment buildings, where living space was even tighter.
During the 1920s, some hidden bed techniques became creative to the point of absurdity. For example, one type was hidden behind the wide bottom drawer of a built-in dining room buffet. The bed didn't fold but rolled away under the raised floor of a closet behind the buffet. Another hidden bed model actually lowered from a cavity in the living room ceiling on four cables. And yes, even sofa beds were available.
The Way It Is…
Although the typical bungalow houses far fewer people today than in the 'teens and 'twenties, space is still tight. Whether it's for a visit by friends or relatives, or when one spouse or partner is ill (or in the doghouse), an extra bed that can vanish when not in use adds flexibility to any home. But it should be comfortable, and if it's in a sofa, the sofa should be comfortable too.
Over time, the more odd-ball hidden bed methods fell by the wayside, but two basic concepts endure to this day: the Murphy bed and the sofa bed.
Two Bungalow Club board members went shopping for hide-a-beds recently. This is what we found.
Murphy Beds
Murphy beds (sometimes called wall beds) have the distinct advantage of using a real mattress, so comfort is a given. In fact, the comfort of current Murphy beds is likely an improvement upon their vintage forebears, which had a web of wires and springs supporting a dense cotton mattress, all of it prone to sagging and creaking. (Inner spring mattresses didn't come into wide use until the 1930s.) Today's Murphy beds use a mattress strapped to a solid platform that lifts up into a wall cabinet. Sheets, blankets and pillows can remain on the bed when it's stored. The hinge mechanism is weight-balanced so that lowering and raising the bed is almost effortless. When opened, they're the height of a standard bed and are easy to get in and out of. When closed, the surface can be disguised as cabinets or a wardrobe. Shelves or cabinets can also be added around the bed unit for more storage.
There are a couple of drawbacks to Murphy beds. Even though they can be disguised as cabinetry, they're about 20 inches deep when folded away and can look large and awkward in a small room. And losing 20 inches of an already tight bungalow bedroom is no small thing. The modern styles of the cabinetry won't match vintage interiors. And if you move, it will be a chore to take with you. A Murphy bed is a good solution if it will be used frequently, as it's just taking up space when put away—it doesn't have the dual functions of a sofa bed.
We visited Techline Twin Cities in St. Louis Park and found a helpful staff and several examples of Murphy beds on the display floor. It's a good place to get a sense of what it's like to raise and lower the beds and lay on the mattresses, which we found to be very comfortable. A full (double) size bed with a laminate-surface cabinet will cost about $2,500. Wood cabinetry costs more.
Sofa Beds
The great advantage of sofa beds is that you get two pieces of furniture in one. But with such versatility comes compromises—many models function poorly as both sofa and bed. Most of us have painful memories of trying to sleep on old-style sofa beds with sagging springs, a thin mattress, and that awful bar-in-the-back frame. Though this type of sofa bed is still available, there are now better options.
Comfort sleeper
Starting at the high end is the Comfort Sleeper, made in the United States by a company called American Leather. Instead of a spring system, the Comfort Sleeper uses a high-density foam mattress that rests on a solid wood platform. Both platform and mattress fold into thirds into the sofa frame. When extended, the bed is rock-solid and the mattress very comfortable. Another advantage is that the length of all Comfort Sleeper mattresses—from cot to king size widths—is 80 inches. This is five inches longer than a standard full mattress (regular sheets will fit), a godsend for tall people. Even so, because of the Comfort Sleeper's unique construction, the bed doesn't extend any farther into the room than other sleeper types with much shorter mattresses.
When used as a sofa, the Comfort Sleeper is also quite comfortable, though people with shorter legs may find the seat cushions a little deep (front to back). The overall sofa is also fairly deep—41 inches. It comes in 12 styles, including some classic styles that would look good in a vintage home. There are hundreds of fabric and leather upholstery options. A sleeper with mid-range upholstery fabric and a full-size mattress costs about $2,600. You can try them out at Rosenthal Contemporary Furniture, located in downtown Minneapolis.
Rosenthal also carries other types of sleepers that have more modern styling, including a "Euro" style, in which the sofa's back flattens out level with the seat cushion to create a sleeping surface.
Air Coil sleeper
Next on the comfort scale are sofa beds that use an innerspring mattress combined with an inflatable top layer. Such a bed can be inflated to your firmness preference and they are covered with a cushy mattress pad, giving them a real-mattress feel. Still, it's an inconvenience to have to attach an electric motor to inflate the bed. And of course, it must be deflated before folding it back into the sofa. Like many sleeper sofas, Air Coil mattresses are just 72 inches long—3 inches shorter than a standard full size mattress.
You can check out Air Coil sofa beds at Gabberts Design Studio and Fine Furnishings or at a Room and Board furniture store. A version with a (short) full size mattress costs $1,800 and up. And if you have an old bar-in-the-back sleeper sofa and want to make it more comfortable, you can buy just the Air Coil mattress online for about $300.
Room and Board also carries American Leather Comfort Sleepers in three styles and a few fabric options.
Other options
Beyond these choices are sofas that use other techniques to convert to sleepers. None of them are as successful, in our opinion, as the two above types, but they are less expensive. Several such types are on display at IKEA in Bloomington. The cost of IKEA's models top out at about $1,000, much less than a Murphy bed or the American Leather Comfort Sleeper. But as the adage goes, you get what you pay for.
We found most of the IKEA sofa beds uncomfortable to sit on. The seat cushions were often flat and hard, and the seats too deep to lean back without a pillow or two tucked behind us. The overall look and feel of the IKEA models were definitely on the cheaper side. The methods used to convert the sofas into beds include: foam seat and back cushions that flip or unfold and fit together to create a sleeping platform; futon-style mattresses draped over a frame that spreads out for sleeping; and sectioned mattresses that fold out onto an extendable frame. Also present was a classic bar-in-the-back model, which was uncomfortable to lie on.
But if you're on a tight budget, IKEA's selection is worth looking at, if nothing else to educate yourself about sofa bed options.
Inflatable mattresses
The cheapest alternative is an inflatable mattress, available at Target and other discount stores. Small electric motors inflate and deflate them quickly, and they take up virtually no storage space. Add a mattress pad and sheets and they are reasonably comfortable. Spend a little more and get one that's about 20 inches high, which makes it feel more like a real bed. Some have added stability segments along the bottom edge so the mattress doesn't tip easily, and some have a small, protruding "headboard" that prevents your pillow from sliding off in the night. But they're still just an air mattress, and are best for kids and young adults. Your in-laws deserve more dignified treatment.
You can find even more sofa bed options by surfing the Internet. But we think a sofa bed is something that should be purchased only after sitting and lying on the merchandise.
Resources
Murphy beds (wall beds):
Sofa beds:
Air Coil sleeper:
Less-expensive sofa beds: