Small Home Gazette, Summer 2011
Rebuilding It Right
Minnesota Architects Help Owners of Tornado-Damaged Vintage Homes Restore Architectural Detail
Raymond Dehn was in his north Minneapolis home when the May 22 tornado hit his neighborhood.  "It was a freaky feeling," he says.  Though Dehn's house wasn't badly hurt, many as close as a block away were severely damaged or even destroyed.  In all, 2,000 homes were hit.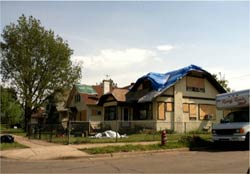 The next morning Dehn, a graduate of the University of Minnesota School of Architecture, began to ponder the area's future.  It was painful for him to see all of the texture had been stripped away by the tornado.  But even before, Dehn had watched the gradual erosion of architectural detail of the area's older homes.
"There are a lot of wonderful houses here," Dehn says.  "While living here for the past 11 years, I've seen many bad remodelings.  I thought there had to be a role for architects in rebuilding homes after the tornado."
Architects Step Up
Dehn began a discussion among his architect peers.  Out of these conversations came "Rebuilding it Right," an initiative launched by The American Institute of Architects (AIA) Minneapolis and AIA Minnesota.  Its mission is to organize the architecture and allied professions, including landscape architects and graphic designers, to advocate for quality and architecturally appropriate design for homes hit by the tornado.  They plan to do this in several ways, including providing free architectural design services to affected north Minneapolis homeowners.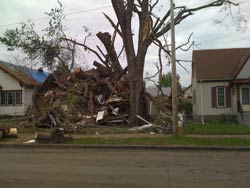 "It's important that bungalows and other older homes are maintained in their original design as much as possible," says Dehn.  "My big fear is that everything becomes vinyl or metal.  Most people don't understand what that does to the appearance of their home.  If the home has exposed rafter tails and you enclose them in metal or vinyl, you've changed the appearance of the house," stresses Dehn.  "The richness and the textures of the houses create the character of the neighborhoods we love to live in."
Three-Phase Program
According to a July news release issued by AIA Minnesota, Rebuilding it Right is a
"compassionate response to recapture and solidify the beautiful, historic architecture present in the neighborhood, and to consider possibilities for entire sections to allow
for greener technologies and smarter urban design.  Implementing these larger picture design ideas could benefit not only the immediate homes in the vicinity, but the city as a whole."
Dehn says the group recognizes that those whose homes sustained minor or moderate damage aren't likely to contact an architect. In response, the initiative offers to connect local architects who will provide free services to homeowners so that the character and quality of the damaged homes are maintained.  Design team efforts will be tailored to fit the needs of each home and situation, and homeowners can expect one to three meetings with their team of volunteers.
Dehn explains that Rebuilding it Right has three phases, each with an approximate timeframes.
Phase 1: three weeks
Participants will get the word out about available services for the restoration of homes that sustained minor and moderate damage.  Rebuilding it Right will connect volunteer architects with homeowners who need assistance.  "We see this phase going through until the end of August," says Dehn.  "We're trying to get as much information out as possible."  An article about the initiative was published in the Star Tribune, and Dehn was interviewed on Twin Cities Public Television's Almanac news show.  An informational letter also will be mailed directly affected homeowners.
And, of course, you're reading about it in the Twin Cities Bungalow Club's newsletter.  "I think it's great there are groups like yours that care about homes," says Dehn.
Phase 2: three months
During this phase, participants will explore what infill housing will look like on lots where homes were destroyed by the tornado, or where they previously fell victim to the mortgage crisis.  Rebuilding it Right will work with the City of Minneapolis, nonprofits, builders and the community to streamline design, approval and construction processes.
Phase 3: three years
Rebuilding it Right will explore the redevelopment of larger areas, including half block, full block and perhaps larger areas.  The goal of this phase is to consider such concepts as housing density and green design.  For example, explains Dehn, what about harnessing geothermal energy, or connecting a solar energy system to all the houses in a halfblock area?  "Trees will be gone for half a century, and there will be plenty of sunshine," he points out.
Did your home sustain light to moderate damage in the May 22 tornado?  Contact Rebuilding it Right by calling 612-588-7741 or by sending an email to dehn@aia-mn.org.
Rebuilding it Right, led by AIA Minnesota and AIA Minneapolis, is working in conjunction with the ongoing Northside Community Recovery Team efforts, the City of Minneapolis, USGBC-Minnesota, Architecture for Humanity–Minneapolis/St. Paul, The Assembly of Architects, Rebuilding Together Twin Cities, Preservation Minneapolis, American Society of Landscape Architects Minnesota, and several local and state organizations.