Small Home Gazette, Summer 2011
The Bungalow as Babe Magnet
Are you a single guy looking to attract some female action this summer? What kind of bling would enhance your appeal—a convertible, a gold neck chain, or maybe a golden retriever?
If you'd been around in 1916, your weapon of choice might have been a bungalow. According to a popular song, a bungalow on a lake would have you "swimmin' with the women" and "picking them up by the score." (Some of the lyrics in this song must've been a little racy in 1916.)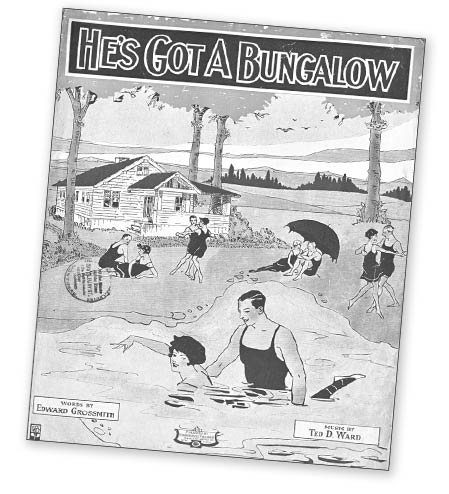 Sheet music was roughly the cultural equivalent of the iPod during the bungalow era. It was everywhere.  If you've ever been in an antiques shop you've seen stacks of them, their colorful covers illustrated with moonlit lakes, lovey-dovey couples, grass-skirted Hawaiian maidens, and occasionally, a bungalow. No doubt many of those sheets were found under the lids of benches that once sat in front of upright pianos in bungalow living rooms across the country.
An Internet search reveals that "He's Got a Bungalow" was recorded by popular singer Arthur Fields and released in November 1916 by Columbia Graphophone Company in New York. This was during the Tin Pan Alley era, when dozens of New York publishing companies cranked out a steady stream of rather disposable songs on popular topics. And bungalows, as we know, were definitely popular.
He's Got a Bungalow
Words by Edward Grossmith; Music by Ted D. Ward
Verse 1: 
Billy O'Brien all winter was tryin'
To save ev'ry penny he earned.
Nobody knew the reason why,
Nobody saw the twinkle in his eye.
Now he's not working
And now he's not clerking,
It happened one summer's day,
Took ev'ry cent, away he went,
Now all he does is play.
Chorus:
He's got a bungalow,
Right by the water,
He's got a bungalow,
And say you ought-a
See him lounging around,
Free from care and strife,
Swimmin' with the women,
Lawdy what a life.
He's got a bungalow,
Throughout the summer,
Down where the breezes blow.
He goes roaming round the beaches,
Giving lessons to the peaches,
Swimming is not the only thing he teaches,
Down at the bungalow.
Verse 2:
You'd never know him
Oh you'd never know him,
He's picking them up by the score.
He's always out there on the sand,
Leading a diff'rent girlie by the hand
They flock 'round him—and oh how they hound him,
All day they keep passing by,
He gets them all—the big and the small,
You know the reason why.
Chorus:
(Repeat first 11 lines)
May sits down at that piano,
Fay keeps singing high soprano,
He does a one-step 'round the room with Anna,
Down at that bungalow. 
Copyright 1916 by Bernard Granville Pub. Co. Inc., 154 West 45th St. N.Y. City