Small Home Gazette, Summer 2013
From Flour Sacks to Bloomers
When thrifty Americans reused commercial sacks, manufacturers responded
Flour sacks; grain sacks; feed sacks; sacks for sugar, cornmeal and other milled products—farmers used homemade cloth bags for storage ever since cloth was available. The early sacks were homespun cloth, hand sewn into bags for the products kept for use in the home or for planting.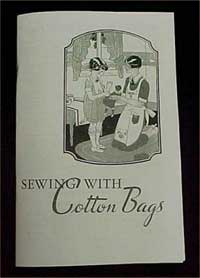 With the advent of industrial sewing machines in the mid 1800s, double lock stitching made it possible to sew fabric secure enough to prevent splitting. This meant products could be shipped in sacks instead of bulky, wooden barrels or boxes. The first commercially made product sacks were heavy white canvas printed with the product name. The farmer could bring empty sacks back to be refilled.
Then mills in America began producing inexpensive cotton fabrics in the late 1800s. The cloth was softer but not as durable. The sacks weren't refillable, so women used them for quilt pieces and to make dishtowels, curtains, pillowcases, sheets, as well as diapers, underwear, aprons and children's clothing.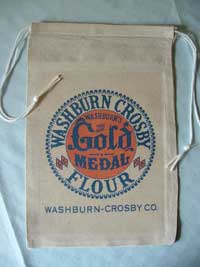 The product name was stamped on the sack in vegetable dye so the homemaker could remove it (with some difficulty) with the hope of returning it to plain white. There are stories of the wife who didn't bother to remove the "self-rising" label from the flour sack she used to make her husband's underwear, or of the young girl who tripped and fell, revealing "Southern Best" stamped on her derriere.
By 1925, manufacturers began to realize how popular these sacks were to women and competed to have the most desirable patterns and colors. Women picked out flour, sugar, beans, rice, cornmeal, and even the feed and fertilizer for the family farm based on which fabrics they desired. Soon magazines and pattern makers were offering cloth sack patterns to help the home sewer.
In addition to overall florals and geometrics, patterns included border prints (perfect for pillowcases and curtains) and children's favorites, like cowboys and animals. The product name was printed on removable paper labels so the fabric could be reused without the advertising.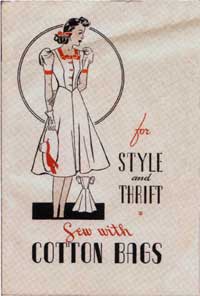 A 50-pound sack measured 34 x 38 inches; a 100-pound sack measured 39 x 46. It would take three identical sacks to make a dress, for example, and the farmer just might be induced (by the women in his family) to buy more that way.
Printed sacks were used for sewing through the Great Depression. During the 1940s, the economy improved but it was necessary to conserve because of the need for war supplies. Using sacks for sewing was considered patriotic, and women could find patterns such as "V" for victory and Morse code.
After WWII, technological innovations provided more sanitary and cost effective packaging made of heavy paper and plastic containers. A cotton cloth bag cost 32 cents to make, as opposed to 10 cents for the paper bag. By 1948, this new industry cornered more than half of the bag market, and cloth sacks disappeared within 15 years, though some are still made for Amish and Mennonite communities, small mills, and the tourist industry.