Small Home Gazette, Summer 2014
Monta Mower
I've always assumed my bungalow's original occupants used one of those classic "reel mowers" to mow the lawn. But it turns out there were several other mower models available that used different cutting mechanisms.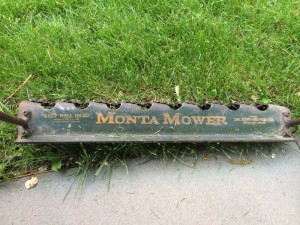 A friend, Dan Anderson, recently showed a group of us a Monta Mower, discovered by a neighbor in her garage. It was patented in 1923, according to the machine's original painted lettering. An Internet search led to www.reellawnmower.com, a site run by The Reel Lawn Mower History & Preservation Project in Haydenville, Massachusetts. The site explains that the Monta Mower's sales offices were in Grand Rapids, Michigan, and that the early models had a wood handle, which was replaced by a wire handle after WWII. The company was in business until the early 1960s.
Dan demonstrated that the Monta Mower actually does cut grass. Though you wouldn't want to attack a large suburban lawn with it, with time and effort it would trim a small bungalow lot (after all the sticks had been picked up, of course). Want to see the Monta Mower in action? Visit http://youtu.be/LU2_C42XcsU to view a video snippet of Dan putting it to use (setting the video quality to HD works best).
And remember, modern versions of reel mowers are still available and are more effective, and far easier to use, than the old cast iron models.