Small Home Gazette, Summer 2015
Ginger Creams With Easy Creamy Icing
1/4 cup shortening (you can also use butter, slightly softened)
1/2 cup sugar
1 egg
1/2 cup molasses
1/2 cup water
1 teaspoon baking soda
2 cups all-purpose flour
1/2 teaspoon salt
1 teaspoon ginger
1/2 teaspoon nutmeg
1/2 teaspoon cloves
1/2 teaspoon cinnamon
For icing:
3/4 cup confectioners' sugar
1/4 teaspoon lemon extract (or vanilla, or other flavoring)
1–2 tablespoons cream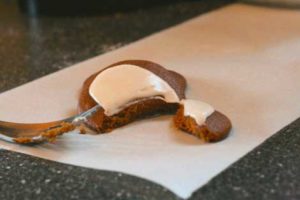 Mix together the shortening, sugar, egg, molasses and water. In a separate bowl, mix dry ingredients together and add to shortening/egg mixture. Use a hand mixer. Dough will be very wet. Chill dough for several hours or overnight.
Preheat oven to 400 degrees. Drop dough by rounded teaspoonfuls (use a cookie scoop—a two-teaspoon size) onto parchment-covered baking sheet about 2 inches apart. Bake for 8 to 9 minutes or until almost no imprint remains when you touch the cookie with your finger.
For the icing, combine the confectioners' sugar, flavoring, and enough cream to make spreadable. When cookies are cool, frost with a small amount of icing.