Small Home Gazette, Summer 2015
The Naked Bidder
Take a second, close your eyes, and imagine a world in which antiques, fine and decorative arts, and ephemera collectors from every walk of life had instant access to millions of items up for auction—without ever leaving their house.
Now, open your eyes, because you're in that world and it's better than ever. From Bidsquare (www.bidsquare.com) to Live Auctioneers (www.liveauctioneers.com), eBay (www.ebay.com) to independent auction houses, and everything in between, it is now possible to search, click and bid to your heart's content. But for first-timers, it can be a little overwhelming. So we've compiled a Beginner's Guide to online auctions right here! Carefully read through the tips below to make sure your first online auction experience isn't your last.
Research the Terms and Conditions
Buyer's Premiums can be difficult to calculate but you'll see them in every major auction house. On top of the winning bid, an additional charge of anywhere from 22 to 28 percent is common and, with the swing toward online auctions, an additional charge of 3 to 6 percent will be tacked on for the convenience of being able to bid from home in your birthday suit—worth it if you ask us. At any rate, research what percentages you're working with so you're not completely caught off guard when the hammer falls.
Register Online in Advance
In order to weed out the scam bidders and make sure you're a real person instead of a computerized robot, online auction houses have to approve your registration in advance of any auction. You only have to register once, but it takes anywhere from 24 to 48 hours to be approved for bidding. Our suggestion? Scroll through the online auction catalogs when they're first posted and see if any items pique your interest. If you decide you'd like to bid, go ahead and register with the site well in advance of the auction date so you're sure to be approved and ready to go when bidding begins.
Set Up Auction Alerts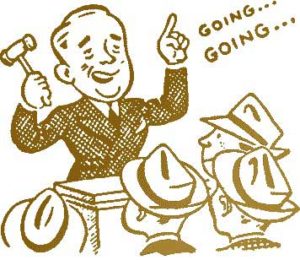 If there are particular items, artists or companies that you specifically collect, some online auction houses offer free Auction Alerts so you never miss an important work up for bid. There are also a handful of other notifications and preferences that you can customize once you register with a site—from online catalog emails, specific lot number notifications, options for live auction video streaming, to bidding in advance and more! Take your time, check out what's available to you and, most importantly, have fun! These sites have been made specifically with you in mind to ensure you have an enjoyable, convenient, successful bidding experience.
Don't Hesitate to Ask a Question
Nearly all the online auction houses we've come across have fantastic online and over-the-phone customer service options at no additional cost to you. If you're having trouble navigating their site, setting up your account, or have a general question, don't hesitate to call their customer service number.
With these tips in mind, our final advice is to sit back and enjoy all that is out there. And remember, bid early and often!
Article reprinted with permission of ArtsAndCraftsCollector.com. Bruce Johnson is an author, columnist and Director of the National Arts & Crafts Conference at The Grove Park Inn since 1988.