Small Home Gazette, Summer 2015
Where to Find Wicker Locally
This is the type of small, old-fashioned, core-city business that is becoming increasingly rare. They have a large selection of new wicker, most of it in classic styles that would have been available during the bungalow era. They also have a large selection of nice vintage wicker pieces, some of them quite elaborate, which they will fully restore upon request. It's an entertaining place to visit.
Several of us on the Bungalow Club's board of directors have done business with The Wicker Shop, and have been generally satisfied, with some caveats.
Bungalow Club board member Tim Counts had a vintage wicker lampshade repaired here. The intricately woven shade was missing more than 20 pieces of reed, resulting in a gap-toothed appearance.
The Wicker Shop expertly wove new reed into the old so that it's impossible to tell the difference. They also applied a new finish to give the lampshade a uniform appearance. However, when The Wicker Shop repainted some darker trim detail on the lampshade, they got a little careless and a bit of stain slopped onto adjacent reeds. But overall, Counts was happy with the service. Total cost: $185.
The Wicker Shop also recommended a nearby upholsterer who did an excellent job of lining the lampshade with fabric that Counts supplied. Trudy Edelburg, owner of Edelburg Upholstery (612-276-0101), works out of her bungalow in the Longfellow neighborhood in Minneapolis.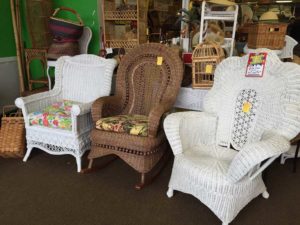 Bungalow Club board member Mike Lazaretti had The Wicker Shop replace the torn and sagging rush seat of a chair. (The rush seat weaving technique uses bulrushes and cattails.) The job was well done and cost $140.
In the market for a wicker chair for their porch, board members Gail Tischler and Martin Moen found a sturdy vintage one, complete with magazine holder as part of one of the arms. It needed repairs to a few broken strands, repainting, and a new cushion. The Wicker Shop did all of the work. They matched the off-white paint color used on the porch and made a new cushion using fabric provided by Tischler. Total cost: $285.
While satisfied with the work (the paint could have dried a bit longer in the crevices before picking it up), Tischler and Moen would encourage others to ask the shop person what materials were used in repairing the item; how will they remove flaking paint (and generally prep the item); and what type of paint (primer and final coats) they will use. See "Painting Wicker Furniture–Tips and Hints," www.wickerwoman.com/articles/painting-wicker.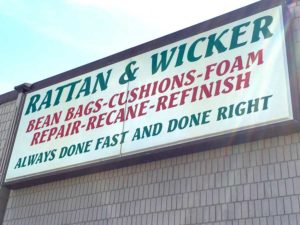 Aaxxon's Rattan & Wicker
209 East 78th St., Bloomington
952-591-1570
aaxxons.com
This local business carries a wide range of new wicker, as well as furniture made with rattan, much of it on display throughout several large rooms. They carry national brands of new wicker furniture (including a lot of vinyl for outdoor use), as well as traditional reed wicker and rattan pieces in classic styles.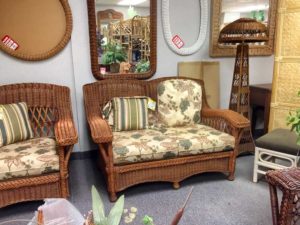 We spotted a nifty wicker floor lamp that would look terrific on any bungalow sun porch. A wicker bedroom set also caught our eye. There's even a wicker porch swing.
Aaxxon's also does all types of wicker repair, restoration, painting and refinishing, and they sell custom-made and off-the-shelf cushions.