Small Home Gazette, Summer 2015
Wonderful Wicker: A Wicker Primer
Wicker isn't just for porches. During the bungalow era, wicker pieces were available for living rooms, dining rooms, even bedrooms. In fact, you can buy a wicker bedroom set today.
In this issue, you'll find an overview of wicker and a brief history; overviews of two local wicker businesses; and an informative five-page article on wicker that was published in Minneapolis in 1918. It's the perfect read for a lazy summer day.
---
A Wicker Primer 
Wicker furniture styles were influenced greatly by the trends of the day. Mid-Victorian tastes were mirrored by Oriental style. The wicker artisans of the period produced fragile, exotic-looking pieces by hand; often with intricate fancywork.
From 1905 to 1915, the Mission-style wicker introduced by Gustav Stickley won public favor. The style, characterized by straight lines and open latticework, gave rise to the popularity of two related wicker designs: Cape Cod (with a tight weave) and Bar Harbor (with open latticework).
The Art Deco style of the `20s was characterized by fancywork of diamond patterns woven into backs of chairs and settees. The diamonds often were stained a darker color for visual impact.
What Is Wicker?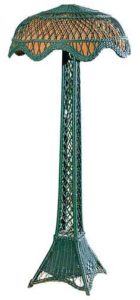 The word "wicker" refers to the "act of weaving with pliable fibers." Wicker is not an actual weaving material. The materials used in wicker work include rattan reed, willow, paper fibre rush, cane, or grasses, and, most recently, plastic or resin strands.
"Wicker furniture" refers to the final woven product such as a table, chair, lamp, settee, buggy, or basket. Most antique wicker furniture is completely woven using either rattan reed or paper fibre rush on hardwood steam-bent frames. Wicker manufacturing companies either dyed, stained, or painted most pieces before they left the factory. Those that were dyed or stained also had a final clear coat finish of varnish or shellac for protection.
Chair caning is often confused with wicker work. Cane is yet another part of rattan—the bark, which has been processed into strips. It has a glossy finish and does not accept stain or paint. Caning is the craft of using these strips to weave seats and backs of wood frame furniture or to wrap joints of wicker furniture.
The most popular materials used in the construction of wicker furniture from 1880 to the 1940s were as follows.
Rattan is a climbing jungle vine, imported from Indonesia, China, Southeast Asia, Malaysia and the Philippines. Rattan poles 2 to 3 inches in diameter were often used for the framework of wicker furniture (but the more desirable product lines used hardwood frames). More often the rattan was split into flat strips called cane.
Reed is the inner pith of the rattan pole and is used in weaving. Reed has a lengthwise "grain" and will break if bent to extreme. It is a porous material that accepts stain, paint, varnish and lacquer.
Paper fibre rush is a man-made paper product invented in 1904 when China prevented the export of rattan reed. Paper rush resembles a twisted cord, comes in a continuous length, and can be unraveled. It is normally the color of a brown paper bag before staining or painting.
There are two noteworthy companies whose wicker furniture is now collectible.
In Boston in the 1850s, Cyrus Wakefield began constructing furniture from rattan. He first used rattan that had been offloaded from ships, where it was used as cargo packing material. But as his designs became well-known, he began importing the material himself.
The Wakefield Rattan Company became one of the leading manufacturers of wicker furniture. It later merged with the Heywood Chair Manufacturing Company (a wooden chair company) to form Heywood-Wakefield of Gardner, Mass., one of the oldest and most prominent North American wicker manufacturers.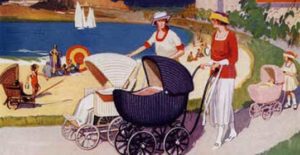 The Lloyd Manufacturing Company started in 1906 in Menominee, Mich. Marshall Burns Lloyd manufactured wicker strollers and prams. Slow and expensive to produce, the rattan would occasionally break and was not a soft and comfortable material. Marshall wanted to create a weave that was stronger than rattan, looked better, and had a softer feel to it.
In 1917, after many experiments, he had a solution. Lloyd Loom paper fibre "fabric" was made of spaghetti-like strands of paper rush, closely woven on a loom to resemble fabric. The fabric was then draped over a frame and attached with tacks covered with a braid. In later years, a wire core was added to the strand, making it usable in weight-bearing areas of the piece.
Strong yet flexible, Lloyd recognized the possibilities of his invention for furniture production.
Lloyd Loom chairs quickly became very popular in the U.S., and, in 1921, Lloyd sold full patent rights to an English manufacturer, W Lusty & Sons, who used the Lloyd Loom fabric to create a collection of typical English utility furniture that was durable and affordable. Lusty's and Lloyd's would never be in direct competition with each other; instead, they nurtured a friendly and mutually productive association in which development of ideas and design for their furniture would be shared. At the height of its popularity, in the 1930s, Lusty Lloyd Loom furniture could be found in hotels, restaurants, as well cruise ships.
By the late '20s, although the Heywood-Wakefield Company, too, was making paper fibre furniture, it was the last major firm in America still weaving wicker furniture by hand. In the 1930s, the company stopped wicker furniture production altogether.
Under the company name of Lloyd Flanders, Lloyd Loom furniture continues to be made in Menominee, Mich., today. Also, Lloyd Loom (UK) Ltd offers original Lloyd Loom furniture to clients throughout the UK.
Resources
The Wicker Woman (check out the "Resource Articles" tab):
www.wickerwoman.com
Quick History of Wicker Furniture:
http://tinyurl.com/ob2v72k
Lloyd Flanders (U.S.) products and history:
http://lloydflanders.com