Small Home Gazette, Summer 2016
Arts & Crafts Stenciling: Part 1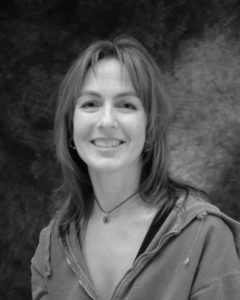 If you were lucky enough to attend Bo Sullivan's delightful and informative lecture for the Twin Cities Bungalow Club in June, you would have viewed some amazing examples of period wallpaper and stenciling. The talk answered the question of how bungalow walls were treated—painted, stenciled or papered—and some benefits of each. I admit I am a bit partial here, for I have spent almost 20 years dealing with the various historical aspects of vintage stenciling from the Arts & Crafts movement. I will now try to lure you into my stenciling web. And be warned; this is a most addictive decorative art. Once you enter my world, there is no escaping the dizzying possibilities.
I stumbled into the Arts & Crafts movement when I was hired to stencil a restaurant built in 1917. While researching appropriate stencils from the period, I discovered the wonderful and fabulously different world of Arts & Crafts stenciling. I had no idea just how much stenciling was used during this period, but the more I researched, the more examples I found.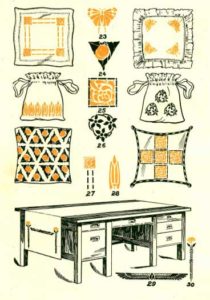 Stenciling adorned not only walls, but curtains, portieres, pillows and table linens. It also appeared on all sorts of ladies' practical sundries, from aprons and laundry bags to picture frames and pin cushions. Those who were so inclined could then embellish their stenciled item with embroidery stitches, using as little or as much as time and talent allowed. As I said, it was everywhere. Stencil companies were prolific and occupied a dominant part of commerce during the Arts & Crafts movement.
Stencils were available through mail order catalogs and often distributed by companies that sold paint supplies as well. For a mere 20 cents or so, homeowners could purchase a stencil and have it delivered. It was easy to create the home of their dreams!
Once a catalog was received, the dilemma began—where to start and which design to choose. Stencil kits were offered by some paint companies and included everything needed to begin stenciling, including some designs and materials for cutting your own images. Most of the stencils in a kit were "Spot" stencils—a simple single spot of design that could be used on its own or repeated like a border. This gave the homeowner a good place to start experimenting with and practicing this decorative art.
The wallpaper and paint companies had a bit of a rivalry going on. Wallpaper was promoted as being simpler to deal with, but paint companies touted it as hazardous to your health. Here is an excerpt from one popular paint and stencil company: "Wall paper, as everyone now knows, collects germs, breeds disease and spreads contagion…and has been banned from schools and hospitals…" (Never mind that painters used gasoline to thin their white lead-based paints.) I believe this was shameless promoting but homeowners could make their choice as to which option was best for them.
Although there were quality wallpaper companies at the time, the ability to adapt stenciling to serve the purpose of your own particular environment gave it an edge that manufactured paper could not. I remember joking with Bruce Bradbury, the founder of Bradbury & Bradbury Wallpapers, about his catalog promoting wallpapers that had the "hand-stenciled" look. Comically, we would go back and forth, with my thought being "why not just stencil?"
With stenciling, a homeowner had the ability to carry a design throughout a room on decorative items such as table linens and curtains. Gustav Stickley encouraged homeowners, through his magazine The Craftsman, to partake in the decorative arts in their homes, and stenciling was the perfect way to do this. They could start with whatever project was deemed easiest—walls or curtains or a simple work apron—and move on to the next project when the ease and delight of their accomplishments set in.
As with many trades, there were forms of stenciling that were best left to the professionals of the era, but this was, and still is, a decorative art that anyone could try and succeed at.
Watch for additional articles in our stenciling series in future issues of the Small Home Gazette.
Amy Miller, a member of the Twin Cities Bungalow Club, works passionately towards preserving and promoting the art of stenciling. She is the founder of Trimble River Studio & Design, specializing in vintage stenciling from the Arts & Crafts movement.