Small Home Gazette, Summer 2016
Letter From the Editor: Twin Cities housing market
I was cheered after reading a recent article in the Star Tribune titled "Twin Cities housing market isn't booming for more expensive homes" (http://tinyurl.com/jrh88jh). No, my cheer wasn't a surge of Schadenfreude. I know some homeowners who recently tried to sell their high-end home, and it wasn't fun for them.
But aside from the bad news, the article contains good news for those of us who own less expensive homes. Its gist is that homes priced $350,000 and up are significantly harder to sell than lower-priced homes. Homes priced around the median—$242,000—and below are moving briskly.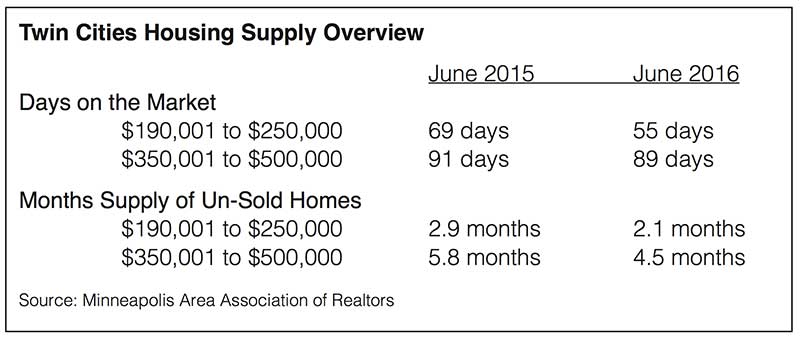 Apparently, many home buyers who can afford upper-bracket houses would rather build new than accept a house that contains features and finishes that are out of date. And "out of date" includes houses built in the 1990s. Seriously.
Are Americans really that willing to dismiss and discard perfectly good finishes and fittings? Every now and then I happen across HGTV and suddenly understand. Show after show is the same dizzying sprint: Home shoppers who insist on open floor plans and the latest kitchen countertops enlist charismatic remodelers who make their domestic dreams come true in half an hour. Nonstop programming of variations on that theme has led the public to believe that they want… no, need… no, deserve the absolute latest thing.
I'm looking forward to the HGTV show that features shoppers who buy the places that were remodeled on HGTV eight years ago, in which they rip out the "dated" interiors and install the interior du jour.
Frankly, I've never been happier to own a home that is so out of date that it doesn't matter. People looking for the latest designer trends aren't likely to be looking at bungalows. Unless, of course, they're looking at bungalows with an eye toward tearing them down to replace them with sunlight-blotting monster homes. Or, just as bad, those who "improve" bungalows by gutting their charmingly vintage interiors to install stuff that will be outdated and hated within a few years.
But still, people shopping for an older house aren't generally expecting the latest. They're looking for a solid home of a manageable size, just like I was 20 years ago. So, I'll keep my home's original oak woodwork, plaster walls, oak floors and built-in breakfast nook. They're of far higher quality than anything I could afford to replace them with, and they work perfectly as a backdrop to my mix of new and old furnishings. I'll keep my kitchen and dining room separate, as it's only a few steps between them anyway.
And when it comes time to sell, I suspect it won't be hard to find a buyer—a bungalow enthusiast, I hope.