Small Home Gazette, Winter 2008
The Bungalow Breakfast Nook
This article originally appeared in American Bungalow magazine, issue no. 29, published in 2001. It is reprinted here with the permission of the publisher.
Luckily, my bungalow turned out to be structurally sound, for I bought my house primarily because it had a great breakfast nook. When I first saw it, visions of domestic bliss danced though my head: me and my love sipping coffee in a pool of warm light on winter mornings…friends and family lounging there with glasses of Pino Grigio as I put the finishing touches on an impossibly complex yet elegantly understated gourmet dinner… me hunched over a laptop computer, the pithy prose issuing feverishly forth, destined for publication in an erudite periodical to be read by people of taste and sophistication (yes, that's you).
Amazingly, my nook fantasies have all come true, except that in real life my cooking is more filling than elegant and my prose more tortured (see above paragraph) than pithy.  The point is, the nook works. It is, perhaps, the nexus between historical authenticity and the modern expectation that the kitchen function as the center of family life.
A Compact History
While larger houses built during the early 20th century often had sunny breakfast rooms containing free standing tables and chairs, smaller homes could not spare square footage for such a luxury. Instead, the built-in breakfast nook, sometimes referred to as a "breakfast alcove," a "breakfast bay" or even a "breakfastette," appeared in houses during the nineteen-teens and 'twenties, concurrent with the rise of the American bungalow. In fact, built-ins—which also included dining room buffets, bookcases, fireplace inglenooks, ironing boards and various storage spaces—are commonly listed among the defining features of the bungalow. Home designers and millwork companies rushed to offer enticing amenities for compact houses, and built-ins were a way to offer modestly larger living on a limited budget.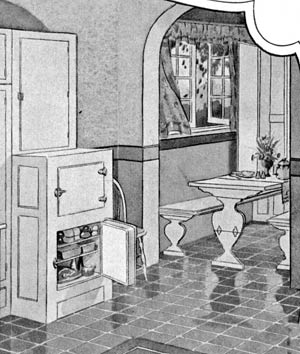 The breakfast nook offered a number of advantages to bungalow dwellers. Some bungalow floor plans were so compressed that the dining and living rooms were combined, or the dining room may have even been eliminated altogether. The kitchen, which during the Victorian era was considered the domain of servants or, later, a sanitary "laboratory," was evolving into a more pleasant, if often more compact, place. Even in houses that did retain a formal dining room, the bungalow's philosophy of casual living allowed for meals to be taken in the kitchen. Book and magazine authors of the day fretted about finding ways to "save steps," as though the housewife had only a finite number available to her. An article in a 1923 Woman's Weekly publication praised the practicality of breakfast nooks: "By its use, the table may be set in the minimum of time and steps, and where there are no servants, the housewife may sit down to breakfast with the rest of the family while watching whatever cooking is in progress on the stove."
Contiguous Convenience
Nooks were usually situated in one of three places, and if your home wasn't built to accommodate one, it may be difficult to retrofit without major remodeling. Many were simply affixed in a corner of the rectangular kitchen, the back of one bench against a wall, the back of the other exposed or outfitted with cabinets. Also common was the practice of building the nook into an alcove that jutted out beyond the house's primary walls, usually to the rear. Sometimes this extension also enclosed a rear entryway or back porch. The least common configuration was a separate, narrow room that contained little but the nook, usually a walk-through space situated between the kitchen and dining or living room.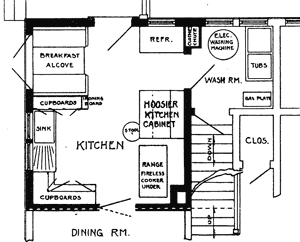 Virtually every nook had a window on at least one wall, which helped keep the snug space from feeling too close. It was desirable, of course, to have the window facing east to capture the morning light. Most nooks had an overhead electric light, and occasionally a wall bracket light or two. An electrical outlet on the wall at table height was essential to take advantage of the many appliances being developed at the time—toasters, coffee percolators, waffle irons and more.
In an attempt to squeeze even more usable area out of small home floor plans, manufacturers came up with the folding breakfast nook. These contraptions featured tables and benches assembled with hinges so that they could be jackknifed flat against the wall or into a recessed space. It's doubtful that many folding nooks have persevered to this day, as they were probably not very durable (nor do they look very comfortable).
Succinct Style
Breakfast nooks were functional, but manufacturers also made attempts at style. Perhaps the most effective way to add charm to a nook was to place it in an alcove with a plaster arch above the opening. This simple detail added immeasurably to the cozy, protected feel of the area.
Judging by advertisements from the bungalow era, most nook furniture was painted white and had simple, straight lines. Others had more curvaceous styling and even colorful decals, resulting in a "storybook cottage" effect. Some had through-tenon joinery, mirroring a construction technique used in Arts & Crafts furniture that was perhaps elsewhere in the house.
Nook tables were surfaced in the same materials common to kitchen counter tops of the day: varnished or painted wood, linoleum or enameled metal. Some benches had seats that lifted to expose storage bins, in effect creating a built-in within a built-in.
Bigger Is Better—to a Point
To be comfortable, a breakfast nook should be generously sized. The nook alcove in my house measures 5′ 8″ wide and 4.5′ deep. The bench seats are 15″ deep and 18″ off the floor; the table is 30″ high and its top is 30″ wide. Two people, one seated on each bench, have ample room; four people, including a six-footer or two, are not cramped.
I first assumed I would have cushions made for my nook's benches, but have found plain painted wood to be surprisingly comfortable. This surface is also much easier to slide in and out on; cushions would definitely make the process clumsier.
Some bungalows, judging from the size of their breakfast nooks, must have originally housed Lilliputians. A local bungalow contains an original breakfast alcove with built-in furniture that measures a mere 4′ 6″ in width. The man of the house quite literally cannot squeeze into it. The owners have pulled the table out and use the alcove as a pantry.
On the other hand, it's best not to succumb to methods used to scale spaces in new houses, which apparently involve taking the area needed for a room's function and tripling it. The charm of a breakfast nook lies mainly in its coziness, and building it too large destroys the effect. A 1920s brochure issued by Curtis Woodwork states that their nooks are "Recommended for a space not less than 5′ 4″ and not more than 6′ 0″ wide."
Back to the Future
The concept of the breakfast nook has survived to this day, of course, and is present in some form in many kitchens built today. It may take the shape of the breakfast bar, with stools along one side of a counter peninsula or center island. It may turn up as a semi-fixed dining "booth" in one corner of the kitchen, with chairs along one side of a table and a built-in bench along the other.
The nook has also been appearing as almost an exact copy of historical ones, for example in house designs from The Bungalow Company, an Oregon firm that designs updated bungalows. One of their models, The Dogwood, includes a breakfast nook that appears to be plucked from the pages of early-20th century house plan books.  Bungalow Company owner Christian Gladu says "People looking for a home talk a great deal about wanting an 'open floor plan,' which they believe means big, open spaces. When they get right down to it, what they want is versatility." Gladu says that a feature like a breakfast nook can offer such benefits. "It often functions more as a dining room than the traditional dining room," he says. "And it can function as a kind of portal for the whole home—a place to feed the kids, a place for homework, a chef's desk, a home office. Overall it's a very flexible workspace."
Whether old or new, a well-designed breakfast nook, like the bungalow itself, will always find its niche in American life.