Small Home Gazette, Winter 2008
A "Must-Have" Book (for Some)
Book Review 
"The brick" is how author Larry Millett lovingly refers to his AIA Guide to the Twin Cities. With its 670-plus pages and a vertically narrow page layout, the book actually resembles a brick in shape and weight. If you're an architectural aficionado, this is a "must-have" book for your collection. If you feel quality architecture begins and ends with the bungalow, save your money.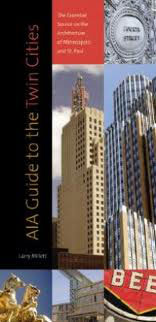 Millett, former architectural critic for the St. Paul Pioneer Press and author of two other books on Twin Cities architecture, spent three summers canvassing Minneapolis and St. Paul, mostly by bicycle. The author's past life as a critic comes through in his descriptions of the more than 1,500 featured buildings and structures. For instance, Millett's less-than-favorable opinion of the new Wabasha Street bridge in downtown St. Paul is unmistakable.
The sub-title for the book calls it "The Essential Source on the Architecture of Minneapolis and St. Paul," but the hyperbole is a bit over the top. For lovers of Arts & Crafts homes, Purcell and Elmslie are well represented. But over the whole of the Longfellow and Macalester-Groveland neighborhoods, only two Arts & Crafts homes are mentioned by the author: a pair of bungalow courts that face each other across Cleveland Avenue South in St. Paul. So, much of the housing stock that Twin Cities Bungalow Club members hold dear is not included.
The contents are limited to the Twin Cities proper, with brief coverage of Falcon Heights, the Fort Snelling area, and a smattering of notable buildings in the Twin Cities' first-ring suburbs. The book is further divided into sections for Minneapolis and St. Paul neighborhoods, each with helpful maps and exterior photos. The buildings and structures are numbered within each section to indicate a potential route for visiting each location. Together, these features make it easy to find our architectural treasures.
The book concludes with descriptions of the major architectural styles found in Minneapolis and St. Paul, and photos of iconic examples of each style. But only one example is provided for each style. The chronological listing of buildings and structures is nice, but too brief for my taste. Finally, the "brick-like" format of the book detracts rather than adds to its usefulness. I find it hard to hang onto and harder to read than more traditionally formatted books.
Published by the Minnesota Historical Society Press, the book's contents are contained in a database that the Society plans to make available via an interactive website. The book's suggested retail price is $29.95.