Small Home Gazette, Winter 2009
How to Sell Your Antiques and Collectibles
If you attended the last Bungalow Club presentation, titled "The Organized Bungalow," you probably went home and vowed to de-clutter the attic, basement and back room. Some of us have stuff that we can easily donate or recycle, but some of us have antiques and collectibles that we may be ready to let go of and have market value. Whether you're the one who inherited all the family heirlooms, or you've accumulated a collection or two over the years, this article will give you tips on finding out what your items are worth, and choosing the best way to sell them.
Finding Out What You Have
The first step in figuring out what you have is to take a good look at it and to check for labels, stamps or marks—anything that identifies when and where it was made. The more specific your information about a piece, the easier it will be to research it. Make a list. Having an inventory will make it easier to keep track of what you have, what you know about it, and what you discover about its value. Knowing its value will also will give you a better idea of where to sell it and will help you have a more realistic discussion with a potential seller.
Here are a few ways to research an item's value.
Search eBay
Completed eBay auctions are a good snapshot for value if you have something similar. eBay will give you prices, but not a lot of background information.
Use antique price guides
General price guides are updated annually. They're more helpful than eBay because they include background information on the maker or type of item. There are three widely-used general price guides. All are helpful.
Kovels' Antiques & Collectibles
Schroeder's Antiques Price Guide
Warman's Antiques & Collectibles Price Guide
All are available as reference books at local libraries, but paperback versions are readily available in bookstores or online.
From other collectors
If you're stumped as to what you have, ask someone you know who's a collector. They can point you in the right direction, either to other collectors who specialize or to finding specialized price guides, dealers, or auction houses.
A good place to ask for advice on pottery is the Minnesota Art Pottery Association (MAPA), a group of collectors who meet monthly to share information on anything ceramic. You can bring a few pieces to a meeting, even if you're not a member, and the pottery collectors are glad to offer advice. MAPA meets on the second Wednesday of each month at 7:30 p.m. at the Wood Lake Nature Center in Richfield.
From antique dealers
If you don't know anyone who collects, you can find a local antique dealer. To find a reputable dealer, you can contact the local professional association, the Minnesota Antique Dealers Association online at www.mnantiquesdealers.com. You can reach them by email at mnantiques@gmail.com.
You can also call an antique mall and ask if they can refer you to someone who can help you identify and value your items. Antiques Riverwalk and Coe & Channell in Minneapolis, and Missouri Mouse in St. Paul are a few places to start.
Determining value
When people start to research their antiques and collectibles, they usually find a high price for something that looks just like their items and their expectations soar. If you haven't sold antiques before, it's important to know that there are two different kinds of values in the antique market. One is the auction value and the other is the retail value. Despite the occasional spectacular result for an auctioned item, auction prices are typically the lower of the two. Retail prices, which reflect a dealer's need to pay overhead and make a profit (often after buying something at auction) are higher.
Selling Your Items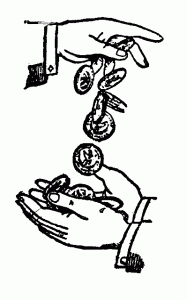 There are three ways to sell your items: through live auctions at auction houses; online through eBay auctions; or at retail on consignment. It helps to know how each of these sellers do business, so you know what to expect when you work with them.
Auction houses
Auction houses charge a fee, called a "buyer's premium" or a commission, on each item they sell. As a seller, if you put your items in an auction, you don't pay the fee. Whoever buys your item will pay it. Buyer's premiums range from 15 to 25 percent of the item's final price. That is, if the item sells for $100, the buyer pays the auction house between $115 and $125, depending on the percentage. You, the seller, get the $100, and the auction house gets the commission. Some auction houses also charge sellers a commission.
The auction house uses its profit getting them ready for auction, and advertising them—either online, or through mailings, or through catalogs prepared for the auction.
While auction prices can vary, there are two ways auction houses can influence the selling price. One is to include a price estimate in the catalog or listing. This is a range within which the auction house believes the item's value should fall. Having an estimate isn't a guarantee of where the price will end up—many a seller can be crestfallen when something doesn't "make the estimate"—but it tells the buyers what the auction house's expectations are for the item.
Auction houses can also try to guarantee a price by setting what's called a "reserve." If the item doesn't reach that figure in the bidding, it won't sell. Auctioneers work with the item's owner to set the reserve. A realistic reserve can assure the owner a profit, but an inflated reserve can mean that the item won't sell.
Local auction houses tend to discourage reserve prices, partly because they handle items that are lower in price to start with, and partly because they want to sell as many lots as possible. It's a headache for an auction house to return the item to the owner or to try to sell it again later.
A few years ago, local auctions drew a local crowd, but now, local auctions have the capability to sell online, and may be able to reach a much wider audience. This means fewer bargains for buyers, but better prices for sellers.
One of the advantages of a local auction is the convenience of handling large items. If you have big pieces of furniture or pictures—unless they are quite valuable and should be handled by a high-end broker—a local auction can spare you the headache of packing and shipping.
The number of local auction houses that sell antiques and collectibles has shrunk over the years. There's only one remaining that sells regularly, Luther Auctions of North St. Paul, online at www.lutherauctions.com.
Luther Auctions holds auctions weekly. Most of them are "antique, estate and collectible" auctions, which cover most items, and others, held less often, are "fine antique" auctions. If you aren't sure where your items belong, send them a list with descriptions, and they can advise you on which auction would be best.
Selling through eBay
An online eBay auction might be the right way to sell, and it might not. Selling on eBay involves more effort than selling through a local auction house, and while the fees are low, the expense is something to consider. From a personal perspective (having sold on eBay), the easiest items to sell are things that are easy to pack and ship. You can sell large items of furniture on eBay, but you'll have to make the arrangements to get them crated and shipped, and if you're a casual seller, it may be more than you want to take on.
Most of us know how an eBay auction works: The item is posted online and the bidders have a chance to bid on it for a period of time—typically seven days. At the end of the auction, the highest bidder wins the item. eBay has a complicated schedule of fees for sellers, which they describe carefully on their website. Buyers don't pay a premium to the seller or to eBay, but they do pay for shipping. The fee schedule is online at http://pages.ebay.com/help/sell/fees.html.
If you're ready for eBay—if you have a digital camera, are comfortable using a computer, and have the inclination to pack and ship your items—then it may be a good option for you.
On the other hand, if you aren't interested in running your own eBay auctions, but you think that eBay is a good venue for your stuff, you can find a trading assistant who will take on the effort of listing, selling and shipping for you. Trading assistants charge you, the seller, a fee that can be substantial, ranging between 15 and 50 percent of the final sale price. There's a great deal of variation between trading assistants, and if you work with one, you need to be clear on what the terms are.
eBay won't recommend or endorse trading assistants, but they provide listings of local assistants at this URL: http://ebaytradingassistant.com/directory/index.php?page=questions#1.
Selling on consignment
Consignment is a legal term, referring to a contractual agreement to let someone else sell an item on your behalf while you retain ownership. When you take an item to an antique dealer who agrees to put it in his or her shop and sell it for you, while taking a percentage of the sale price, you're consigning it.
Shops dedicated to selling items on consignment usually have several other provisos. When you consign an item, you sign a contract that includes a predetermined split of the proceeds between consignment shop and consignor, a well-defined time period for the sale, and a discounting schedule for the price of the item.
Consignment shops typically split the proceeds 50/50 with consignors, although some shops dedicated to antique consignment take a lower percentage on higher-priced items. The time period for the sale can vary from three to six months, depending on the shop. The discounting schedule varies according to the length of the consignment period. In consignment shops on a three-month schedule, the price will drop to 50 percent after two months; with a longer consignment period, they may wait until three months to discount the price.
Consignment shops that handle antiques will return your unsold items to you, but consignment shops that handle newer or lower-priced housewares don't always automatically return unsold items to consigners. If you want your items back, make sure you tell them when you consign, and remind them shortly before the consignment period ends.
One of the best places to consign antiques locally is the H & B Gallery in Minneapolis, which is online at www.handbgallery.com. Their website explains what they prefer to accept and outlines their consignment policies. They offer appraisal services, which are helpful if you don't know what your items are worth. The Corner Door in Wayzata also accepts items on consignment, and they will take newer items and items that fall into the category of housewares as well. There are consignment shops, such as TurnStyle, that primarily sell clothing but handle furniture and decorative items. They prefer new stuff and aren't the best place to take antiques.
Antique dealers who take items on consignment work a bit differently. They typically take a lower percentage of the selling price (between 25 and 35 percent, depending on the individual dealer). They don't have a limited consignment period, although they will return an item to you eventually if it hasn't sold. And while they like to be able to drop the price to sell the item, they often limit it to what they consider a courtesy 10 or 15 percent discount for fellow dealers or preferred customers, and they'll ask you before they do so.
Choosing the Right Method
Which selling method is best depends on two related things: how urgently you want to get rid of your stuff and how much you want to realize in selling your items.
If you want it out of your house and don't care what you get for it, the next local auction may be the right venue. If you want to sell it quickly and want more control over the sale price, especially if it's easy to ship, eBay might be the best route. If you have a specific price in mind and don't mind waiting for the item to sell, the consignment route might be best.
And if you discover that you have a real treasure, in the Antiques Roadshow mode, you will want to find a specialized dealer or auction house, where your rarity can find the collectors who will be the best potential buyers.
Sabra Waldfogel and her husband Clark Miller are long-time collectors who started to sell antiques when their collection threatened to take over their house. They have bought and sold antiques at auction, on eBay, and at local antique shows.