Small Home Gazette, Winter 2011
Answers to Your Toughest Bungalow Questions: finding a kitchen contractor; backsplash choices; exterior colors
A: We understand your dilemma.  Historically sensitive contractors and carpenters can be difficult to find in most areas.  Unfortunately, we don't have a list of such individuals in the Fargo-Moorhead area.  That said, we do have some strategies that have worked for us.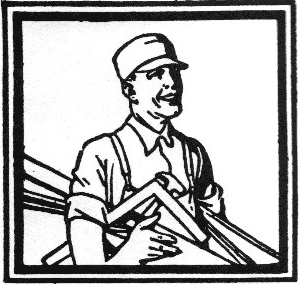 As you've already discovered, the Yellow Pages won't list contractors that specialize in old homes.  Instead, you'll probably have to find them by word-of-mouth.  Check with local museums; city, county or state historical societies; and even the city government.  Try lumber yards (but not the big-box stores) or architectural salvage businesses.  Even if these organizations can't make specific recommendations, you'll get connected with people who love old houses.  And old-house lovers often know of a particular contractor or architect who is on the same wavelength.  Some of the best contractors (especially individuals or small businesses) don't advertise in the mainstream media.  Look in smaller, specialized publications (such as this one).  And some may not advertise at all—they get work when one satisfied homeowner recommends them to another.  An architect who has experience with old houses may also be a good resource, as they often have long-term relationships with favorite contractors.  In short—start networking.
Don't automatically limit yourself to contractors who specialize in bungalows or old houses.  It may be best to find a contractor who has a reputation for being reliable and professional, but also flexible.  See if he or she is willing to listen and do what you want, namely, work that restores or replicates historic aspects of your house.  As you've already discovered, many contractors and designers have a stock "look" that they do, and aren't willing (or able) to stray from it. If so—keep looking.  Contemporary elements added to an old house will be outdated the day they're finished.
But what if you don't know exactly what you want?  In that case, you may need to educate yourselves before starting the search for workers.  The more familiar you are with your home's style, history and architectural details, the easier it will be to articulate your vision to a contractor or architect.  Otherwise, you'll be playing the "I don't know what I want, but maybe I'll recognize it when you show it to me" game.  That can be frustrating for all involved.
There are oodles of educational resources available, from magazines such as Old House Interiors and Arts & Crafts Homes and the Revival, to beautifully illustrated coffee-table books such as Bungalow Details: Interiors.  Check out the Resources section of the Twin Cities Bungalow Club's website (www.bungalowclub.org) to find the list of books we support in the St. Paul Public Library.
Perhaps the best ideas may be inside local homes of a similar era and style that retain their original features.  It can be a challenge to get inside private homes, of course.  But various groups in many cities offer annual home tours.  As a last resort, if you're polite (and don't have a reputation for stalking), you may be able to schmooze your way into a particularly fascinating house by simply asking.
Q: I would like to add a backsplash in my kitchen.  I have decided on more of an "arts & crafty" type tile, maybe a Celtic knot or something, but the tile stores don't carry them.  Do you know where I could buy some?  I would like to do something that looks like it would have been done in 1912.
A: If you're looking for 1912 accuracy, then it would be white subway tile, or nothing.  No color.  No Celtic knots.  Bungalow kitchens from that era were utilitarian and no-nonsense.  The emphasis was on order and cleanliness, not decor.  Even if you look at very high-end houses such as Greene and Greene's Gamble House in Pasadena, Calif., or H.H. Richardson's Glessner House in Chicago, which were built about the same time as your house, the kitchens were functional and no-frill.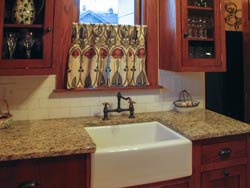 Color wasn't introduced in kitchens until the 1920s.  This included color tiles on backsplashes and countertops (though white was still common), as well as wall and cabinet paint, linoleum, and furniture.  As the decade progressed toward the Art Deco era, kitchen color became more common.  You could even get mint-green porcelain kitchen sinks.  Even so, the fanciful patterned Arts & Crafts tiles that are widely available today were simply not used, and certainly not in kitchens.
That doesn't mean you have to obsessively adhere to only what existed in 1912.  You can do something that's sympathetic with your home's style without making it a museum.  On the other hand, we recommend resisting the temptation to turn your kitchen into an Arts & Crafts revival showplace.  Twin Cities bungalows have a modest, understated beauty, and the kitchen should be of a piece with the rest of the house.
We suggest some research.  A good place to start would be with Jane Powell's entertaining book, Bungalow Kitchens—one of the books in the bungalow collection in the St. Paul Public Library.  Once you link to the library website, you can sort the list by book title.
Also, many local tile makers create Arts & Crafts style tiles or can reproduce historical tiles.  For example, check out Clay Squared to Infinity at www.claysquared.com. And you can order a copy of the most recent directory of tile artists, available at no cost, from the Handmade Tile Association (www.handmadetileassociation.org).
Q: I have a 1922 bungalow in the Lake Phalen neighborhood of St. Paul. Presently the house has white vinyl siding but some hail damage from a recent storm will enable us to put Hardie plank lap siding on instead. Could you recommend a book that provides examples of period-appropriate color schemes?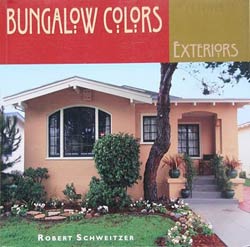 A: There is a book on exterior bungalow paint colors, and it's in the Bungalow Club's book collection.  It's called Bungalow Colors: Exteriors, written by Robert Schweitzer.