Small Home Gazette, Winter 2015
Get Your Old-House Fix on BBC
Heartwarming viewing for cold winter evenings
I don't watch many old-house programs on television. HGTV seems to be all about quick budget makeovers, and PBS's "This Old House" is primarily about remaking an old house into something new. Whatever happened to preservation and restoration?
Last year, Twin Cities Bungalow Club founder Kristi Johnson started sending us links to old-house shows produced by the BBC, which now reside on YouTube.com. We were quickly hooked. The Brits seem to have far more respect for their built history than Americans. One of the most refreshing aspects of these shows is that their hosts have opinions, some of them strong, and they don't mind voicing them.
Note that none of these shows feature bungalows, and all the homes are older than ours sometimes centuries older. But they all impart a respect for the structures and a curiosity about their histories that is lacking in the United States.
Below are descriptions of a few of our favorite episodes. To find them, go to YouTube.com and type the show's title into the search box.
 "Restoration Home" (Big House)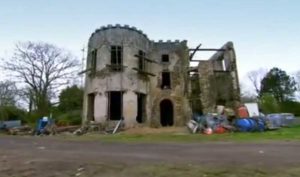 Since he was a boy, Alun Lewis has dreamed of owning this nearly 200-year-old crumbling carcass of a house on the banks of the river Cleddau in Wales. Alun scrapes together enough cash to purchase it, then must alternate earning money as a self-employed jack-of-all-trades with spending it in an attempt to make the once-grand house even habitable. As progress creeps forward, the show's researchers uncover the building's illustrious beginnings as well as the calamity that left it a roofless ruin by 1907.
"Restoration Home" (Sandford House)
"We found a couple of Scottish bravehearts who committed to saving a very different kind of building," says host Caroline Quentin. "It's built in the most perfect of styles—Arts & Crafts. But it's a long time since this poor house has seen anything like perfection."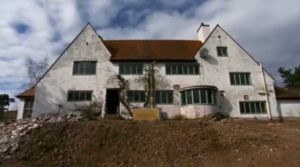 Designed by renowned Arts & Crafts architect Mackay Baillie Scott, this stately 1902 house bears little resemblance to America's bungalows. It was built as a family home but spent nearly half it's life as a three-star hotel. Abandoned for years, it has fallen into serious disrepair.
New owners Ralph and Evelyn take on its restoration with gusto. Unlike many of these restoration episodes, there's not much angst here. The unfailingly chipper couple forges ahead, spending hundreds of thousands of pounds and countless hours of labor to restore Sandford House to its former glory.
"Grand Designs" (The Dilapidated Georgian Townhouse)
Tony, a young carpenter, and Sharon, a freelance makeup artist, take on the restoration of a cramped Georgian row house built in 1825. Having virtually no money, they do all the work themselves. The house is decaying and derelict—plants are growing through the walls—yet many original features remain behind nearly two centuries of accretion.
"Grand Designs" (The Edwardian Artist's Studio)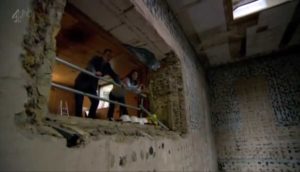 In one of London's priciest neighborhoods, Audrey and Geoff decide to carve a luxury home from a warren of 25 rooms on 13 different levels in the basement of a building built as apartments for artists in 1904. Geoff works as a stockbroker to pay for the work; Audrey acts as designer and architect. In the midst of the outrageously complex project, the contractor quits; Audrey has a meltdown; and the costs climb to breathtaking heights.
"Grand Designs" (The Dilapidated Engine House)
Adam and Nicola want to craft a home from the narrow, four-story shell of a "pumping house," structures built in the 19th century in the Cornwall countryside to house pumps that drew water out of coal mines. Adam is a stonemason, and he barters his skills with other trades people to do work on their project that he cannot. Nicola works a desk job to put food on the table, and they take out a small bank loan for construction expenses. A year into the project, they run out of time and money.
"Grand Designs" (14th Century Castle in Yorkshire)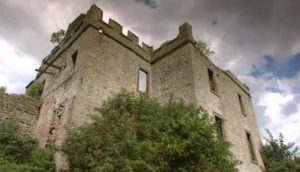 Mild-mannered architect Francis Shaw and his wife Karen decide to rebuild one of Britain's oldest and most dangerous buildings. The ruin is classified as an ancient monument, and the couple must obtain special permission from English Heritage, Britain's preservation institution, just to save it, much less rebuild it.
"It's a massive wreck of a building that's literally falling to the ground," exclaims host Kevin McCloud. In fact, during stabilization one of the castle's oldest and largest walls collapses into a rubble heap—an event the construction crew catches on camera. But the final result is a stunning success.
"Escape to the Country"
Another series you might enjoy is "Escape to the Country," in which people who want to leave the city are shown three houses they might like to purchase. Two of them incorporate features the house seekers have asked for; a third "mystery house" presents them with something quirky (windmill house, anyone?).