Small Home Gazette, Winter 2015
Letter From the Editor: a love letter to my bungalow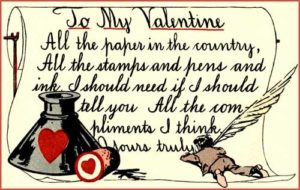 I have a clipping from the St. Paul Pioneer Press, published February 14, 2010, written by a woman who went by the moniker Single Female Homeowner. The column's title is: "It's true; home is where the heart is" (www.twincities.com/ci_14383527).
The missive was a Valentine's Day love letter to her home, in which she listed things she loved about her home and about being a single female homeowner. It's a charming piece, and I hope that whoever she is, she won't mind my presenting my own version here—a love letter to my bungalow.
What do I love about thee, bungalow? Let me count the ways:
I love working at my desk in the small front porch, which has windows on three sides. From there I can wave to neighbors morning and night and watch dog walkers, playing kids, bicyclists and joggers.
I love saying hello to my neighbors Bob and Ann through my kitchen window when they step out on their back stoop.
Although it would be slightly more direct to turn down the alley when heading to my garage in the evening, I love driving down the street to check how my bungalow looks from the front—its windows aglow in winter; window box and pots abloom in summer. I like to think that people who pass down my street think, "This would be a good block to live on."
I love my bungalow's original kitchen breakfast nook because it has a furnace vent under one bench and a stylish pendant light fixture overhead. We read the paper and eat breakfasts and dinners there.
I love my bungalow's dark oak woodwork, color-saturated wallpapers and paints, and handmade art objects, all creating a cozy ambiance. I don't think I could be happy in a white, minimalist house.
I love my bungalow's creaks and groans because it makes it feel like a living thing.
I love having people over because it spurs me to tidy up the main rooms and thoroughly clean the bathroom. (It helps that the rooms are small.) And we get to enjoy the results even after the guests have left.
I love that, 20 years ago, I bought this house for about a quarter of what the bank pre-qualified me to buy.
I loved paying off the mortgage two years ago.
I encourage you to take a few minutes to make a list of the things you love about your home. And, as the Single Female Homeowner did for her house, let's all surprise ours with a vase of fresh flowers this Valentine's Day.