Small Home Gazette, Winter 2016
A Day of History and Art
Anyone describing Arts & Crafts era history will talk about people and businesses like Stickley, Roycroft, Greene and Greene, Tiffany Studios, Roseville Pottery, William Morris, and many others. Locally, our historic touchstones include John Bradstreet, the Minneapolis Handicraft Guild, Batchelder tile, William Purcell, George Elmslie, and Clarence Johnston.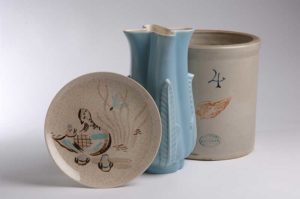 Missing from that local list of Arts & Crafts era luminaries is Red Wing Pottery. Perhaps we overlook this story because the company is better known for its iconic crocks and plumbing infrastructure—which saw their heyday before the Arts & Crafts era—and their ubiquitous dinnerware product lines introduced after 1935.
But if we ignore Red Wing's contributions to the Arts & Crafts era, we risk missing a fascinating local story of abundant natural resources, technical ingenuity, and marketing savvy.
History and Art
In November 2015, a small group of Twin Cities Bungalow Club members visited the Pottery Museum of Red Wing to hear experts present the pottery's history and to have the opportunity to create their own piece of pottery in the Red Wing style.
During the history presentation, Bungalow Club members saw many rare and iconic pieces of Red Wing pottery. We learned about the firm's designers and production process, and how the company allowed workers to create their own one-of-a-kind pieces during lunches and work breaks.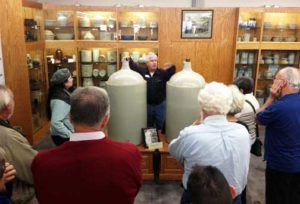 Experts then guided us through the museum, where more than 6,000 pieces of Red Wing's products are on display. The museum offers a unique opportunity to view Red Wing's wide range of pottery including Arts & Crafts era pieces.
Perhaps the highlight of the day was our time with potter Richard Spiller, who helped us learn the basics of sgrafitto—a technique of scratching designs into damp clay. We were transported back to high school art class as we picked up the tools and paintbrushes to decorate our mini-crocks. It was fun getting together with friends to create a personalized piece of art for your bungalow.
The evening concluded with good food and conversation at several Red Wing restaurants, basking in the memory of a day filled with local history and art.
If You Go
The Pottery Museum of Red Wing is open for self-guided tours. Admission is free. Visit potterymuseumredwing.org for more information.