Small Home Gazette, Winter 2016
Letter From the Editor: the Bungalow Club's 21st year
Welcome to 2016 and to the 21st year of the Twin Cities Bungalow Club!
It's hard to believe we've all been communicating, advocating, educating and entertaining for that long. And we know there are a number of our members who have been with us for the entire two-decade journey. The Bungalow Club has published almost 80 issues of this newsletter and held about as many events, including presentations, hands-on workshops, social soirees, bus tours and picnics, to name a few. We've held so many house tours it's hard to believe there are still Twin Cities bungalows we haven't been in.
And we're not finished yet. We've got a lot in store for 2016. This includes the usual quarterly newsletters and events (don't miss the upcoming Ernest Batchelder illustrated talk) and this spring's house tour. But we've been working on three extras for you as well.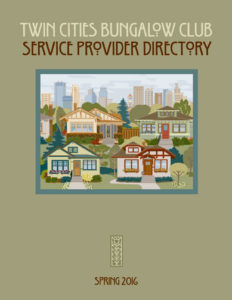 First is the promised contractor guide, which many of you have contributed to. It's coming together, and you'll soon have a resource that includes almost 75 of your personally recommended contractors in nearly 30 categories. One of the toughest tasks facing the owners of vintage homes is finding people who understand and respect its integrity to repair, restore or renovate it. We think this guide will offer hope and inspiration for your future house projects.
If the contractor guide offers nuts-and-bolts practicality, the other "extras" is all about artistic expression. We've been working for months with local artist and club member Cindy Lindgren (www.cindylindgren.com), who offers Arts & Crafts inspired notecards, frame-able prints, fabric, wallpaper and gift wrap.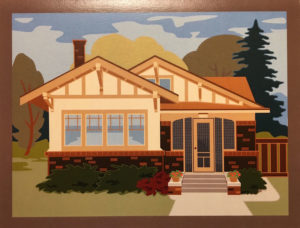 For the Twin Cities Bungalow Club, Cindy has created a set of four notecards, each featuring an illustration of a bungalow based on a local type. The third extra is a frame-able print. She has artfully combined the four bungalows into a charming street scene, with the Minneapolis and St. Paul skylines in the background.
The bungalows exhibit picturesque details drawn from specimens found throughout the metropolitan area, such as eave brackets, clipped gables, exposed rafter tails, window boxes and divided-light windows. The final products are in luscious Arts & Crafts colors. Cindy calls her style "Craftsman Nouveau." We just call it beautiful.
We can hardly wait to get these two Bungalow Club "extras" in your hands. We're working hard on the final design details, and they'll all go into production soon. Keep an eye on your mailbox in the coming weeks.